Europe's Carbon Price Hits a Record €100 as Economy Rebounds From Energy Crisis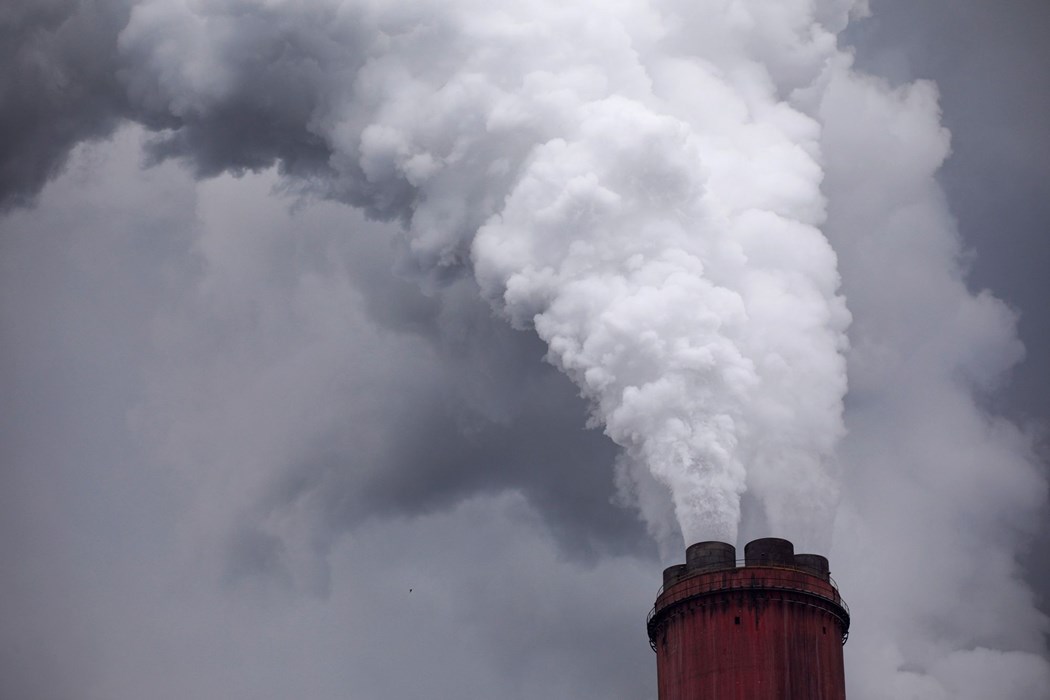 (Bloomberg) -- The cost of European pollution permits rose to €100 ($106.59) for the first time, boosted by an improving economic outlook and expectations of a rebound in industrial output.
Demand for the carbon contracts is building in anticipation that plunging natural gas prices may prompt some industrial companies to revive production that was curbed or shuttered last year by rocketing energy costs. At the same time, the prospect of tougher climate rules means pollution rights may be in shorter supply, deterring market participants with surplus allowances from selling them.
"The more rosy economic outlook, or at least the less pessimistic one, is fueling the bulls," said Marcus Ferdinand, head of analysis at Oslo-based Greenfact. "We've seen industrials going out of the market due to higher gas prices. So falling gas prices means bullish carbon."
The surge in carbon prices comes as policy makers work to tighten the European Union's cap-and-trade system to help the bloc deliver on a goal to slash emissions 55% by the end of the decade from 1990 levels. On Feb. 9, lawmakers in a key European Parliament committee are due to vote on a tentative deal clinched in December that would further limit the supply of carbon allowances from next year.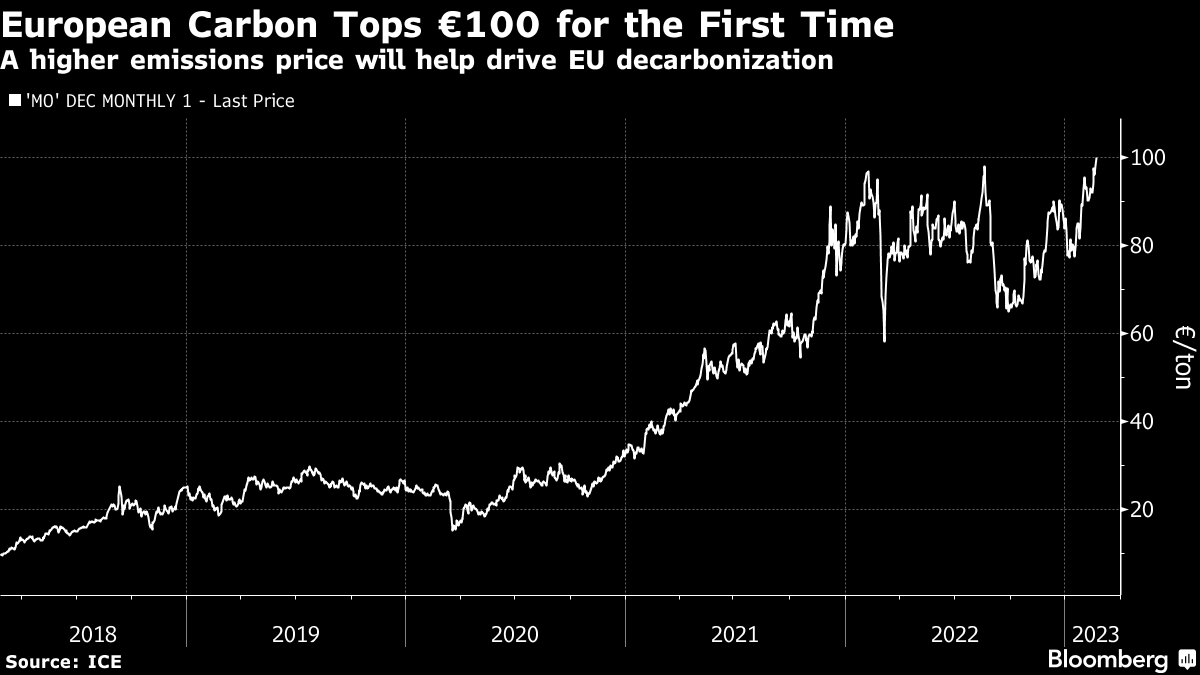 Benchmark prices in the EU's Emissions Trading System climbed as high as €100.70 a ton on Tuesday, taking their gain to 20% this year. The carbon permits, the bloc's key tool for cutting pollution, imposes decreasing emission caps on thousands of facilities owned by utilities, manufacturers and airlines. 
The trajectory will only continue, with carbon potentially hitting €150 by next winter, according to Ulf Ek, chief investment officer of Northlander Commodity Advisors LLP, who's bet on carbon's rise in recent years. 
"I'm not much of a believer in magical numbers, but I believe carbon is in a long-term uptrend and we will continue to see new all-time highs throughout this year," he said in a phone interview Tuesday. "Russia's invasion made the market nervous about an economic slowdown, driven by extremely high energy prices. Now that energy prices are normalizing, carbon emissions are re-entering the longer-term bull trend."
Companies that couldn't afford to hedge last year may be coming back to the market ahead of an April deadline to account for 2022 emissions. And industries that shut off completely last year may be buying permits again now that energy is cheap enough for them to operate.
Euro-area business activity rose at the fastest rate in nine months in February with manufacturing output recovering as supply-chain bottlenecks eased, according to data published Tuesday.
The rules are set to tighten further. A planned overhaul of the ETS will, in 2024-2027, increase the rate at which the pollution cap shrinks each year to 4.3% from 2.2% now. The so-called Linear Reduction Factor will then accelerate to 4.4% from 2028.
On top of the LRF, the bloc will reduce the number of allowances by 90 million in 2024 and 27 million in 2026. The two together will translate into a 62% drop in the pollution limit by the end of this decade from the 2005 level.
The shrinking caps and increasing price of pollution are designed to accelerate the shift to clean technologies. However, record-high prices are likely to renew calls from energy-intensive companies and some governments for the EU to keep costs in check or risk damaging the region's fragile economic recovery.
--With assistance from .
(Adds chart, investor comment in sixth and seventh paragraphs)
More stories like this are available on bloomberg.com
©2023 Bloomberg L.P.
KEEPING THE ENERGY INDUSTRY CONNECTED
Subscribe to our newsletter and get the best of Energy Connects directly to your inbox each week.
By subscribing, you agree to the processing of your personal data by dmg events as described in the Privacy Policy.