Echelon set to transform subsurface flow simulation
Dec 14, 2021 by Energy Connects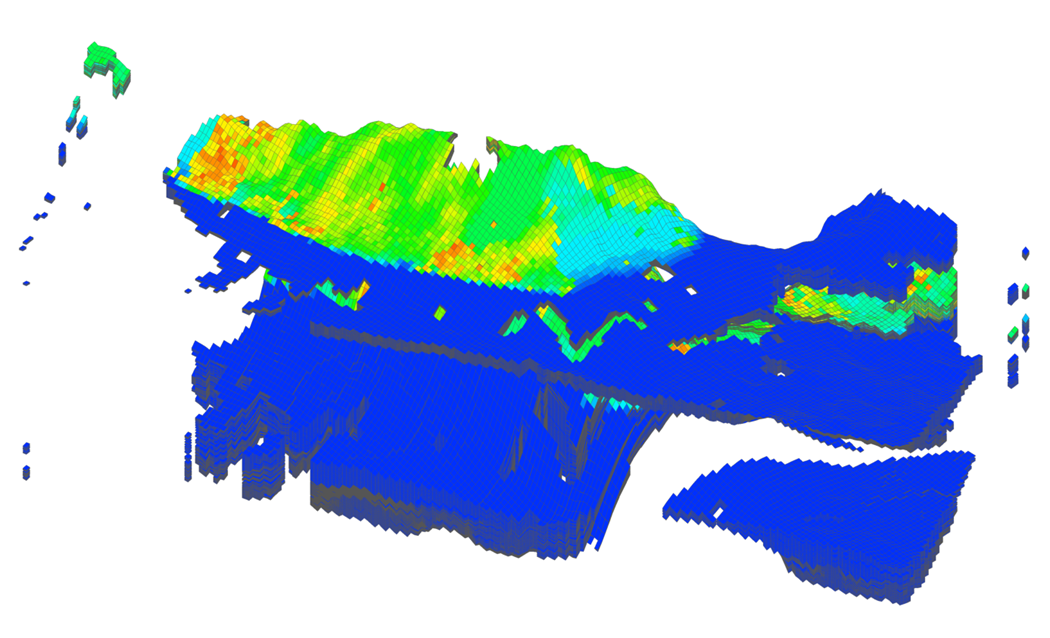 A U.S. based company has developed an "exceptionally" fast reservoir simulator that runs on Graphical Processing Units (GPUs), to accelerate field assessment, development and production.
Reservoir simulation is used to model the flow of oil, gas and water under the ground. It is the primary physics based tool that engineers use to determine the optimal development approach for a hydrocarbon asset.
The ECHELON simulator – developed by Stone Ridge Technology (SRT) – is used for prediction, assessment, and what-if type scenario evaluation. Its speed allows thousands of parallel reservoir simulations in a record timeframe to accelerate the time-to-market for projects.
As a small company in a competitive market, Stone Ridge Technology has had to continuously innovate, monitore the latest engineering requirements and developments in high-performance computing and collaborating with GPU and CPU vendors to understand future requirements.
"In the pipeline right now are exciting advances in performance that will come from the next generation of GPU technology and a feature set that conforms to energy transition initiatives while providing advanced features for conventional energy production," said Dr. Vincent Natoli, President of Stone Ridge Technology.
Like many others, Stone Ridge Technology is looking at the challenges of the energy transition – which for them translates into greater computational workloads driven by  higher resolution grids, longer forecasts and more advanced physics.
Speaking on whether the industry has the capacity to move forward, Natoli said: "I can only speak for the simulation side of the business, and the answer, I believe, is a qualified yes. The technology is there, but it needs investment and resources."
"The computational demands imply that only the fastest of today's simulators can play a relevant role. ECHELON is one of only three high-performance commercial simulators today and, among them, it is the fastest by a significant margin. It is the ideal platform on which to build energy transition technologies," he added.
In November, Italian energy giant Eni announced an industry consortium with Stone Ridge Technology that will direct the future development of ECHELON. Both Eni and Stone Ridge Technology have worked collaboratively since 2018 to develop the simulator into a full-featured industrial simulator and successfully deployed it over the main Eni's assets around the world.
Eni said in a statement that the technology boosts their ability to manage project uncertainty, while also improving early understanding of field behavior for more effective business decisions.
The consortium provides unlimited access to ECHELON and enables collaborative contributions between members towards a common goal: accelerating the advancement of the most powerful, robust, and accurate subsurface simulator in the industry.
"Developing a modern code like ECHELON is an immensely complex engineering task and requires multidisciplinary skills including a deep understanding of the underlying physics, the ability to map that physics to numerical algorithms, and finally the ability to do all this taking full advantage of the capability of modern HPC hardware," said Natoli.
The Stone Ridge Technology CEO said that there was consensus in the energy industry that computational challenges presented by the energy transition are significant. He added that the energy industry is very familiar with collaborative joint venture models for the development and production of assets, pioneering this approach to share risks, costs, skills, and benefits. The consortium is an excellent model to address these challenges together.
"We do believe that the challenges we face are bigger than any single company, even companies as large as those in our industry, and require the concerted efforts of a collection of peers that bring their own vision, resources, and institutional knowledge to bear," Natoli said.
Editor's note: a few changes have been made to this article to reflect some factual corrections.