Eskom Latest: Power Cuts Hit Banking Transactions, May Fuel CPI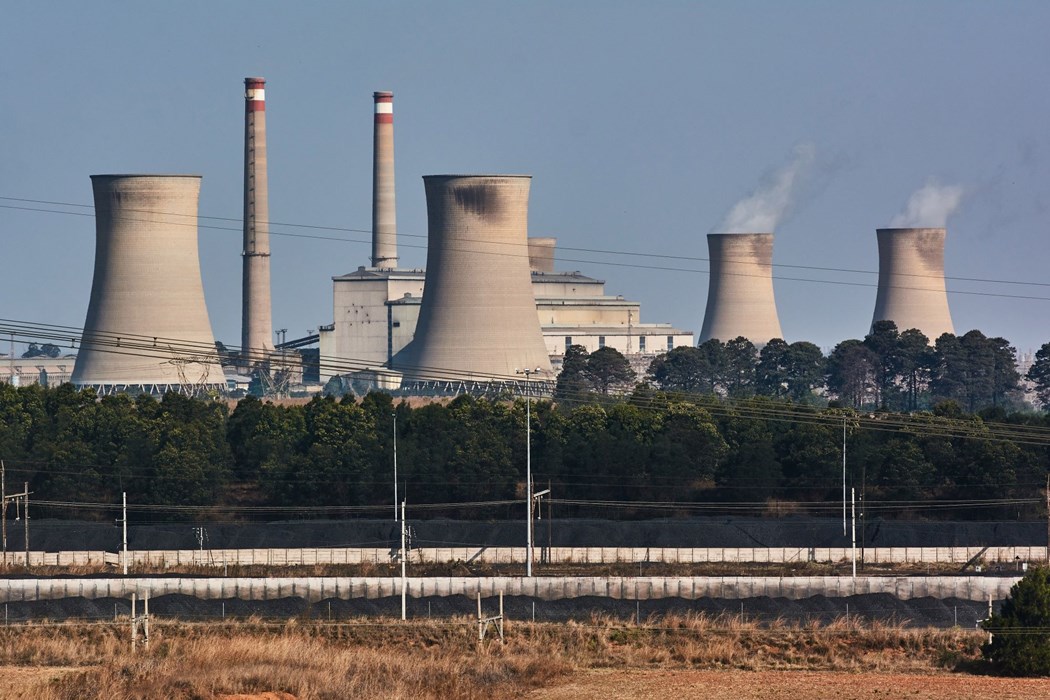 (Bloomberg) -- An index measuring banking transactions in South Africa fell for the first time since November last month, signaling the country's deteriorating economic activity.
The notable moderation in the BankservAfrica Economic Transactions Index, reflects the pressures that businesses in the country's main economic sectors are experiencing from continued power outages, rising interest rates, elevated inflation and a global slowdown, independent economist, Elize Kruger said.
The Foschini Group Ltd. earlier this week estimated that power cuts in South Africa reduced its retail revenue for the 2023 financial year by about 1 billion rand ($54 million). Those cost increases are likely to be passed onto the end product price, stoking consumer inflation or reflect in lower margins, she said.
Planned Outages Reduced (March 15, 3:59 p.m.)
South Africa's state-owned power utility will reduce planned outages after generation capacity improved over the past 24 hours.
Eskom Holdings SOC Ltd. will now implement so-called stage-3 loadshedding — in which 3,000 megawatts is removed from the national grid — until further notice, acting spokeswoman Daphne Mokwena said in a WhatsApp message on Wednesday. On Tuesday, the utility had said it would cut 4,000 megawatts daily from 4 p.m. to 5 a.m. this week.
Eskom has rationed power every day since Oct. 31, implementing as much as 12 hours of blackouts on some days.
Pollution Waiver at Kusile (March 15, 10:57 a.m.)
Eskom, the world's biggest sulfur-dioxide emitter, obtained a pollution exemption at one of its two biggest coal-fired power plants to allow it to restore generation capacity to the grid quicker. 
Eskom will be allowed to temporarily bypass the so-called flue-gas desulfurization unit — which cuts sulfur-dioxide emissions by as much as 99% — as it carries out repairs to the Kusile power plant, Environment Minister Barbara Creecy said in a statement on Wednesday. Sulfur dioxide is linked to ailments ranging from asthma to heart attacks.
The minister is "aware of the health and associated impacts of exposure to sulfur-dioxide emissions, particularly on communities in close proximity to coal-fired power stations," she said. "In the light of the competing factors, I have been called on to make an extraordinarily difficult decision."
Lawmakers Want Affidavit From Eskom Ex-CEO on Alleged Graft (March 15, 11:24 a.m.)
South African lawmakers will ask former Eskom Chief Executive Officer Andre de Ruyter to submit a sworn affidavit on allegations he made about corruption at the power utility.
The invitation may serve as a prelude to a parliamentary inquiry into Eskom, Standing Committee on Public Accounts Chairman Mkhuleko Hlengwa told lawmakers in Cape Town on Wednesday. Affidavits will also be sought from Eskom's board and Public Enterprises Minister Pravin Gordhan in response to De Ruyter's allegations, he said.
De Ruyter said in an interview with local broadcaster e.tv that Eskom was losing about 1 billion rand ($55 million) a month due to graft and theft, with the involvement of people linked to the ruling African National Congress. A day later, Eskom announced that De Ruyter would leave the company with immediate effect, instead of the previously scheduled end date on March 31. 
Read: Eskom Loses $55 Million a Month to Graft, Departing CEO Says
Outages Boost Voter Antipathy Toward Ruling Party (March 15, 09:43 a.m.)
More than half of South African taxpayers want to vote the governing party out of power in next year's elections because of rolling blackouts, a survey shows.
An online poll of almost 1,500 adults last month found that 65% of middle-income earners are seriously considering not voting for the African National Congress in next year's general elections, according to a BrandMapp-Silverstone report published on the website of Cape Town-based consultancy WhyFive.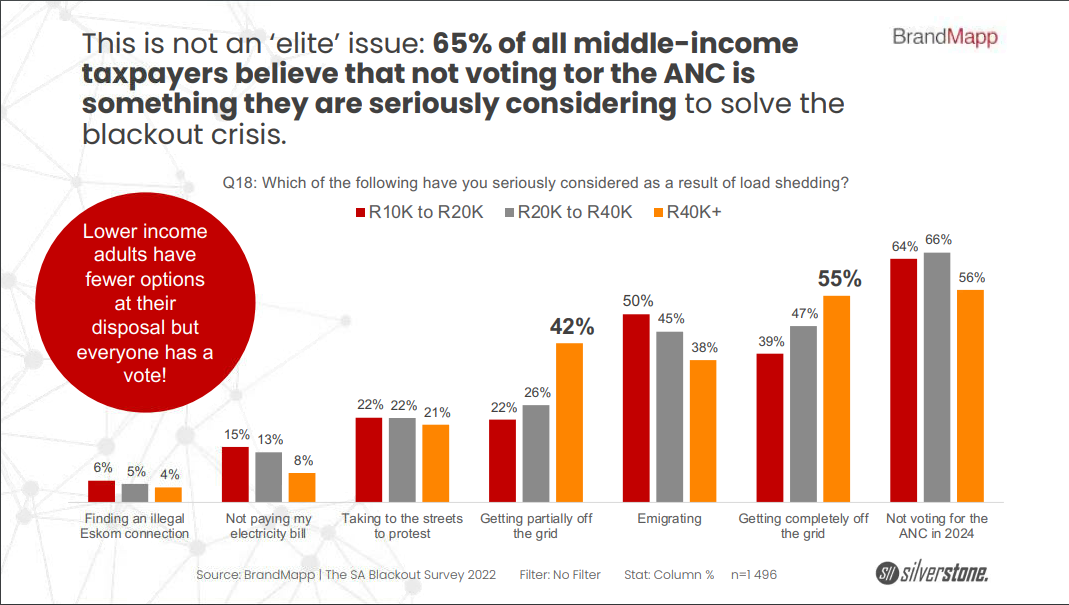 Read: Outages Fuel Voter Antipathy to South Africa's ANC, Poll Shows
Eskom Holdings May Be Raised by S&P (March 14, 8:16 p.m.)
S&P Global Ratings put Eskom's debt assessment on positive watch, meaning it may upgrade South Africa's state-owned power utility.
The move follows the announcement last month that Eskom will receive 254 billion rand in debt relief from the government, the ratings company said in a statement on Tuesday. S&P expects the move "will address Eskom's near-term debt obligations once implemented and give Eskom room to focus on operational improvements and electricity-sector reform targets," it said.
S&P could raise Eskom's CCC+ rating by one or more notches based on the expectation that the utility's liquidity position will strengthen and that the risks of a near-term default event will reduce once the debt relief agreement is implemented.
Read: Eskom Holdings May Be Raised by S&P
--With assistance from and .
More stories like this are available on bloomberg.com
©2023 Bloomberg L.P.
KEEPING THE ENERGY INDUSTRY CONNECTED
Subscribe to our newsletter and get the best of Energy Connects directly to your inbox each week.
By subscribing, you agree to the processing of your personal data by dmg events as described in the Privacy Policy.