Shell Demands Profit From Green Energy, Not Just CO2 Cuts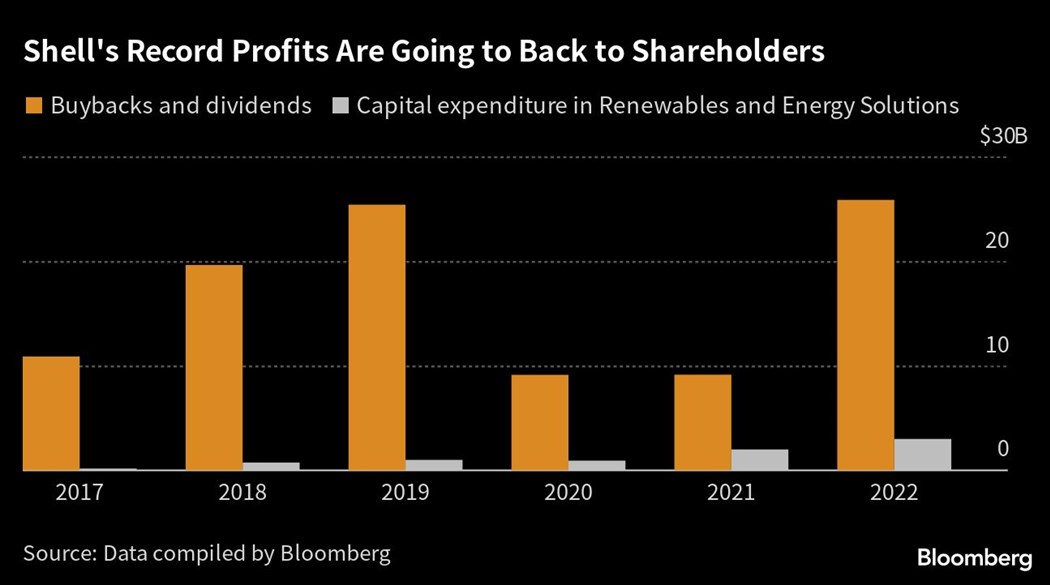 (Bloomberg) -- Shell Plc executives are telling their renewable power business that it needs to become more profitable, not just deliver lower carbon emissions, and pull back from the less successful elements of its clean-energy strategy. 
That was the message from Steve Hill, executive vice president of Shell Energy, at an internal town hall for his team on Wednesday, according to comments from the meeting reviewed by Bloomberg. It's part of a revamped strategy from new Chief Executive Officer Wael Sawan that will be fully revealed in June, as he seeks to improve Shell's performance and eliminate businesses that aren't producing adequate returns.
Hill's Shell Energy unit includes the renewable power business. While the company's efforts in green electricity have been an exercise in learning and experimenting to find where it can be successful, now they need to show results, he said at the meeting. 
"Delivery will be the mandate of the organization going forward," Hill told the gathering. "The things we've been less successful with, we need to scale back or stop."
A spokesman for Shell declined to comment.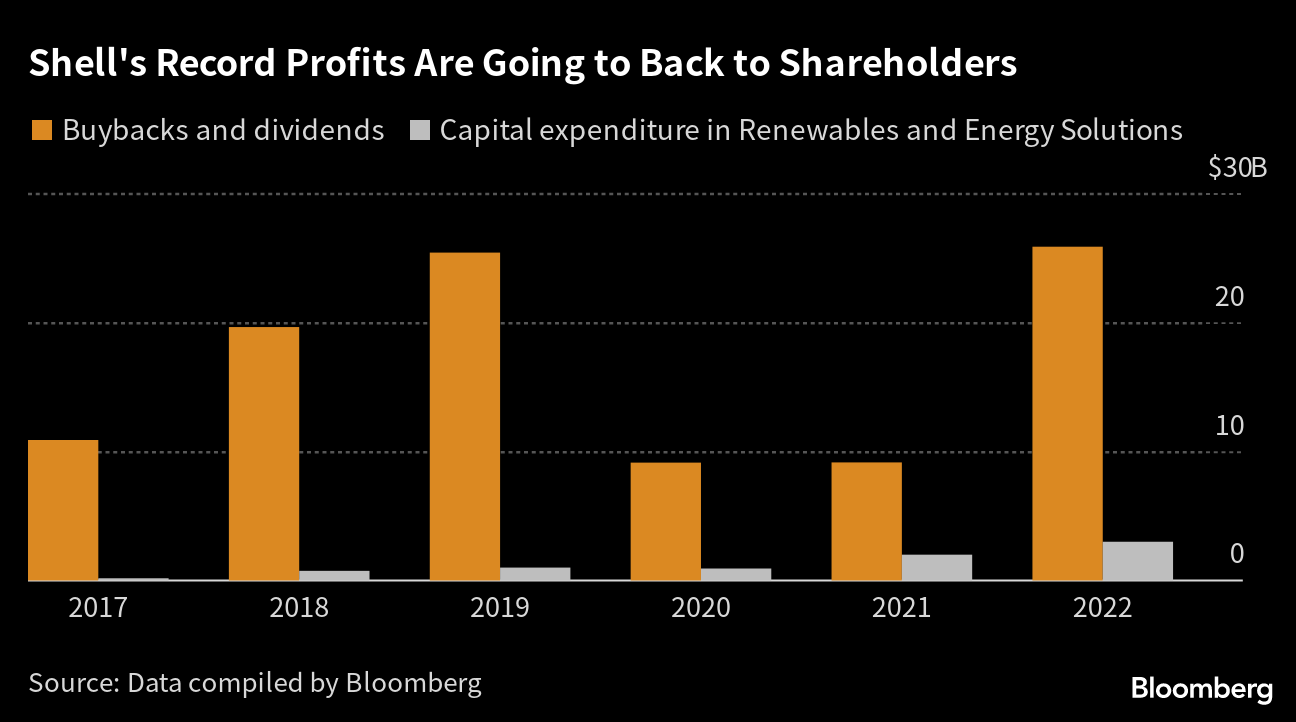 Shell has already provided some evidence of this strategy in recent months. It has announced a strategic review of its money-losing European retail energy business and put it up for sale. It also sold Australian solar power developer Esco Pacific, in which it held a minority stake, and is currently looking to sell a French floating turbine unit as part of a broader retreat from that country's offshore wind market.
Under Sawan's predecessor Ben van Beurden, investment in Shell's renewable energy unit grew steadily. Last year it reached a record $3.5 billion, up 47% from a year earlier. But it will remain flat in 2023, the company's Chief Financial Officer Sinead Gorman said earlier this year. 
The growth of the unit has been a key part of Shell's broader strategy to decarbonize its business as the world tries to wean itself off the fossil fuels that cause climate change. The company has a goal to reduce the carbon intensity of the energy it sells by 20% by 2030 and 100% by 2050 compared to 2016 levels. So far it's achieved a 3.8% reduction. 
Carbon intensity is a reflection of the company's overall energy mix, though not total emissions. The higher the proportion of low-carbon sources like renewable power, the more progress Shell could make toward that goal. 
"It is always good to run a tight ship and get rid of poor performing assets," said Shu Ling Liauw, co-founder of Accela Research, a climate transition research and advisory group. "The risk is that they are cutting off long-term low-carbon options to boost short-term shareholder returns in an attempt to defend the company valuation."
While the power business has played a significant role in Shell's decarbonization efforts and narrative, there is now a need to grow the business profitably, Hill said. The unit needs to operate in commercially astute way, just like the other divisions of the company.
On the financial metric that matters most to Shell's ability to boost investor returns, cash flow, the company's renewables and energy solutions division has been a drag on performance. In 2022, it was responsible for an outflow of $6.39 billion, compared with an inflow of $27.69 billion from the integrated gas business and $29.64 billion from upstream. 
'Hard Choices'
Shell's offshore wind unit is making "hard choices" to ensure it's still relevant in one of the fastest-growing sectors of clean energy, but only through positions in the "right projects," said Thomas Brostrom, who runs the renewables business in Europe and Asia. That's meant pulling out of a planned project in Japan and a decision not to bid in an upcoming tender in the Netherlands, he said on the call.
Some employees on the call asked the executives how Shell can be constrained in its use of capital after making a record $40 billion adjusted net income last year. Ingrid Button, the finance chief for Shell's renewables business, responded by saying that the company needs to use that money for other purposes, including shareholder dividends and buybacks. Shell's renewables business needs to improve compared to competitors and demonstrate discipline with financial choices, she said. 
In addition to restraining spending, Shell Energy executives discussed strategies to boost returns. One was to divest stakes in projects it develops. The other is a better integration of Shell's power generation business and its trading arm, something that's been talked about in the company for years and is now set to be delivered under the new structure.
The goal is to demonstrate specific competitive advantages in the power business and win over investors, Hill said. 
(Updates with analyst comment in 10th paragraph, chart after fifth)
©2023 Bloomberg L.P.
KEEPING THE ENERGY INDUSTRY CONNECTED
Subscribe to our newsletter and get the best of Energy Connects directly to your inbox each week.
By subscribing, you agree to the processing of your personal data by dmg events as described in the Privacy Policy.