IEF: energy security needed for the energy transition to succeed
Nov 24, 2022 by Energy Connects
Joseph McMonigle, Secretary General of the International Energy Forum, speaks to Energy Connects about the forum's latest thinking on the global energy industry's journey to net zero, and why investing in the decarbonisation of the industry must be a priority.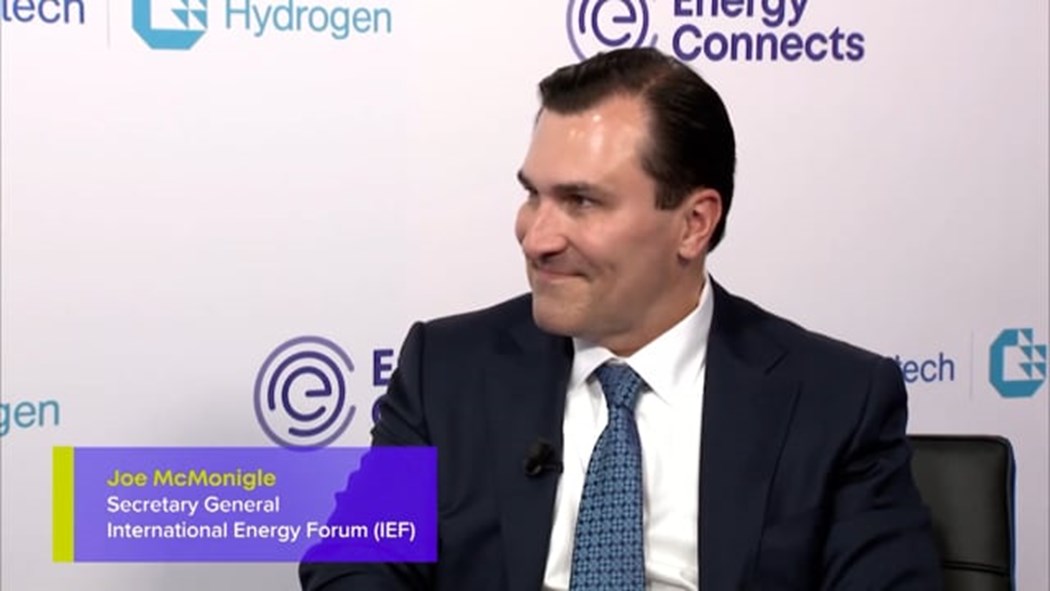 Joseph McMonigle, Secretary General of the International Energy Forum, speaks to Energy Connects about the forum's latest thinking on the global energy industry's journey to net zero, and why investing in the decarbonisation of the industry must be a priority.

Future scenarios indicate that the world needs to quickly move away from fossil fuels to achieve net zero. Do you agree?
Over recent years we have heard a lot from scenarios, and particularly normative scenarios which start at net zero in 2050 and backcast to the present day to show how we can get there. What we have observed in the actual data is that the decline in demand for hydrocarbons is not happening as fast as these scenarios suggest, or not at all.
At the IEF, we conduct an annual analysis of the main energy scenarios, and the gap in oil and gas demand by 2050 between the lowest and the highest has grown every year for more than a decade.
Today, the level of disagreement in the oil and gas scenarios is larger than the entire market itself. Now the energy markets are also sending signals of a very different kind. Energy prices are comparatively high, markets are tight and vulnerable to disruption.
When energy prices rise, there are consequences. Inflation hits economic growth, raises the cost of living and locks poor people out of energy access.
The World Bank estimates that an additional 90 million people who previously had access to energy today are back in darkness because of high prices.
This is on top of the 800 million people without access to energy. Policymakers need to listen to the markets as well as the models, because markets are sending a clear message: that the world needs more energy supply. We urgently need to invest more in energy supply to get prices back to reasonable levels and reduce volatility to keep strong public support for energy transitions and climate action.
What is the problem with the current approach from an energy standpoint?
Over recent years, several governments actually removed the word "energy" from their ministry of energy, renaming them ministry of ecological transformation or climate. Today I think everyone agrees that energy security and market stability are core requirements of a functioning society, and they don't happen on their own or for free.
Policymakers' primary response to demands for a transition in energy policy has been to prioritise renewable energy and reduce investment in fossil fuels, as these are seen to be the main culprits for rising greenhouse gas emissions and global warming.
The problem with this approach is that renewables are not a likefor-like replacement for oil, gas and coal. According to the IEA's Energy Technology Perspectives Report published in 2020, half of the emissions cuts required to achieve net zero will come from technologies that either don't exist today or are not commercially viable.
Fossil fuels are not only the predominant fuel for electricity generation and mobility, but they are also needed for many use cases that renewables simply can't address, such as industrial heat, long-haul transportation and the production of steel, concrete, food and plastics – the list goes on.
Increasing wind and solar is welcome, but they only account for 2% of our primary energy production. We need a massive scaling up of renewables, but that alone will not deliver a successful transition, so we need to do much, much more than that.
What else is needed?
In addition to renewables, we urgently need to make rapid progress in three key areas.
First, we need pick the low hanging fruit in the fight against global warming, which is methane emissions. Methane's warming effect is up to 80 times more powerful than carbon in the first 20 years after release, and methane accounts for 17% of greenhouse gas emissions and is responsible for about 0.5 degrees of the warming since pre-industrial times. Methane emissions from the energy industry can be eliminated at no cost, because the gas has an economic value.
Second, many of the most difficult areas to decarbonise in industry and transport can be addressed with hydrogen, but this technology is still in its infancy. Hydrogen will require a huge investment in new production, storage and transport facilities to scale up quickly.
The third thing we must do now, is to rapidly scale up carbon management technologies. This includes everything from carbon capture and storage to naturebased solutions such as treeplanting. What we have learned since the Paris Agreement is that demand for fossil fuels is much more resilient than people expected.
In the seven years since 2015, fossil fuel demand has not subsided at all. In fact, it has gone up. If we just look at Africa for example, the population of Africa is rising by the size of a country like France or Thailand every two years. All these people need access to energy. Africa has the world's largest discovered but undeveloped reserves of natural gas.
In my conversations with African policymakers, it is clear that they are going to use these resources to develop their economies and bring their people out of poverty. Africa accounts for just 4% of all the CO2 in the atmosphere, so it is difficult to argue against it.
So, in all likelihood, the world will be using large amounts of fossil fuels in 2030, 2040 and even 2050. If we continue to use fossil energy, we must remove the carbon dioxide they leave in the atmosphere. There has been far too little investment in these technologies, partly because many people wrongly expected the world to move away from fossil energy sooner and faster.
But we can't simply wish fossil fuels away – we need to invest in the transition and decarbonise emissions from the energy system we have today, if we are to have any chance of meeting our targets. This explains why I have been arguing that we have to manage the transition.
What do you mean by manage the transition?
Global energy-related carbon dioxide emissions rose by 6% in 2021 to 36.3 billion tonnes, their highest ever level, as the world economy rebounded strongly from the Covid-19 crisis and relied heavily on coal to power that growth, according to the IEA.
Because of the current tightness in oil and gas supply, many countries today are producing more coal than ever before, and this is the opposite of what we need to reduce emissions and tackle the climate crisis.
Today, we are seeing the outcomes of this wrong-headed approach and we are suffering the effects of a cumulative under-investment. High energy prices, volatility and vulnerability to shocks. According to our analysis, this highly vulnerable situation is expected to last for years and may well actually delay the transition. So, we need a rethink in terms of our approach to energy.
What are the contours of the new thinking required?
Demand is very inelastic. If one source of energy is in short supply, people switch to another. Of course, we need to improve our energy efficiency, and this will require a huge leap forward in demand-management technologies.
Some experts estimate that investment in all forms of energy needs to rise from $1 trillion to $4 trillion every year to meet our targets. The idea that we can starve the energy system into a transition is unrealistic. If fossil fuels do continue to play a significant role in ensuring energy security during the transition, we will need to develop decarbonisation technologies and low-carbon technologies.
The energy industry will play a key role in delivering these technologies, and they are needed today to support our energy security and market stability. So we need to invite all actors inside the room to develop the high level of consensus across industry, government and people required to deliver a successful energy transition.
On reflection, it is clear that restricting investment in energy supply did not help us on the way to net zero. It just created unintended consequences. We need to invest in energy security and market stability by securing ample supplies of energy today, but also investing in future supplies.
Energy security is not only a nearterm goal and cannot be bought at the expense of others. We must rapidly grow our commitment to decarbonisation and reducing emissions, and deploy more sophisticated systems to monitor energy usage and carbon intensity through the whole energy value chain, not just for fossil fuels, but also renewables. So, it's a complicated journey and it will be very hard to achieve. Importantly, we also need everyone to pull in the same direction.
What is the IEF doing about it?
The IEF received a very welcome mandate from the leaders of the Group of 20 last year, when at the conclusion of their Rome summit they mandated the IEF to be the facilitator of an "intensive dialogue" between producers and consumers to bolster the efficiency, transparency and stability of energy markets.
The G20 is well aware of the competing pressures on the energy market, between maintaining energy security, guaranteeing just and orderly transitions and ensuring affordability. The heads of state warned countries not to ignore the signals from the energy markets, recognising the importance of maintaining undisrupted flows of energy, exploring paths to enhanced energy security and market stability, while promoting open, competitive and free international energy markets.
I think that was a highly prescient statement from October last year given what we know today. At the IEF, we have also received a growing chorus of demands to bring decision makers together to explore a new approach to addressing carbon emissions that pays more attention to energy security and market stability.
So, we are in the process of consulting with a wide range of stakeholders, including IEF members, industry partners, the finance community and civil society to encourage a deeper and more informed public debate on the competing pressures on our energy system. We need to move beyond the blame game and develop stronger consensus on global energy solutions that provide energy security and achieve net zero at the lowest social cost.
I look forward to sharing with you all the results of our endeavours in 2023 and beyond.