Success in Singapore paves the way for Gastech heading back to Houston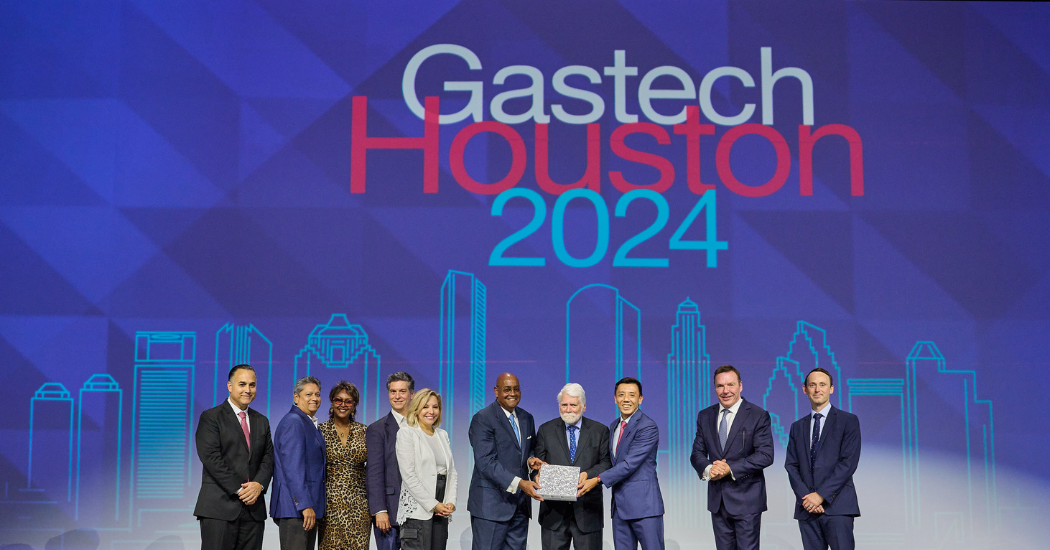 Houston's hosting of the 2024 edition of Gastech was yesterday jokingly described as "one of the world's worst kept secrets". And as dignitaries from Texas yesterday accepted the honour during a handover ceremony, they thanked Singapore for raising the bar - and pledged to take it even higher next year.

During the formal handover to officially announce the 2024 Gastech location, Simon Ford, Vice President of Gastech, said he hoped all agreed the last few few days had been "extremely productive, extremely valuable, and have helped to shape the future of the energy industry by addressing the most urgent issues." He continued: "We're eager to continue in this spirit in the years to come, recognising the responsibility that we have as the organisers to facilitate dialogue, bring people together and drive meaningful change.
"So we're hugely excited to look ahead to next year, to another continent, to another fantastic show to make Gastech 2024 even greater." Ford said Gastech had enjoyed wonderful success working side-by-side with its Singapore partners "to convene one of our largest and most senior level shows in our rich 51-year history". He concluded: "What we have witnessed over the last few days is the most important minds in the global energy industry connect with each other, collaborate, and showcase new technology that will drive the future of our industry."

Jeffrey Siow, Managing Director & COO, Enterprise Singapore highlighted the growth of Singapore's Gastech tenure, in 2015 hosting almost 15,000 participants and 450 exhibitors - this edition it welcomed more than 40,000 and 750, respectively. "I hope all of you have enjoyed the conference and also had the opportunity to experience Singapore and what our global city has to offer," he added.

Taking the stage, Harris County Commissioner Rodney Ellis said: "This is my first time in Singapore, it will not be my last. "It's a high bar that you have set, Jeffrey, here in Singapore, a very high bar. With your help and any suggestions, we're going to raise that bar even higher in Houston." Ellis said his city was delighted to have Gastech back. "On behalf of everybody in the city of Houston,
 I want you to know everything really is bigger in Texas." As for the 2024 host city being revealed pre-handover, Ellis added: "I'm so proud that Texas is known for so many things, keeping secrets is not one of them…we're looking forward to having you in Houston."
Andy Icken, Chief Development Officer, City of Houston, said reference had been made to Houston - home to more than 3,000 energy companies - becoming known as the 'energy capital of the world'. "What we have had to recognise over many recent years is things are changing, just as the name and the nomenclature of Gastech has changed to include Climatetech and Hydrogen as part of the future of the energy industry," he said. "What matters in the world of energy transition is the dialogue among members there. The solutions are technological in one way or another, and that often means people need to talk together, they need to interact with one another, and they need to learn from each other."
KEEPING THE ENERGY INDUSTRY CONNECTED
Subscribe to our newsletter and get the best of Energy Connects directly to your inbox each week.
By subscribing, you agree to the processing of your personal data by dmg events as described in the Privacy Policy.