ADIPEC 2023 breaks records for attendance and commercial deals, generating US$8.8bn for the global energy industry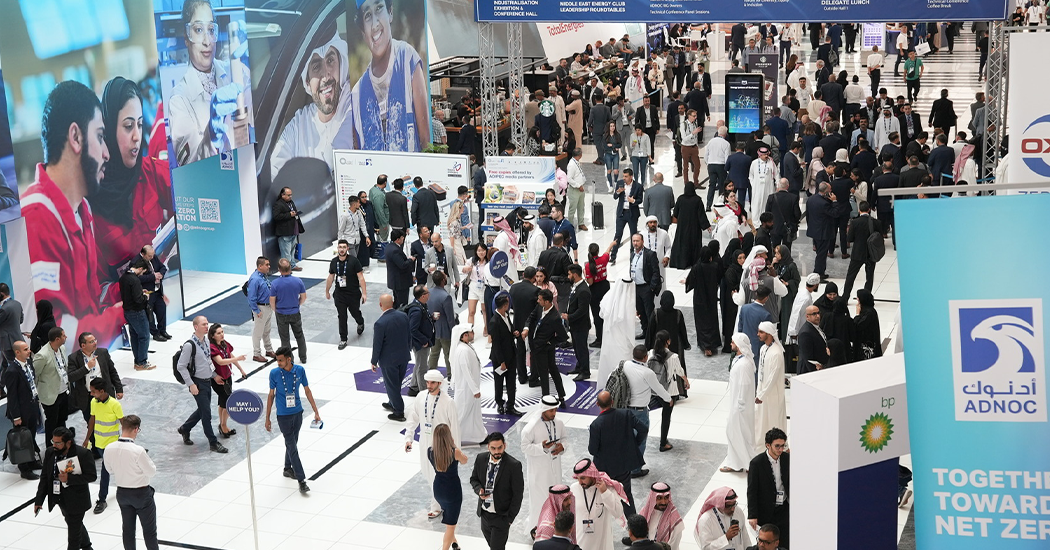 ADIPEC 2023 was the most commercially successful edition in the event's nearly 40-year history, generating US$8.8 billion in business for the global energy industry, as well as delivering over US$350 million in event-related business to the United Arab Emirates (UAE) economy.
ADIPEC 2023, which took place in Abu Dhabi from 2-5 October, under the theme of Decarbonising. Faster. Together., convened global energy leaders and leading voices from across the energy ecosystem to accelerate urgent, collective action and game-changing solutions to decarbonise quicker and future-proof the energy system.
The US$600 million increase in commercial deals, up from the US$8.2bn figure recorded in 2022, reinforces the event as a leading global platform for the energy industry to come together, do business and push the global energy transition agenda forward, towards a cleaner, more secure and sustainable future.
During ADIPEC, ADNOC announced its investment in the Hail and Ghasha offshore development project that aims to operate with net zero carbon dioxide emissions, a first globally. The company also announced the Habshan carbon capture, utilisation, and storage (CCUS) project, in Abu Dhabi, which will be among the largest carbon capture projects in the Middle East and North Africa region.
Occidental subsidiary, 1PointFive, and ADNOC also signed an agreement to explore the feasibility of a 1 million tonne-per-year direct air capture (DAC) facility in the UAE. In addition, a milestone electric-liquefaction train system was awarded for ADNOC's Ruwais LNG export terminal, supporting the plant's clean power processes as one of the lowest carbon intensity LNG facilities in the world. 
Meanwhile, OMV and Wood signed an agreement for the commercial licensing of OMV's ReOil technology, which converts end-of-life plastic waste into pyrolysis oil, a valuable renewable energy resource that replaces conventional fuels while enhancing the circularity of plastics.
Discussing the impact of this year's event, Tayba Al Hashemi, Chair of ADIPEC 2023 and CEO of ADNOC Offshore, said: "ADIPEC continues to play a critical role in the global energy transition, assembling a broad range of key policymakers and CEOs for extensive and impactful discussions on the future of our global energy system and facilitating meaningful partnerships and deals.
"With the most comprehensive agenda in its nearly 40-year history, ADIPEC 2023 shed new light on the industry's priorities, focusing on the pressing need to decarbonise across the entire value chain. The event stimulated new thinking and ideas on a diverse set of issues, including the creation of circular economies and innovative methods for achieving carbon neutrality in hard-to-abate sectors and re-energised the industry-wide commitment to creating a truly sustainable energy system."
As well as being a catalyst for multiple industry deals, ADIPEC 2023 also drove activity across the UAE's economy, generating over US$350 million worth of economic benefits for the local economy, particularly in the hospitality, tourism, and transport sectors.
In support of the UAE's goal to diversify its economy, Ahmed Al Zaabi, chairman of the Abu Dhabi Department of Economic Development, announced Abu Dhabi would provide 100 investment opportunities with a combined market size of Dh123.3 billion (US$33.5 billion) by 2027 under the 'Abu Dhabi Channel Partners' initiative.
Christopher Hudson, President of dmg events, organisers of ADIPEC 2023, said: "ADIPEC 2023 engaged directly with the new priorities of the energy market, bringing together key stakeholders to collaborate around decarbonisation solutions and the development of a secure, profitable and sustainable energy future.
"These efforts not only set the tone for the entire energy industry and its adjacent sectors but also led to significant benefits for both the global and local economy, once more highlighting the central role of cross-sector partnerships and consistent investment in delivering a just, clean and effective energy transition. As we look ahead to 2024, ADIPEC will build upon this year's success and drive positive change across the energy sector."
ADIPEC 2023 grew significantly in size and reach, welcoming record participation from NGOs - including Ipieca, Environmental Defense Fund, the Oil & Gas Methane Partnership, the International Renewable Energy Agency (IRENA) and the International Energy Forum (IEF) - as well as diverse voices from energy-adjacent industries including aviation and other heavy industries, finance and technology.
The event also attracted a record-breaking 184,000-plus attendees from 160 countries and over 2,200 exhibiting companies. The conference programme delivered over 350 sessions, featuring the insights of more than 1,600 speakers – including more than 40 government ministers and 220 C-suite global energy executives – who convened to forge paths to decarbonisation through action-oriented and strategic dialogues.
In the lead up to COP28 in the UAE, ADIPEC 2023 helped set the agenda for the energy industry's push to decarbonisation and the global energy transition by tackling the core challenges of the energy transition – climate technology, investment, energy security and affordability – and helping align the global energy industry's efforts to lower emissions while maintaining economic growth.
ADIPEC 2024 will take place in Abu Dhabi on 11-14 November 2024 with a mission to continue to support the global energy transition and collective decarbonisation.
KEEPING THE ENERGY INDUSTRY CONNECTED
Subscribe to our newsletter and get the best of Energy Connects directly to your inbox each week.
By subscribing, you agree to the processing of your personal data by dmg events as described in the Privacy Policy.