World Utilities Congress successfully launches second edition in Abu Dhabi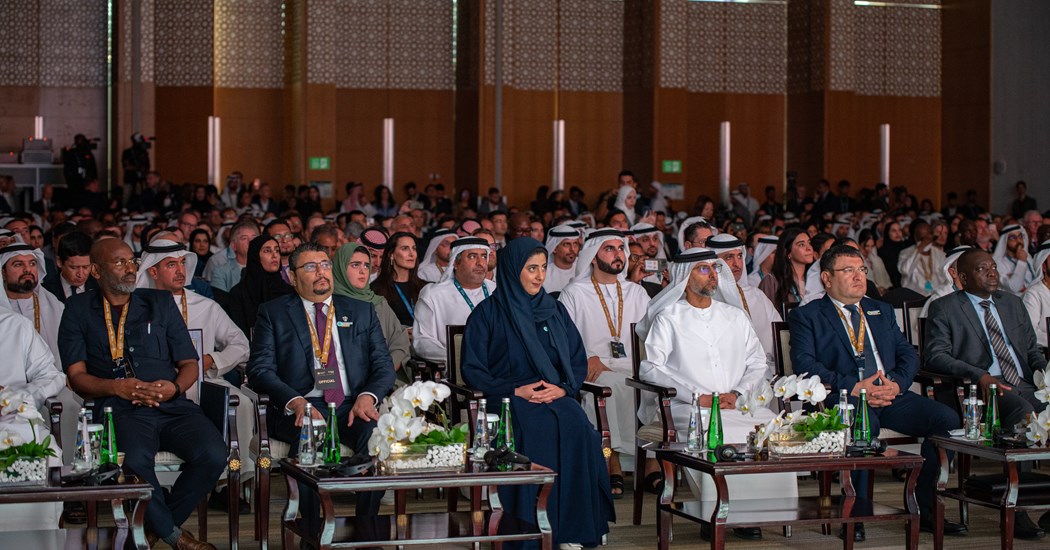 Held under the patronage of His Highness Sheikh Khaled bin Mohamed bin Zayed Al Nahyan, Crown Prince of Abu Dhabi and Chairman of the Abu Dhabi Executive Council, the second edition of the World Utilities Congress 2023 was inaugurated by Her Highness Sheikha Shamma bint Sultan bin Khalifa Al Nahyan, President and Chief Executive Officer of the UAE Independent Climate Change Accelerators (UICCA), on Monday.
The second edition of the World Utilities Congress, hosted by Abu Dhabi National Energy Company (TAQA), returned to Abu Dhabi with industry leaders, innovators, and policymakers from across the globe addressing the integral role power and water play in supporting the decarbonisation of industry and the journey to net-zero.
Successfully returning to the UAE capital for the second year, the World Utilities Congress 2023 opened to thousands of delegates, industry specialists, and global leaders from the power and water industries convening to address challenges and explore solutions to deliver secure, sustainable, and affordable energy.
In her opening ceremony speech, Her Highness Sheikha Shamma bint Sultan bin Khalifa Al Nahyan said, "The World Utilities Congress is quickly becoming one of the most important meeting places for the energy and water sectors in the world. The objectives of this highly significant event were designed to encourage global partnerships in the fight against climate change. Solidarity and collaboration worldwide are necessary to reach our net zero goals; and so we must take a long-term view and work together across borders to develop innovative solutions that pave the way to a cleaner and greener future."
His Excellency Suhail bin Mohammed Al Mazrouei, Minister of Energy and Infrastructure, said: "The utilities sector has a significant role to play in the transition to clean energy. Decarbonising power production will allow other industries to decarbonise by electrifying their operations. As leaders in our respective fields, we have the responsibility to ensure our power supply is affordable, reliable, and sustainable and can continue to meet the needs of a growing global population."
He added: "The UAE is taking confident steps in this space and aims to meet its net-zero target by 2050, mainly through the expansion of clean electricity in its power market. In line with our national vision, 'We the UAE 2031', that aims to enhance the sustainability of the energy sector, we are leveraging nuclear, solar, hydrogen, and waste-to-energy sources to drive a robust energy transition."
Commenting on the second iteration of the world-leading utilities event, Jasim Husain Thabet, TAQA's Group Chief Executive Officer and Managing Director, said: "We are thrilled to be hosting the second edition of the World Utilities Congress. I want to express my sincere gratitude to H.H. Sheikh Khaled bin Mohamed bin Zayed Al Nahyan, Crown Prince of Abu Dhabi and Chairman of the Abu Dhabi Executive Council, for his patronage and leadership, and to both the Abu Dhabi Department of Energy and the UAE Ministry of Energy and Infrastructure for their tremendous support."
During his keynote address at the opening ceremony Thabet highlighted: "Building on the success of its inaugural edition last year, the World Utilities Congress continues to serve as a world-class platform that is shaping the future of the global utilities sector and exemplifies the UAE's continued commitment to decarbonisation. Holding the distinction as the first Middle East nation to announce a net zero target, the UAE today holds ambitious goals to reduce its carbon footprint over the next three decades with plans to invest over $160 billion in clean and renewable energy."
Thabet added: "As we convene in the leadup to COP28, which marks the first time that the UN Climate Change Conference will be held in the UAE, it is important that the industry uses this occasion to realize collaborative opportunities that will accelerate decarbonization in a responsible manner but that also ensure energy remains accessible and affordable for all."
The event's Strategic Conference kicked off with the first Ministerial Panel Session titled 'Strengthening Ambition on Route to COP28 and Beyond,' which offered industry insight from energy ministers discussing regional and national industry commitments and solutions at play to reduce emissions from the utilities sector ahead of COP28. Attendees learned how government entities are playing a vital role in ensuring the implementation of strategies that bring collaboration across the value chain to reduce carbon footprints and accelerate the energy transition for a sustainable future.
Participants included, His Excellency Suhail bin Mohammed Al Mazrouei; His Excellency Yaser Bin Ebrahim Humaidan, Minister of Electricity and Water Affairs, (Kingdom of Bahrain), His Excellency, Dr Mohamed Shaker El-Markabi, Minister of Electricity and Renewable Energy, Egypt, Dr. Kathryn Huff, Assistant Secretary, Office of Nuclear Energy, Department of Energy, His Excellency Jurabek Mirzamahmudov, Minister of Energy of Uzbekistan.
During his participation in the session, HE Humaidan said: "Bahrain is prioritizing the climate agenda and is committed to achieving the objectives set out by His Royal Highness Prince Salman bin Hamad Al Khalifa, the Crown Prince and Prime Minister of Bahrain. To achieve change by 2050, there needs to be collaboration between the private and the public sector, both need to work together to build their efforts and amplify them together. I think the magnitude of change will only come if we have private sector involvement."
Dr. Kathryn Huff, Assistant Secretary, Office of Nuclear Energy, Department of Energy, United States of America, said: "Nuclear energy is critical to the infrastructure of the United States and an essential part of its climate transition. To achieve net zero by 2050, it is important that we replace automated retiring and retired coal plants, which make up a large fraction of our power. This may require building out 100 or even 200 new gigawatts of nuclear power in the United States. One way to do that is to reduce the costs and improve the timeliness of bills."
A global leadership panel entitled 'Building Momentum on the Road to Net Zero' also took place on the first day of the event.
The panel, which focused on market dynamics and how businesses are keeping up with their net-zero commitments in the current market landscape, convened speakers including, Jasim Husain Thabet; Adnan Ameen, CEO of the 28th session of the Conference of the Parties to the UN Framework Convention on Climate Change (COP28); Luc Rémont, Chairman & CEO of EDF; Lorenzo Simonelli, Chairman and CEO of Baker Hughes, Sama Bilbao y León, Director-General of the World Nuclear Association (WNA) and Greg Jackson, CEO and Funder of Octopus Energy Group.
During the panel, Adnan Ameen said, "Over the last decade, we've had an annual growth rate of 35% in solar PV penetration in the power sector and a 9% decrease in the cost of solar PV power generation. Additionally, wind power has grown by approximately 15-16% year over year with a 27% penetration in the power sector, but we have the trend of electrification, new transmission, interpolation, powertrain electrification, new applications for electrification and decarbonizing not only the power sector but also buildings and heavy industry. These are all things that are gaining momentum."
Providing perspective from the global nuclear industry, Dr Sama said: "We have experienced an unprecedented interest in everything related to nuclear. There are many countries around the world looking at large reactors, small modular reactors, reactors for electricity, and reactors for coding applications. Depending on the application you have in mind, you are going to choose a small reactor or a large reactor. The UAE is a perfect example of how to deliver an enormous project, the largest in the history of the UAE, on time and on budget. So clearly there are financial frameworks in which this can be done."
The Strategic Conference continues over the next two days alongside a Technical Conference for the entire value chain of power, water, and gas utilities. With the utilities industry undergoing rapid transformation, the technical conference provides industry professionals with unprecedented access to the latest technical developments, new projects, innovative technology, and the opportunity to learn from industry best practices.  
At the 'Live Talks Forum', attendees learned how the utilities sector is driving positive progress in the fields of water, hydrogen, and technological innovation. Policymakers, global experts, and government authorities held back-to-back discussions on stage, displaying the impact of new products and innovation across the global utilities sector. The energy transition and achieving sustainability were in focus, with discussions covering sustainable water management, desalination techniques, and the use of hydrogen.
A dedicated 'Nuclear Energy Forum' kicked off alongside the exhibition highlighting the integral role of nuclear energy towards achieving global net zero objectives. Industry professionals convened to address the future of the nuclear industry, new and emerging technologies, as well as future challenges and opportunities critical to decarbonization of energy systems worldwide.
His Excellency Mohamed Ibrahim Al Hammadi, Managing Director and Chief Executive Officer of ENEC, said: "We have a golden opportunity to accelerate the path to net zero, but to do so, we must be bold with our actions and recognize that this window of opportunity is limited. With global electricity demand set to double by 2050, we need to focus on providing 24/7 baseload clean electricity and supporting a growing renewable footprint, and that means more nuclear energy, delivered with today's model. The Barakah Plant demonstrates how nuclear can reinforce domestic energy security. By replacing natural gas for power generation, nuclear not only decarbonizes, it diverts precious fossil fuels for higher value uses. Barakah also opens the door to regional power exports, green molecules and alternative clean fuels as we increase innovation and R&D to support deeper decarbonization and sustainability."
Christopher Hudson, President of dmg events, the organisers of the World Utilities Congress 2023, said: "Today we witnessed how the utilities sector is uniting in its efforts towards the sustainable provision of water and power with global industry leaders showcasing innovation, strategies and progress made in the path towards net-zero. We are thrilled to bring this global event back to Abu Dhabi for the second year and to see thousands of attendees and exhibitors returning to collaborate on defining the future of the sector."
Hosted by TAQA and organised by dmg events, the three-day Congress is supported by the UAE's Ministry of Energy & Infrastructure, Abu Dhabi Department of Energy (DoE), Department of Culture and Tourism – Abu Dhabi (DCT Abu Dhabi), and Emirates Nuclear Energy Corporation (ENEC).
Running until 10 May 2023, the World Utilities Congress will welcome Energy Ministers, over 10,000 industry professionals, 1,000 conference delegates, 250 expert speakers, and 150 exhibiting companies, from across the entire utilities value chain.
KEEPING THE ENERGY INDUSTRY CONNECTED
Subscribe to our newsletter and get the best of Energy Connects directly to your inbox each week.
By subscribing, you agree to the processing of your personal data by dmg events as described in the Privacy Policy.