Explained: what Borouge's ADX debut means for energy market IPOs
Jun 02, 2022 by Energy Connects
Significant global milestone as energy markets scramble to meet soaring demand, capital requirements and transformative needs of the energy transition

Abu Dhabi National Oil Company (ADNOC) and its long-standing partner Borealis AG successfully completed the bookbuilding and public subscription process for the US $2 billion Initial Public Offering (IPO) of their petrochemicals joint venture Borouge plc on the Abu Dhabi Securities Exchange earlier this week – the biggest share sale on the ADX that was oversubscribed about 42 times to draw an investor interest of nearly $83 billion.
The IPO is not only one of the latest mega public offerings across the Middle East, but also represents a significant global milestone as energy markets scramble to meet rising demand, capital requirements and transformative needs of the energy transition across the entire value chain.
What is the size and price range of Borouge's IPO?
The offering of 3,005,769,158 ordinary shares of Borouge was equivalent to 10% of total issued share capital. At the offer price of US $0.67 (AED 2.45) per share, the IPO led to gross proceeds of more than $2 billion to ADNOC and Borealis, together the "Selling Shareholders," upon settlement, the companies said in a statement on Tuesday.
Total gross demand for the IPO crossed $83.4 billion and attracted the likes of India's billionaire Adani family and six other institutional investors, Borouge said.
Overwhelming demand saw the book being covered in less than one hour of the start of the public subscription process. "The offering was multiple times oversubscribed, with significant demand from UAE retail investors and qualified institutional investors," the company said.
How was the IPO structured for retail and institutional investors?
The size of the first tranche of the Borouge IPO was reserved for retail and other investors in the UAE and set at 10 per cent, while the second tranche was reserved for local, regional and international qualified institutional investors and was capped at 88 per cent. The remaining 2 per cent shares were reserved for Adnoc and Borealis employees' subscription.
"Total demand across tranches 1 and 3 amounted to $17.9 billion," Borouge said in a statement, indicating that those tranches were oversubscribed by more than 74 times.
Why did Borogue opt for an IPO?
As a leading provider of innovative, value creating polyolefin solutions, Borouge's product portfolio development and strategic market expansion is central to its growth strategy – something the IPO is seen as enabling at scale.
Headquartered in the UAE with an innovation centre in Abu Dhabi and a manufacturing plant in Ruwais, an application centre and a compounding plant in Shanghai; and a marketing centre in Singapore, Borouge employs more than 3,000 people and serves customers in 50 countries across the Middle East, Asia and Africa.
"Following the highly successful listings of ADNOC Distribution, ADNOC Drilling and Fertiglobe, ADNOC is bringing to the market a UAE-based, globally competitive market leader," Dr Sultan Al Jaber, Minister of Industry and Advanced Technology and Managing Director and Group CEO of ADNOC, said in a statement following the completion of the IPO. "This world-class business provides cutting-edge manufacturing, consumer and infrastructure solutions and offers innovative technologies," he said.
Who are the institutional investors in the Borouge IPO?
Borouge said last week it had secured a total commitment of about $570 million from seven strategic investors to anchor the public offering:
1. ADQ: $120 million
2. Abu Dhabi Pension Fund: $100 million
3. Alpha: $100 million
4. Emirates Investment Authority: $75 million
5. The Adani family: $75 million
6. International Holding Company (IHC): $50 million
7. Multiply: $50 million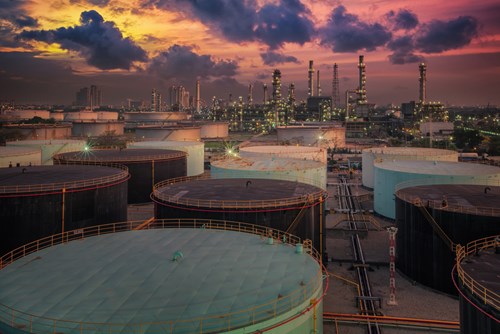 Why are energy IPOs on the rise in Middle East and globally?
According to data provided by Refinitiv, Gulf issuers have raised a total of US $8.76 billion from IPOs so far this year, far exceeding European flotations. The record issuance comes against the backdrop of global market volatility and soaring demand and cost for energy, with Brent crude prices hovering around $120 per barrel.
The appetite for IPOs allied to the energy sector seem to be increasing globally, including in the Middle East, capitalising on a rebound in crude prices to attract foreign investors.
Bloomberg reported earlier this year that Rawabi Energy Co., a unit of Saudi Arabia's Rawabi Holding Co., is seeking to raise $500 million in funding ahead of a potential IPO on the Saudi stock market.
In Oman, state energy company OQ is considering an IPO of its gas pipelines network, Reuters reported earlier. And in the UAE, utility company Utico FZC has hired several banks to prepare for a potential IPO on the Dubai Financial Market, Bloomberg reported.
Globally, South African new energy company Regener8 has lodged a prospectus in Australia to raise up to $5.5 million for an IPO, reflecting growing investor interest for the renewables sector.
What does this mean for energy markets and investors?
As demand for new and sustainable energy solutions grows around the world, energy companies are scrambling to meet capital investments needs to fulfil project and capacity expansions, buoyed by robust industry growth trends.
On the prospect of ADNOC's future journey, for instance, Dr Sultan Al Jaber recently said: "Through Borouge and our recently announced 25% equity investment in Borealis, ADNOC is poised to capitalize on the significant industrial and consumer-led growth in the petrochemicals sector over the coming decades."
According to analysts, international investors have seized on the opportunities offered by energy companies to monetise assets and raise funds from international private equity groups. "IPOs have held up very well in the GCC and beyond due to high interest from international and regional investors in recent offerings and in the upcoming ECM pipeline," Citigroup analyst Rudy Saadi told CNBC. "We've seen continuous net foreign inflows across all GCC exchanges, even during the recent selloff," he added.
What's next for Borouge?
Borouge shares will start trading on the ADX on Friday. It is the fourth ADNOC subsidiary that has sought a listing on the second-biggest Arab stock market. ADNOC will own 54 per cent of the company after the listing, while Borealis will control 36 per cent.