Irelands gas supply its weak link
Jul 06, 2022 by Energy Connects
Cathal Murphy, Policy Analyst - Energy Industry Ireland, looks at Ireland's heavy reliance on gas for its power needs and why the war in Ukraine and its impact on energy supply could have serious consequences for Ireland.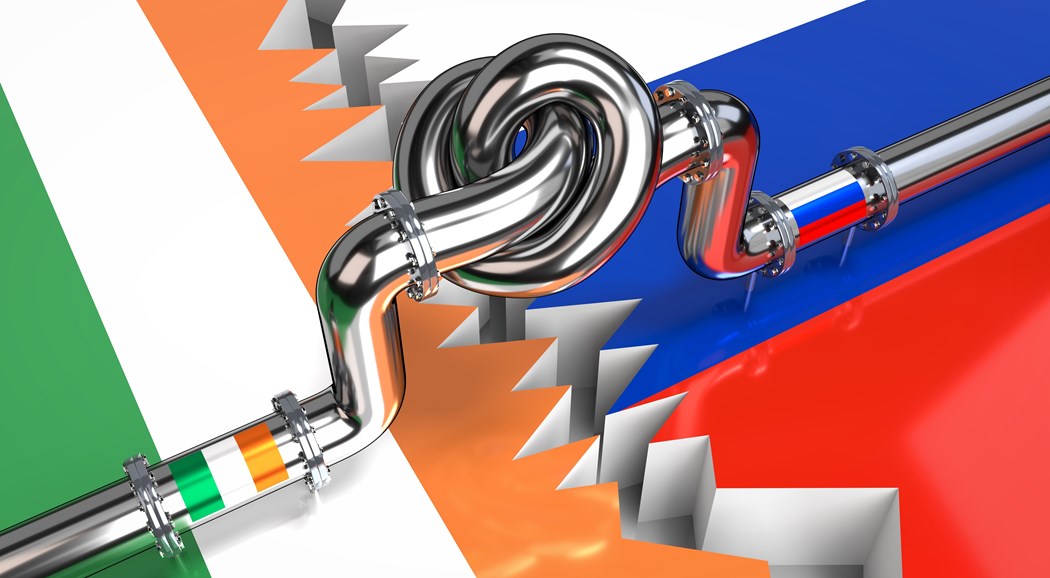 Ireland which is at the edge of the European gas network is heavily reliant on gas for its power and virtually all this gas will in the near future come from a single route to the Island from Britain. With this there is no LNG terminal, there is no nuclear power, and limited biomass and biogas. This results in Ireland being then one of the least flexible countries to adapt to any potential gas shortages in Europe.
Ireland is possibly the only country in the world that recently ceased electricity generation from one of its few sources of indigenous on-demand fuel (peat) as one of its two gas fields closed, (Kinsale), and the other, the (Corrib gas field off the west coast), will cease production over the next decade.
Natural gas meets over 30 percent of Ireland's energy needs, heating 700,000 homes and businesses and generating over 50 percent of the electricity. Natural gas in Ireland is currently supplied by the combination of the domestic production from one gas field and imports via a pipeline from the UK.
A dependence on gas imports is rising sharply from 33 percent in 2017 to now a 75 percent dependency on imports from the UK. Following the depletion of the Corrib gas field, Ireland is expected to be dependent on over 80 percent imports by the mid-2020s and over 90 percent by 2030. And gas generation is set to grow further in Ireland with the proposals to build nine new gas-fired power plants which are due to be built by 2024 to cope with soaring demand for electricity.
So more gas is needed, indigenous gas is running out, there are limited alternatives to the gas, with Ireland becoming reliant on one pipeline for its gas supply from a country now outside the European Union. The lack of flexibility in supply routes for energy, as Brexit negotiations and issues over the Northern Ireland Protocol are raised again, adds to questions of Irish energy security and the possible politicisation of energy.
But Ireland has little options other than gas. There is at present a legal ban on nuclear power in Ireland and little appetite politically or otherwise to change this stance. With LNG there was a project for a terminal to be constructed proposed over a decade ago, however it never materialised. New projects are now being put forward but there is resistant to their development. The current Minster indeed has voiced opposition to LNG developments and has published a policy document last year which stated the development of LNG facilities should not be permitted pending the outcome of a security supply review.
The two remaining peat electricity generation plants closed in 2020 with the original date for closure 2030.  This closure being brought forward by a whole decade without a direct indigenous replacement just meant more gas. There was some political talk of converting the peat plants to biomass. However in 2019 planning permission to convert the power plants to biomass was refused. The current Minster has also raised the possibility of banning all peat for fuel which currently supplies 4 percent of heat demand in domestic households.
An EU Commission Report from 2017 highlights that Ireland has one of the best potentials for biogas production per capita within the EU by 2030. But there is presently only one facility injecting into the grid. This it must be remembered, is a source of energy well established for some time right across Europe. There are no plans either for electricity generation from biomass into the future and with the refusal of the conversion of the peat plants to biomass this also might make biomass development less likely.
The biggest power plant in Ireland, the coal fired Moneypoint, was due to close in 2025. It was stated in the Irish Parliament that the plant will remain open, with an indefinite period of survival for coal in Ireland. Though this too is imported energy. 
The results of these policies mean limited inflexible energy supply options in Ireland. It means simply more gas and more imported gas. The EU Council has this week adopted a regulation to ensure that gas storage capacities in the EU are filled before the winter season, with Ireland one of very few EU states without strategic reserves of gas.
The Irish Government published in April a National Energy Security Framework in response to the impact of energy supply resulting from the war in Ukraine.  In regard to reducing dependency on fossil fuels it simply says they are to be replaced with the renewables of wind, solar or bioenergy. This Government document further states in relation to gas supply that the 'high dependence on imports from a single source' is the subject of a review of security of supply.
The Irish Government review of its energy security for gas and electricity systems is due in Q3 2022. Considering the current situation it could require more radical steps now for the energy vulnerability of Ireland to be addressed going forward.