China's Record-Breaking Push to Dominate Solar Tech Will Spur Clean Energy Across The World
May 24, 2023 by Bloomberg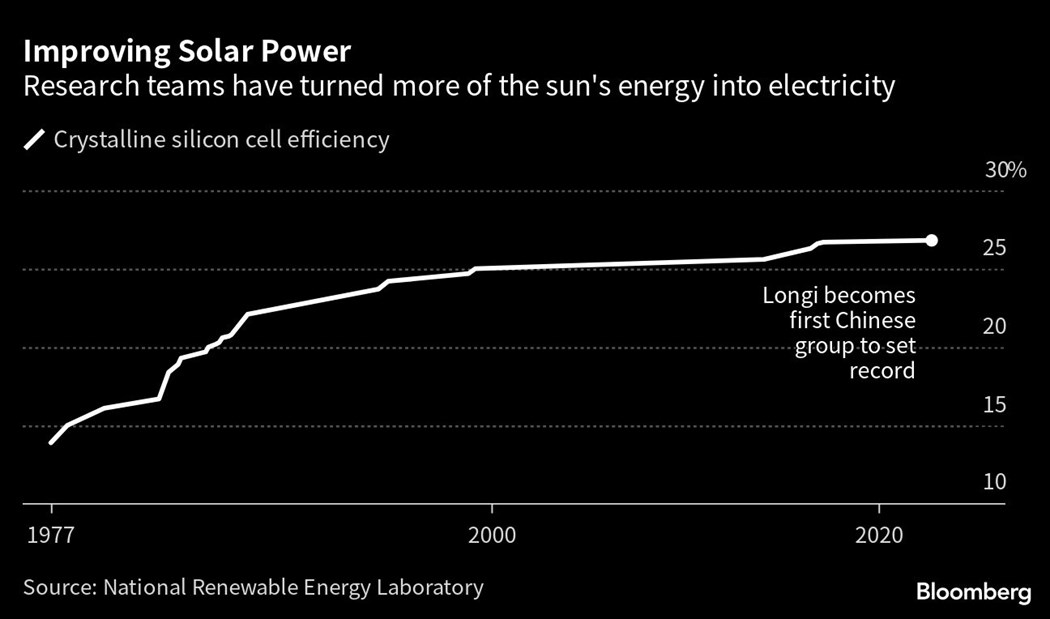 (Bloomberg) -- China's lead in solar manufacturing is now extending to the technology that will lower costs and allow clean energy to spread across the globe. 
Longi Green Energy Technology Co., the world's biggest solar firm by market value, set a record late last year for silicon cell efficiency — a measure of how much of the sun's energy gets converted into usable electricity. It's the first time a Chinese group has held the record — widely considered a benchmark for scientific achievement in the field — and it probably won't be the last, according to one of the industry's top researchers.
China is expected to lead advances in solar in coming years, said Martin Green, a professor at the University of New South Wales in Sydney, who's best known as the Father of Modern Photovoltaics. "We're getting to the point where China will dominate the setting of these records," he told the SNEC PV Power Expo in Shanghai on Tuesday.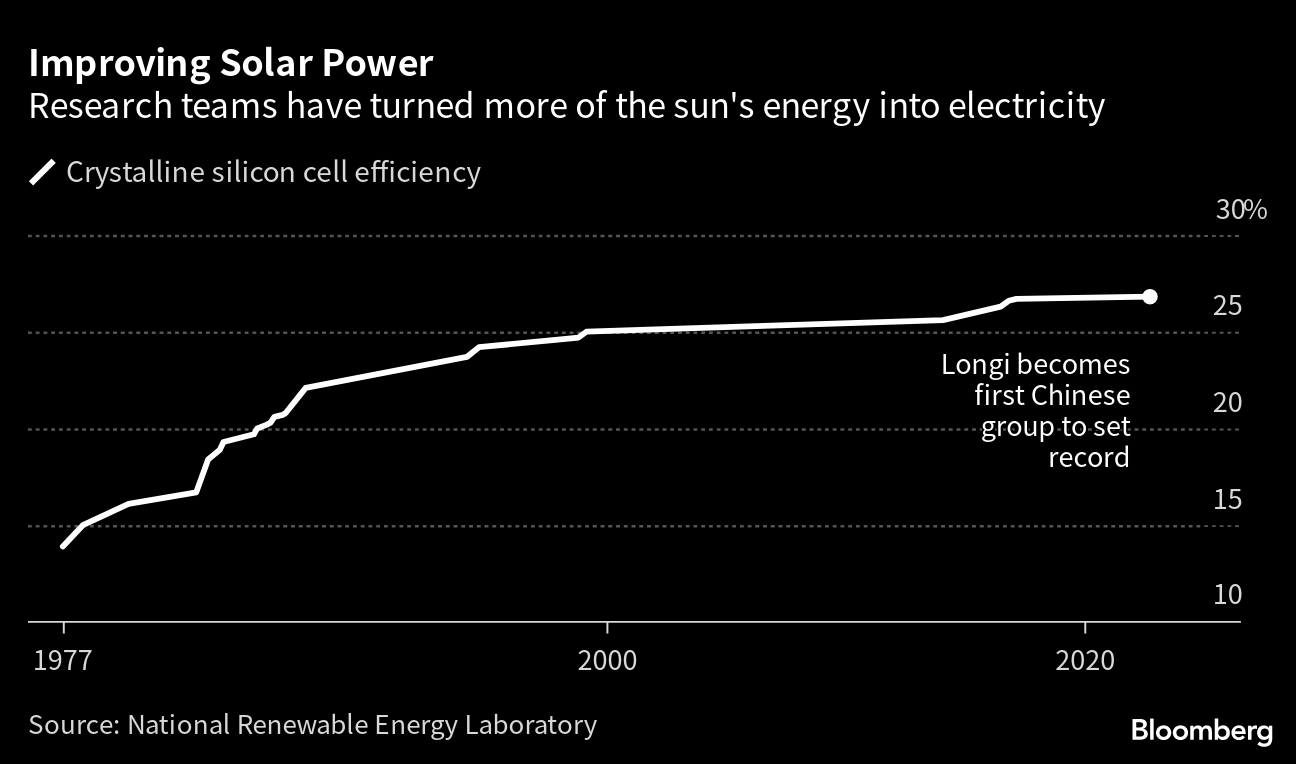 The all-time best for cell efficiency is about more than just bragging rights. Generating extra power from the same silicon square will help entrench the world-leading position of China's solar industry, lower the cost of electricity, and accelerate the adoption of clean energy as countries race to meet their net zero targets. 
In the decades after the modern solar cell was invented in 1954, in Bell Laboratories in New Jersey, efficiency records were consistently set by the US, Green said. Through the 1980s and 1990s, scientists at New South Wales university took the baton, until they were surpassed by Japanese researchers in the 2010s, he said. 
Longi's record-setting cell has 26.8% efficiency. The theoretical limit for silicon is about 29%, according to Green. But that's not stopping firms for pushing for more. 
The chairman of one of Longi's peers, Zhu Gongshan at GCL Technology Holdings Ltd., told conference delegates he expects 32% efficiency by the end of the decade, by pairing silicon-based cells with another material, known as perovskite. 
The Week's Diary
(All times Beijing unless noted otherwise.)
Wednesday, May 24
CCTD's weekly online briefing on Chinese coal, 15:00
SNEC Photovoltaic Power Expo in Shanghai, day 2
Thursday, May 25
Shanghai Futures Exchange Derivatives Forum, day 1
SNEC Photovoltaic Power Expo in Shanghai, day 3
Friday, May 26
China weekly iron ore port stockpiles
Shanghai exchange weekly commodities inventory, ~15:30
Shanghai Futures Exchange Derivatives Forum, day 2
SNEC Photovoltaic Power Expo in Shanghai, day 4
HOLIDAY: Hong Kong
Saturday, May 27
China industrial profits for April, 09:30
On the Wire
A giant oil tanker that was detained in China failed its safety inspection on more than 20 counts, spotlighting the dangers posed by a rapidly expanding fleet of aging vessels sailing the world's oceans. 
China may be expanding its coal-fired power generating capacity to save itself from a power crisis, but it's increasing the prospect of climate and financial catastrophes.
©2023 Bloomberg L.P.