NIMBYs Warm to Renewables in Europe's Most Polluting Economy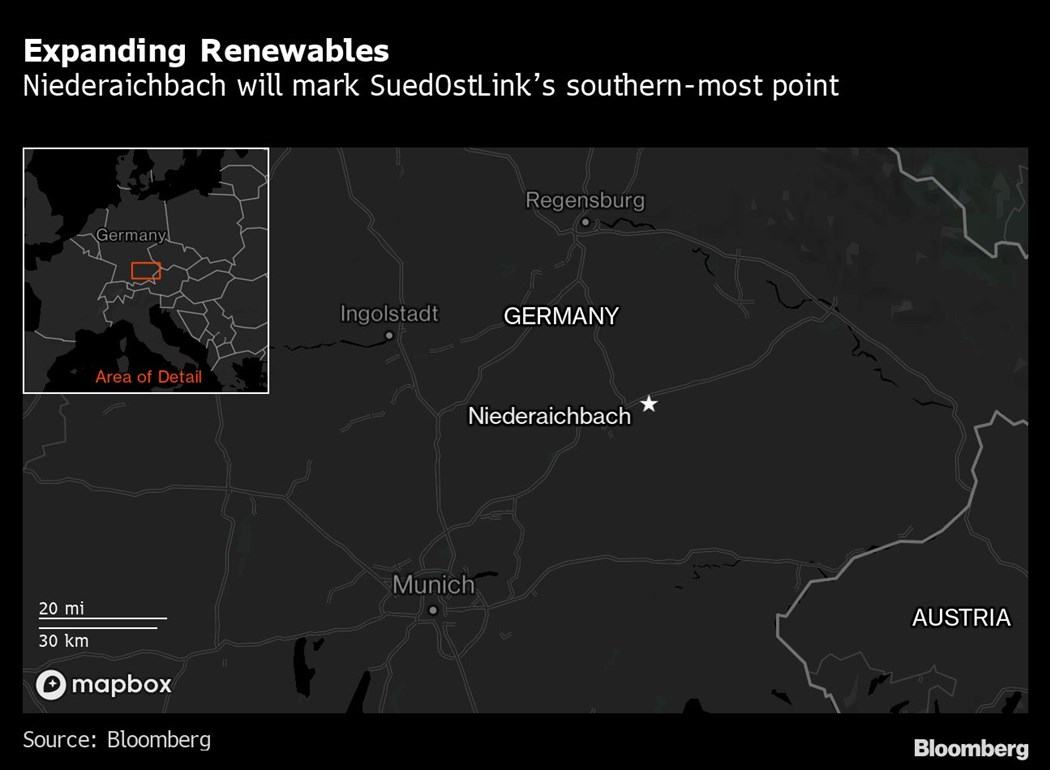 (Bloomberg) --
The Bavarian town of Niederaichbach long opposed a high-voltage line crucial for transport of Germany's renewable energy. It took a war and nationwide blackout warnings for the residents' resistance to soften.
SuedOstLink is one of two big electricity highways that will bring offshore-wind power from Germany's northern coasts to its industrial heartlands. Niederaichbach — just a few kilometers from BMW AG's largest German car factory — will mark the grid's southern-most point.
Its residents have only recently allowed the plan to progress after years of legal action to prevent it. In 2020, the town sued the construction project — which includes a huge converter — because it had hoped to use the space for conservation, and there were worries about how it would look.
The town's more recent change of tack is good news for Germany's slow-moving efforts to expand renewable energy, but it's also a reminder of bubbling resistance across Europe. As the energy crisis weighs on the region, citizens are forced to weigh the political and environmental risks of relying on fossil fuels against the potentially obstructive aesthetics of power cables and modern windmills.
The stakes for Germany are particularly high: the threat of de-industrialization looms over the economy if it can't guarantee affordable power supplies. It's also under pressure — as the bloc's most polluting member — to contribute to Europe's push to go green and help contain the climate crisis.
"We need transmission lines to increase our energy independence and make the energy transition a success," Josef Klaus, Niederaichbach's mayor, told Bloomberg in an interview. In a sign of how quickly sentiment has changed, the town leader was quoted as recently as February saying that he was "disappointed" by a court ruling in favor of the power line.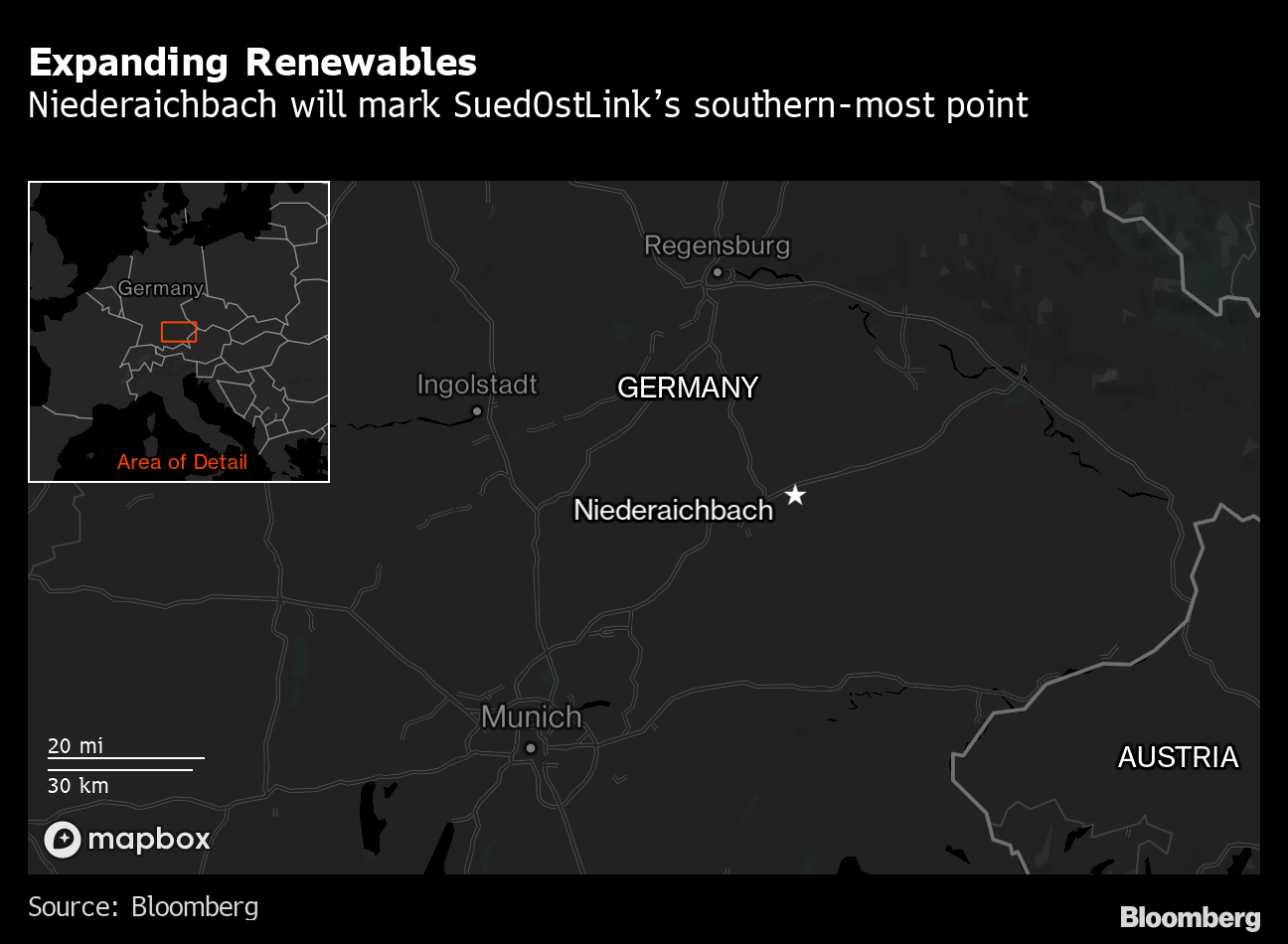 The energy crisis unleashed after Russia's invasion of Ukraine was key in diminishing his and the town's opposition to SuedOstLink, and seems to be melting resistance to projects elsewhere, too. Germans have faced higher inflation than any time since the end of World War II, and citizens are wary that the squeeze on the manufacturing-heavy economy could spell production shutdowns and job losses.
"People see that renewable energies are key to more independence," said energy sociologist Katja Witte from the Wuppertal Institute, adding that "regionally produced and used energy can provide a sense of control and trust."
Surveys suggest that public opinion is increasingly in favor of green energy, and lawmakers have also commented on the shift taking place on the ground. 
Lisa Badum, a politician for the Green party, said that in her home district in Bavaria there's only been a single onshore turbine since 1999, but now four to five wind areas are being planned. Many who were previously against wind power - especially conservative forces - now vote for it, she says.
Similarly, Social Democrat Timon Gremmels said that in the forest near his home, the Reinhardswald in central Germany, anti-wind activists were very active in the past. But resistance has been "clearly declining" since Russia invaded Ukraine in February, he said in an interview.
Read more: Green Fix to Replace Russian Gas Is Stymied by Europe's Red Tape
That leeway has given the federal government scope to loosen regulations to benefit renewable-power operators. Onshore wind parks have been allowed to operate with higher power at night, even if that produces slightly more noise. Biomass plants, which burn plants and other organic materials, have also been given the go-ahead to upscale production, even though they tend to produce unpleasant smells. 
Chancellor Olaf Scholz' coalition has raised the nation's 2030 renewable-power goal from 65% to 80% and passed 25 energy-related laws or regulations in the first three quarters of this year — hardly matched by any government before. 
New legislation entering into force in January says that clean energies are "in the overriding public interest and serve public safety." Even so, the country is set to miss its climate targets this decade, according to experts advising the government, and environmental performance rankings show Germany falling behind, mainly due to slow progress on clean energy. 
Despite signs of improvement, local resistance hasn't ceased to be a challenge for Germany's green transition. The town of Oederan — which is in the country's former communist eastern bloc, where the far-right and climate-skeptic Alternative for Germany is very strong — is torpedoing plans to erect nine wind turbines with an annual capacity of 135 kilowatt-hours. Residents, politicians and the local administration argue that the wind park would obstruct a picturesque view involving a 13th century church.
Although communities can benefit considerably from local onshore parks — the law even obliges operators to share profits with residents — locals often fear that they might lose out, for instance if new developments cause property values to decline. They have many avenues for opposing new projects.
Lengthy planning procedures for renewable facilities are also a major issue for companies in the sector. Federal states take between 14 and 58 months to grant permissions, making Germany fall dramatically short of the EU's one year recommendation. Certain procedures even last three times as long as allowed, according to a survey of Germany's largest industrial association BDI. 
Scholz vowed during the country's latest election campaign to cut red tape for renewables. Approval for wind turbines, for instance, must not take six years, but six months, he said at one point. 
"All in all, bureaucratic processes around wind, solar and grid expansion can take up to 15 years," says Simon Mueller, Germany director of energy think tank Agora Energiewende. Even though the federal government is aware of the problem, it has limited capacity to change it because such decision-making is largely in the hands of state authorities.
If districts and communities also want to have a say, this quickly leads to so much paperwork "that three turbines can fill 70 folders", RWE AG's CEO Wind Onshore Katja Wuenschel said during a recent panel discussion. RWE, a renewable-energy giant, has repeatedly warned that these delays make Germany less attractive for investments.  
Meanwhile, in Bavaria's Niederaichbach, planners are only slightly more hopeful. Despite clearing away the hurdle of local resistance, the energy superhighway is still years away from easing Germany's energy woes, with specific construction plans yet to commence. The Federal Regulator expects the complete power line to be up and running by 2030.
--With assistance from .
More stories like this are available on bloomberg.com
©2022 Bloomberg L.P.
KEEPING THE ENERGY INDUSTRY CONNECTED
Subscribe to our newsletter and get the best of Energy Connects directly to your inbox each week.
By subscribing, you agree to the processing of your personal data by dmg events as described in the Privacy Policy.