Europe Gas Prices Set to Drop on Mild Start to Winter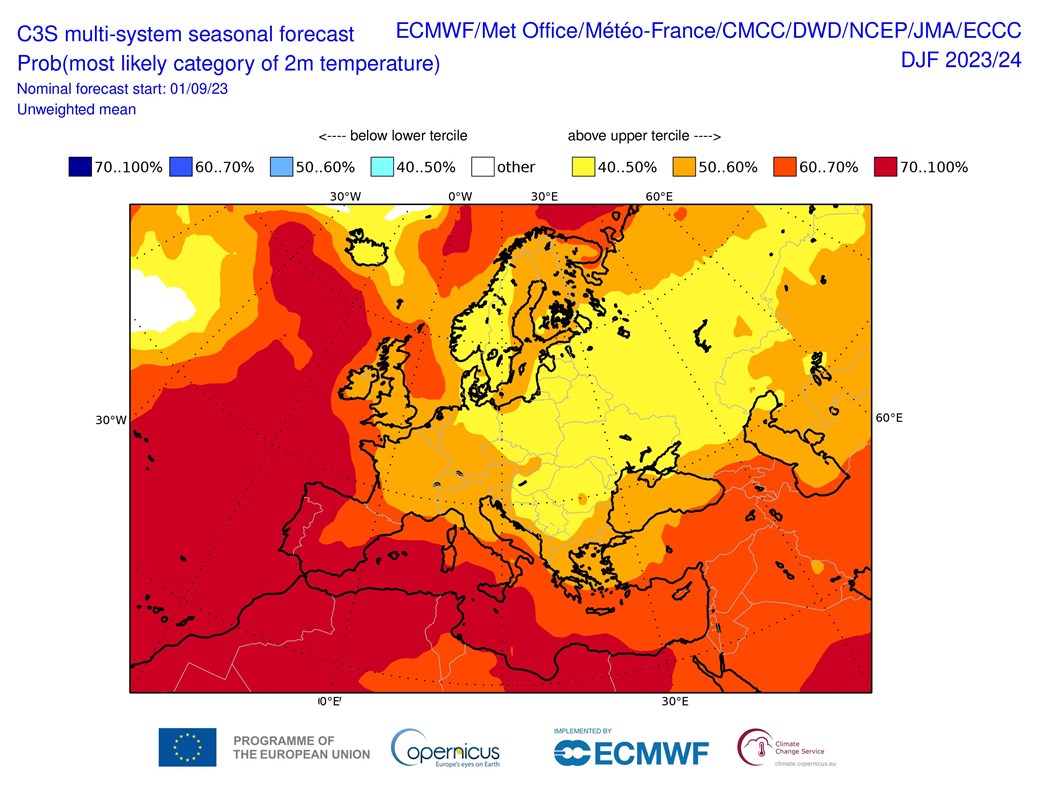 (Bloomberg) -- Europe could soon be awash with gas as another mild start to winter delays heating demand.
Above-normal temperatures though October are set to follow recent heat waves, and the months after that may also be mild in western Europe, data by the Copernicus Climate Change Service show. The balmy conditions will help ease supply risk fears that have emerged around the world in recent weeks, just as the region prepares to navigate a second winter without a big chunk of Russian gas.
October usually marks the start of the heating season in Europe, but warm weather last year prolonged the filling up of gas-storage sites that created a crucial buffer for colder months. Inventories are now already 94% full, and delayed heating demand will leave fewer options to store fuel arriving by pipeline or on tankers. 
That could weigh on gas prices, particularly for short-term delivery, which remain far below a record set last year when Russia's invasion of Ukraine roiled markets.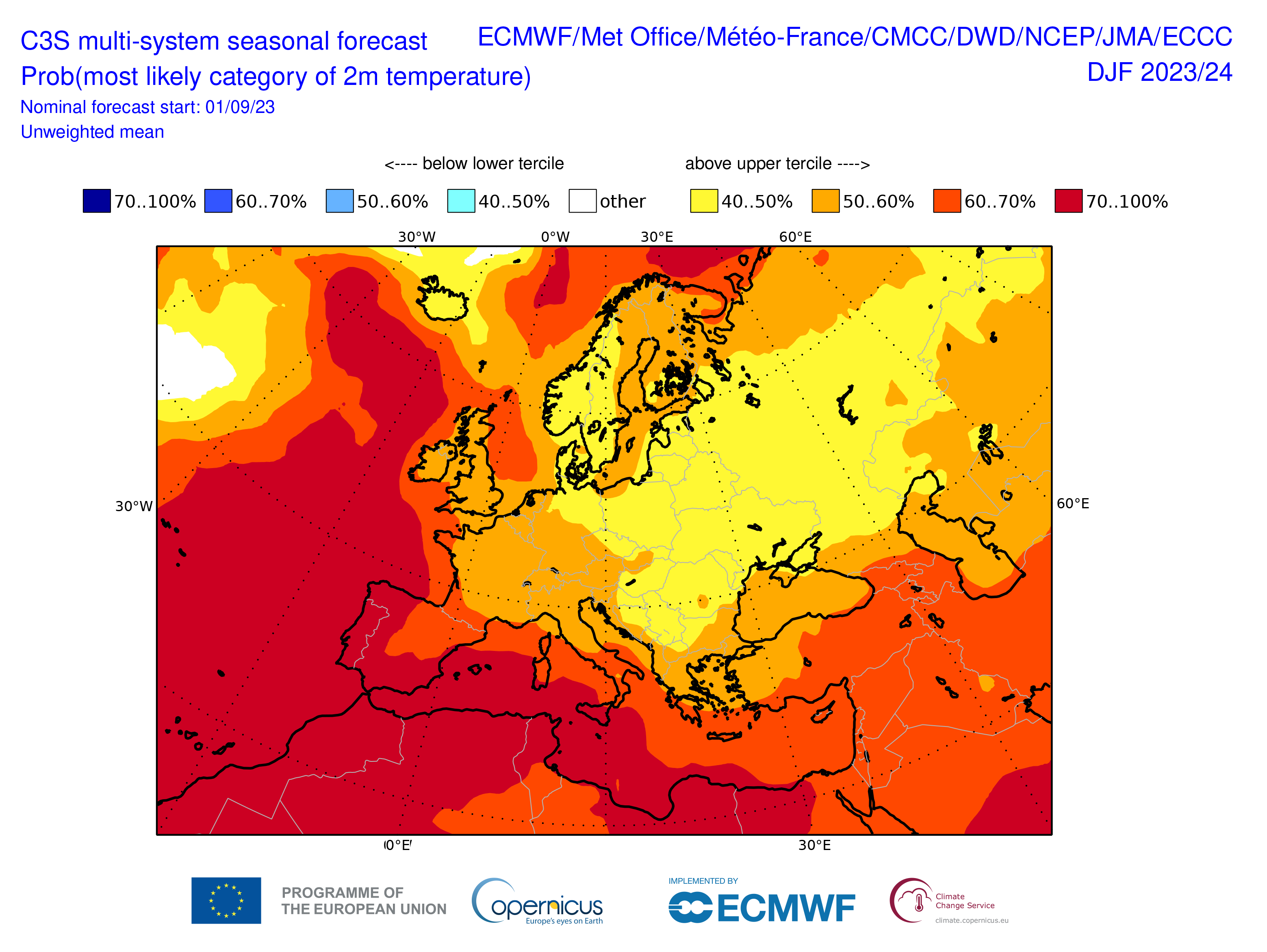 "Prices could still fall substantially over the next few weeks," Citigroup Inc. strategist Anthony Yuen said. "A late start to winter would exacerbate the price fall."
Europe's winter as a whole is predicted to likely be warmer and wetter than average, Copernicus said. Its data signal a more than 50% likelihood of temperatures significantly above average in the UK, France, Austria, Italy and parts of Germany between December and February. There's even greater probability of mild weather on the Iberian peninsula.
For the rest of this month and October, forecasts point to warmth across the continent, with the highest temperature anomalies in the east, said Amy Hodgson, a meteorologist at Atmospheric G2.
European gas prices have slipped about 80% in the past year with the region looking well supplied, even as risks — from strikes in Australia to extended Norwegian maintenance — have kept the market on tenterhooks. Big inventories mean there's a lower threat of price spikes ahead of winter, Goldman Sachs Group Inc. said.
Labor disputes at Chevron Corp.'s Gorgon and Wheatstone liquefied natural gas plants in Australia escalated as workers ramped up strikes on Thursday. Still, they're unlikely to turn in a prolonged disruption, Goldman said.
But even in a mild winter, any supply disruptions could still cause temporary price spikes. An unplanned outage at the Freeport LNG plant in the US this week and extended maintenance in Norway — while short-term issues — have increased market volatility.
The ample supply is also an opportunity for traders. The storage crunch, reduced short-term demand and a contango in the futures market — where later-dated contracts fetch higher prices — is prompting them to store more LNG on tankers. So-called floating storage is already higher than usual for this time of year, but still well below records seen last November.
"We would expect more floating storage before the heating season," Richard Tyrrell, chief executive officer of LNG shipowner Cool Co., said at a conference in London on Tuesday. 
It's proving a fairly lucrative trade despite shipping costs rising. Delaying the delivery of an October-loaded cargo until December would net the cargo's owner roughly $12 million of profit, according to Argus Media consultant Matt Drinkwater.
Although there's still room to store gas on tankers, they're usually only used for a month or two at a time, partly due to vessel-chartering costs and the natural loss of super-chilled fuel over time.
Weak demand in Europe could see more cargoes diverted to Asia, especially with China restocking for winter and as supplies lure price-sensitive buyers in places like India. And in the Americas, lower rainfall in Colombia and Brazil due to the El Nino weather pattern threatens hydropower capacity and supports LNG demand.
While ample gas supplies are filling up European storage sites, more LNG terminals will soon be added — opening the door for extra imports if needed.
"The situation is certainly far more stable than last year," Jonathan Brearley, CEO of UK energy regulator Ofgem, said at a parliamentary committee hearing this week. "I don't think we're in the same situation we were last winter. Frankly, all that needs to be done is being done."
©2023 Bloomberg L.P.
KEEPING THE ENERGY INDUSTRY CONNECTED
Subscribe to our newsletter and get the best of Energy Connects directly to your inbox each week.
By subscribing, you agree to the processing of your personal data by dmg events as described in the Privacy Policy.