Asian LNG Buyers Pay a Panama Chokepoint Premium for 2024
(Bloomberg) -- The gap between liquefied natural gas prices in Asia and Europe is increasing as tighter restrictions at the drought-stricken Panama Canal threaten to make journeys costlier from mainly US suppliers.
The Asian gas price premium to Europe for summer 2024 has more than doubled since Oct. 30, when the Panama Canal announced that it would further restrict passage, while the winter 2024 spread has also jumped. The number of slots available for ships the size of LNG carriers will be reduced by half come January, according to BloombergNEF.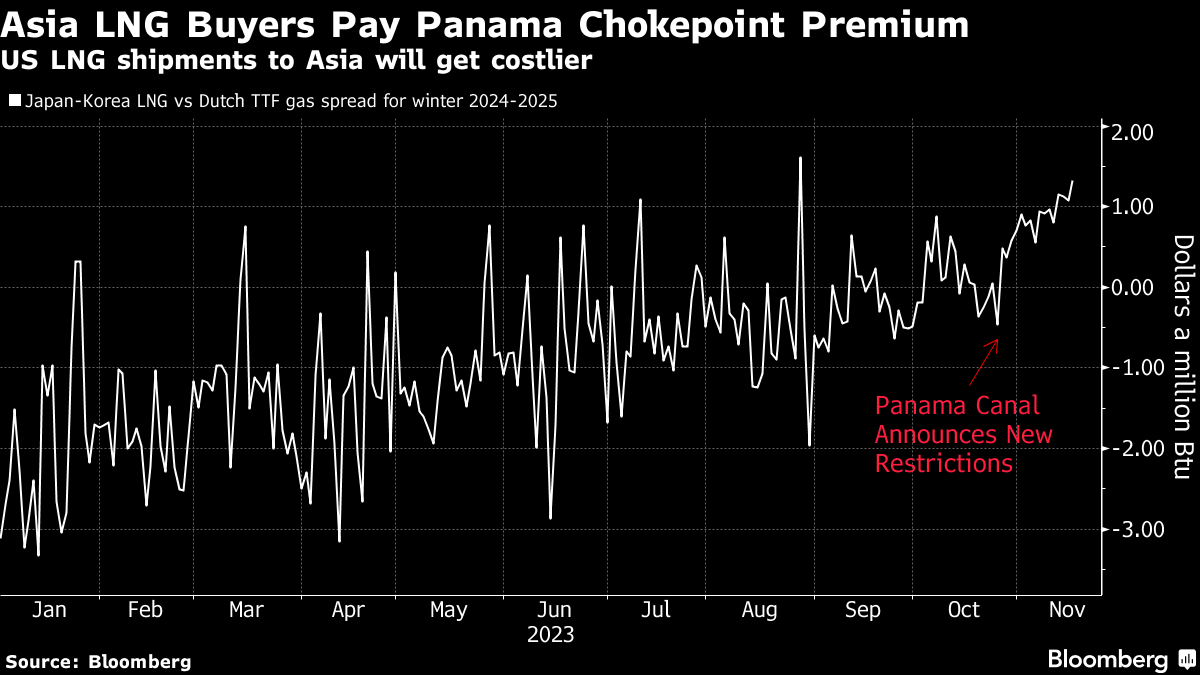 The price move illustrates how drought and rising costs to transit the Panama Canal are already reverberating across energy markets, as well as their vulnerability to maritime choke points. Traders will now be forced to avoid the Panama link and send Asia-bound cargoes from the US and Trinidad & Tobago via the Cape of Good Hope or the Suez Canal, increasing time and shipping costs for the journey.
"The margin for US LNG to the Pacific will keep shrinking, given the longer voyage days and higher shipping cost," said Xi Nan, head of LNG research at Rystad Energy. "East Asia spot price will have to provide a premium to attract US supplies to Asia instead of to Europe."
The Panama Canal is a vital shipping route for LNG supplies from the US, the world's top exporter, to North Asian nations such as Japan, Korea and China. Authorities are constraining traffic through the waterway as rainfall dropped to the lowest level for October since record-keeping began in 1950. 
LNG carriers may be dragged into bidding wars for slots across the Panama Canal from next month, BNEF said in a report earlier this week.
From December, container ships will be prioritized over LNG vessels for booking to transit the canal, according to Rystad's Xi. Meanwhile, LNG shippers are preferring to use the Cape of Good Hope more than any other route, BloombergNEF data show. That will remain so until Asian spot LNG prices rise enough to justify the cost of paying millions of dollars to jump the queue of waiting vessels — on top of the usual canal transit fee.
Other spot market news:
Thailand's state-run energy company PTT purchased one LNG cargo for Dec. and two for Jan.
Indian Oil seeks to purchase two cargoes on a DES basis for Dec. delivery to Dahej and Dhamra terminals
Petronet delayed deadline to Nov. 30 for a tender offering two LNG cargoes for Dec. 25-Feb. 15 loading from the Kochi terminal in India
First Gen has purchased a spot LNG cargo through a tender from trading house Trafigura for its BW Batangas FSRU in the Philippines
PetroChina sold a DES spot cargo to Shell Plc at $16.75/mmbtu via the S&P Global Platts' Market on Close on Thursday
Buy tenders:
Sell tenders:
(Updates with spot market news after sixth paragraph.)
©2023 Bloomberg L.P.
KEEPING THE ENERGY INDUSTRY CONNECTED
Subscribe to our newsletter and get the best of Energy Connects directly to your inbox each week.
By subscribing, you agree to the processing of your personal data by dmg events as described in the Privacy Policy.