Leveraging technology to mitigate methane emissions
May 25, 2023 by Energy Connects
Knowledge-sharing across the energy industry and new technological innovations are helping the drive to reduce fugitive methane emissions…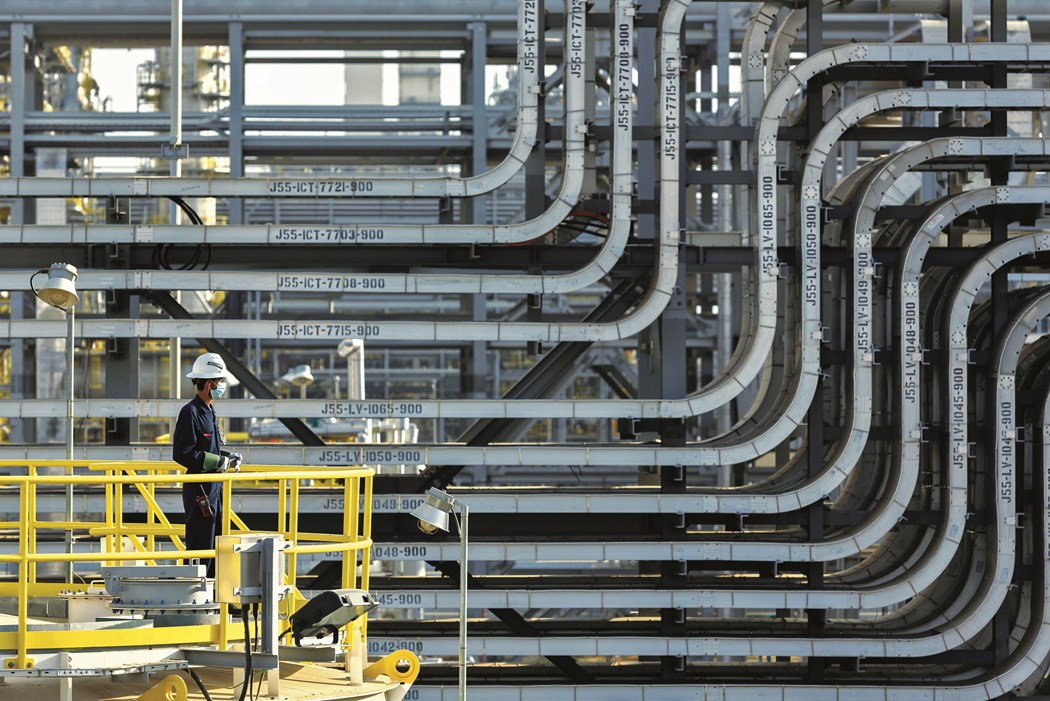 Methane emissions are responsible for about 30% of global warming to date, so reducing them could be one of the most effective ways to tackle climate change in the short term.
Aramco already has one of the lowest upstream methane intensities in the oil and gas industry, and is now deploying cutting-edge technology to improve performance even further.
During the COP26 climate conference in 2021, a global drive was launched to slash methane emissions, as well as CO2. More than 100 countries, including a number of key Middle Eastern producers such as Saudi Arabia, Iraq, the United Arab Emirates and Kuwait, plus the U.S., Japan and Canada, pledged to collectively cut global methane emissions by 30 percent by 2030, from 2020 levels. The pledge was notable not just for the number of countries that signed up, but also in that major energy companies promised action, too.
With some of the lowest upstream carbon, methane and gas flaring intensities in the industry, Aramco is continuously working to improve performance and to share best practices to expand the impact of our expertise globally.
Aramco and other members of the Oil and Gas Climate Initiative (OGCI) have launched the Aiming for Zero Methane Emissions Initiative, which calls for the energy industry to strive to reach near zero methane emissions from operated oil and gas assets by 2030.
Committing to near-zero methane emissions
Methane behaves very differently to CO2 when it comes to warming the planet. It only remains in the atmosphere for about 12 years, compared to around a century for CO2, but it has a much higher Global Warming Potential while it is there.
The OGCI recognizes that eliminating methane emissions from the upstream oil and gas industry could be one of the best short-term opportunities for helping mitigate climate change and for advancing the goals of the Paris Agreement.
Collectively, OGCI member companies have already cut emissions by more than 30 percent since 2017, but they believe that virtually all methane emissions from the industry can and should be avoided. They have committed to reach near-zero methane emissions by 2030 and are encouraging their partners to do the same, using all reasonable means to avoid methane venting and flaring, and to repair detected leaks.
Methane is routinely piped across countries and continents, and can leak from pipelines, joints, flanges and brackets. It is also flared for safety reasons or when it is a by-product of oil production, particularly when oil fields are remote or there is limited infrastructure to capture it.
At Aramco, we have focused on gathering gas from our oilfields since the 1970s, when we developed our Master Gas System. As a result, the company's upstream methane intensity* was just 0.05% in 2021. This is significantly less than the OGCI's 2025 intensity target of well below 0.20% — and Aramco is working to share best practices to maximize global impact. New technologies and techniques could help to reduce methane emissions even further.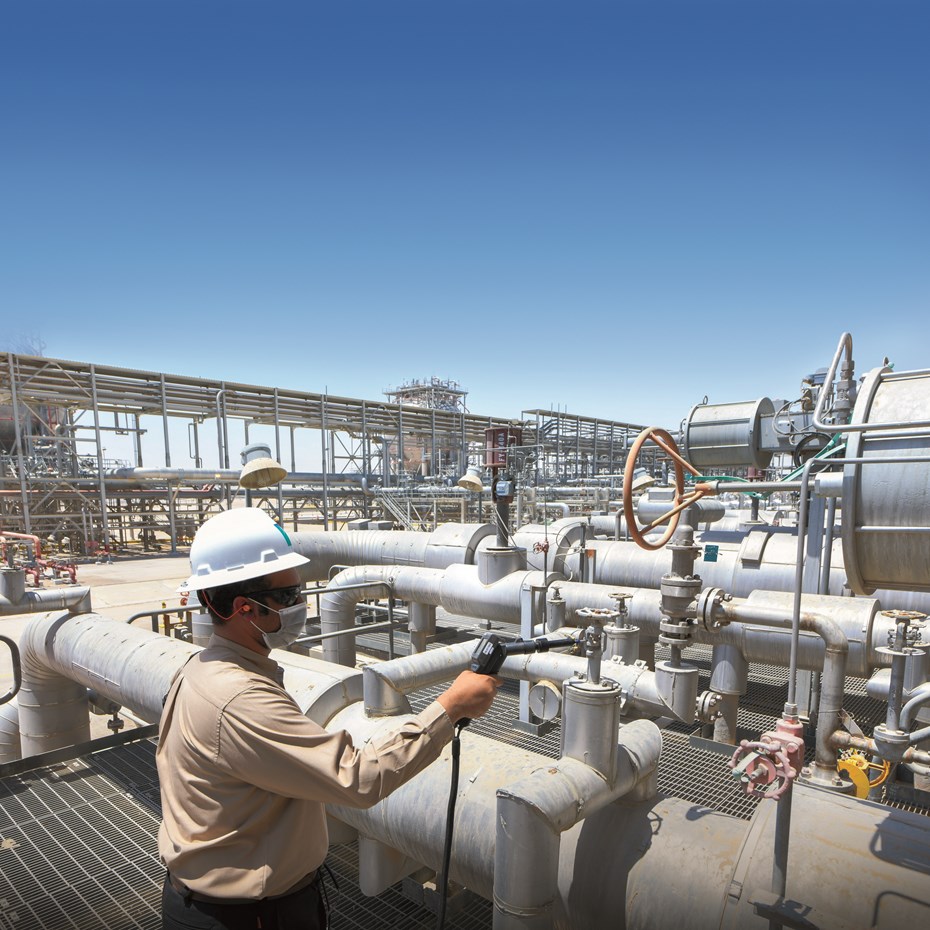 Leveraging the latest technology
The key to stopping leaks is knowing where they are, which requires regular inspections. At Aramco, we have implemented a Leak Detection and Repair (LDAR) Program covering all our facilities in Saudi Arabia. This involves detailed process analysis, tagging millions of components, and performing field surveys on all equipment.
Today, inspecting for leaks is labor-intensive and time-consuming, limiting the number of inspections that can be done. But there are several groundbreaking technologies that can help with leak detection and prevention which will be vital to meeting the target.
Field observations show that more than half of all methane emissions from the oil and gas sector come from a few large sources, such as leaks from pipelines or industrial facilities, so tackling these early is the quickest way to cut large amounts of emissions. Satellites can detect large leaks, and satellite capabilities are improving all the time.
Other solutions are also emerging with support from OGCI Climate Investments, which backs innovations that drive substantial greenhouse gas (GHG) emissions reductions. Kairos Aerospace, for example, uses high-resolution infrared imaging equipment mounted on aircraft, enabling it to locate and quantify emission sources over hundreds of square miles a day. And SeekOps uses drone-based sensor technology to find and quantify emissions, both on and offshore.
At the other end of the spectrum in terms of scale, a company called Clarke Valves has drawn upon aerospace technology to develop a low-cost control valve which it says virtually eliminates fugitive emissions. Individually, leaks from equipment such as flanges, valves and pumps are insignificant, but together they can add up.
One of the key elements of the Aiming for Zero Methane Emissions Initiative is that signatories will report every year on their emissions. It is important for companies to show what progress they are making in reducing methane emissions and demonstrate that the industry is playing its part in its attempts to meet the climate challenge.
Part of this progress will be to develop more advanced measurement, reporting and verification mechanisms to give companies better visibility on their emissions, and in turn make efforts to eliminate them. Start-up Andium has developed a remote-field monitoring and communications system that gives companies verifiable, real-time information on flaring in remote locations, while another OGCI Climate Fund investee, Urbint, uses artificial intelligence to predict and prevent threats to critical infrastructure.
Such technology is helping the industry go further than ever before to proactively mitigate methane emissions while ensuring vital knowledge is shared for the benefit of all.
* Methane emissions from upstream operations per volume of marketed natural gas