EU oil sanctions to hit Russian revenues, but expect delays
May 05, 2022 by Energy Connects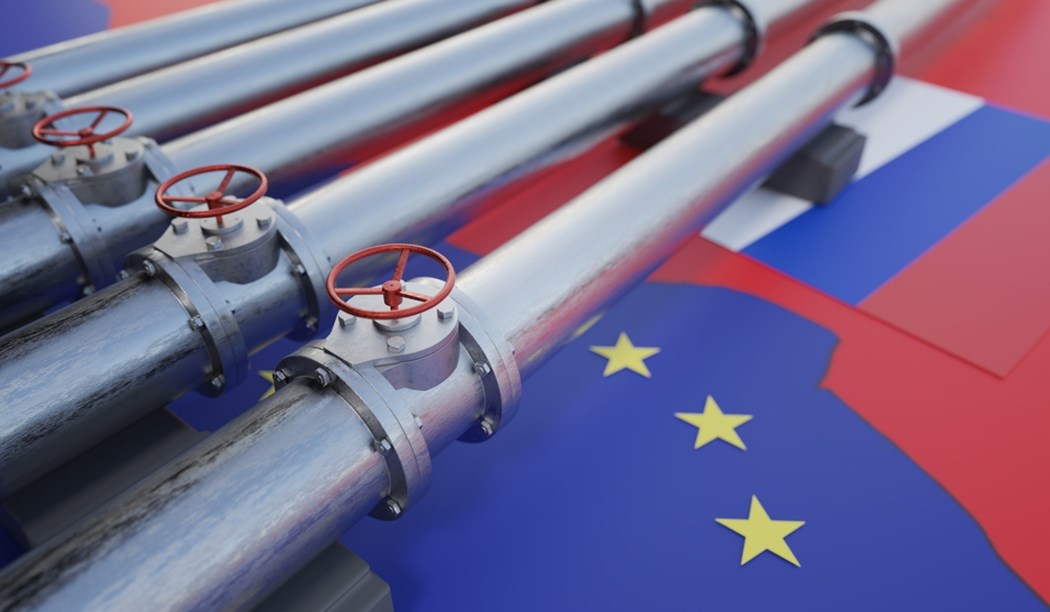 EU Commission President Ursula von der Leyden presented the plans for the sixth sanctions round on Wednesday, in a move to speed up not only the process but also hit hard on Russia's actions in Ukraine. The potential EU blockade of 2.2 million bpd of crude oil and 1.2 million bpd of petroleum products will severely cut into Moscow's revenue streams.
Until now, even during the Russian war on Ukraine, Moscow has been receiving almost 1 billion euros per day from European clients for the delivery of oil and gas.
By hitting hard on the main pillar of the Russian economy, the EU is now planning to end all imports of Russian crude oil within 6 months. For Russian petroleum products imports, a deadline has been set for the end of 2022. The difference between the two oil revenue streams is that for European clients it will be harder to substitute Russian petroleum products, especially diesel, in that stated time period. Brussels acknowledged that it will be a major task for all European members to find new crude oil sources in 2022. In a move to quell part of the pressure, additional investments are planned in renewable energy projects, but these will not be substituting for a long time the need for energy and products.
Even though most countries do not want to mention it in public, the main fear in the market is that Russia could be hitting back too. Putin already has threatened to act swiftly if Russia is sanctioned further. Moscow's capabilities to hurt Europe have diminished, but still, 25 percent of Europe's oil imports are Russian, while it is also the main natural gas supplier to the EU. A potential gas export blockade by Putin is to be expected, not bringing down Europe the next months but threatening a very cold winter later on. No other real options are available to substitute nearly 175BCM of Russian gas exported to Europe by non-Russian sources. The USA, Norway, Qatar or others will not be able to make up for the loss. 
Putin's move to cut off Poland and Bulgaria last week from its natural gas supplies is a sign not to be taken lightly. Some expect that Moscow will be increasing pressure on others too, with a potential hit on Germany, Italy or others. At present, Germany is still very dependent on Russian oil and gas, whatever impact the so-called Energie Wende had the last few years. For crude oil, Germany and the Netherlands are leading in the statistics. However, while Germany is heavily dependent, as is the case with most eastern European (Bulgaria, Rumania, Slovenia) and southern European countries, such as Greece, the Netherlands is misrepresented in statistics. Total imports of Russian crude oil and products is around 787,000 bpd, but most of the latter is being processed and exported again. The remaining European imports are still mainly for own consumption.
The plans and actions from the next few weeks will need to be implemented to counter the potential fall out of the oil sanctions. Without any question the global oil market at present is already struggling to keep supply at levels needed. OPEC+ export agreements are not yet allowing additional volumes hitting the market, while overall demand, even when looking at the negative impact of China's lockdowns, is still at strong levels. If no real solution is being found very soon, European clients and consumers could be facing major price hikes on gasoline, diesel and other consumer products.
With inflation at already historic highs, additional pressure will be put on the economy. In any case, the loss of Russian crudes will not be easy to replace. The only light in the tunnel is if other global oil consumers are willing not only to reap the rewards of Russian crude discounts, while possibly facing EU-US sanctions on 3rd parties dealing with Russia. At present, India and China are still in the race for the Russian volumes, while even GCC countries are taking in Russian products. The latter moves could leave other crudes for European refiners but potential crude quality issues could still be a deal breaker.
If the latter is combined with potential Russian gas export blockades, Europe is in for a fight. EU Energy Commissioner Kadri Simson already stated that it will not be sustainable or affordable to replace on short notice total Russian gas supplies. Simson also has called again upon members to increase their own natural gas storage levels, which is at present European wide only at 32% filling rate.
In theory the EU's sixth sanctions package is workable, but it will be partly dependent on the Russian counter-actions. Putin's move against Poland and Bulgaria, however, shows that Moscow is willing to bite the bullet, or take pain.
Moscow's possible counter-sanctions, aka ending the flow of oil and gas to Europe, could push the continent into the corner. No respite is expected from others at present to counter Putin's moves. OPEC+ is bound by export volume agreements, while also not willing to push the Russian bear back into the cage.
At the same time, American and Qatari LNG volumes are maxed out, leaving no real room to fill up European gas storages fast. Other options, such as Algeria, Libya or Nigeria are facing internal issues, while Egypt-East Mediterranean LNG is also hitting possible maximization levels.
Summer is approaching, which is a major relief for natural gas, but the US and EU driving season will be increasing gasoline and diesel demand. The heat in Asia or MENA also will push back some export volume opportunities. Europe's willingness to confront Moscow's aggression in Ukraine is to be supported, but the war is now taking new casualties for sure.