India Energy Week showcases India's achievement as an engine of global economic growth
In an exclusive interview with Energy Connects, His Excellency Hardeep Singh Puri, Minister of Petroleum and Natural Gas, and Housing and Urban Affairs, Government of India, outlines how India Energy Week 2023 engages the industry in answering its most pressing questions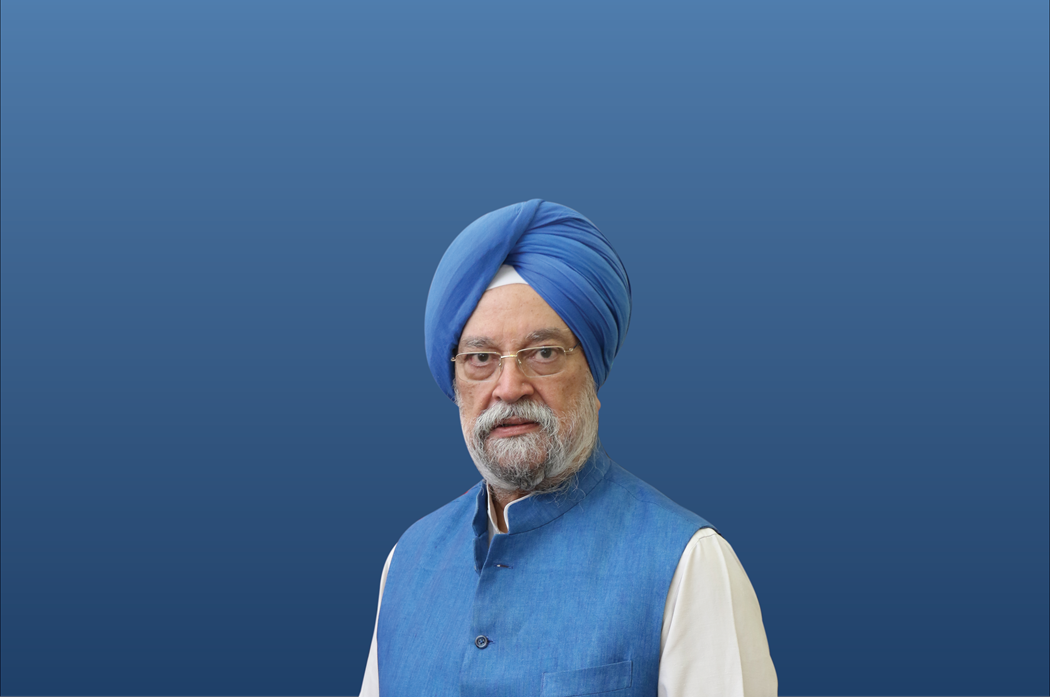 India is at the heart of the global dialogue on the future of energy as industry leaders from the integrated energy value chain, finance, government, think tanks and academia from around the world convene in Bengaluru today for the first day of India Energy Week 2023.

Held under the patronage of India's Ministry of Petroleum and Natural Gas, the inaugural edition of India Energy Week comes during a year in which India holds the Presidency of the G20, the Shanghai Cooperation Organisation (SCO) and the 13th Assembly of the International Renewable Energy Agency (IRENA). India Energy Week is the only and all-encompassing international energy event supported at the highest level of Indian government, with participation from all the Public Sector Undertakings (PSUs), and supported by the Federation of Indian Petroleum Industry (FIPI).

In an exclusive interview with India Energy Week News, His Excellency Shri Hardeep Singh Puri, Honourable Minister of Petroleum and Natural Gas, and Housing and Urban Affairs, Government of India, shares his thoughts on how the flagship energy event will engage the industry in answering the most pressing questions in a rapidly changing global energy landscape, and address the challenges and opportunities presented by the energy transition that balances security, affordability, access and sustainability.

Your Excellency, what is the significance of India Energy Week being held during the year of India's G20 Presidency?

The inaugural edition of India Energy Week follows Honourable Prime Minister Shri Narendra Modi's pledge at COP26, to cut India's emissions to net zero by 2070. As the first major event under India's G20 Presidency, India Energy Week showcases India as a global powerhouse for energy transition.

While India last year was the world's fifth largest economy, it is on track to become the fourth largest by GDP by 2026, and is the world's fastest growing major economy at 8.7% recorded in the 2021-22 fiscal. India will account for 25% of global demand growth till 2040. India is leading the transition in areas of biofuels, gas-based economy, green hydrogen, and solar energy, even as we take transformative steps to increase domestic exploration and production of traditional hydrocarbons.
As India emerges as the epicentre of the global energy landscape, the need for clean, efficient and secure energy has never been greater. But at the same time the pace of change in the global energy scenario has never been faster.

India Energy Week will enable all of us to get together to discuss these key issues and pave the way for a sustainable future. Convening the world's foremost policymakers, businesses and entrepreneurs, India Energy Week is at the forefront of innovating ideas and devising solutions for the global energy trilemma of security, affordability and sustainability.

This global gathering is the ideal platform for policymakers, business leaders, researchers, and entrepreneurs to contemplate, deliberate and take decisive steps to navigate the ever-evolving energy landscape. I am confident that India Energy Week 2023 will consolidate its standing as the leading global platform for innovation, ideas and investment to accelerate the world's energy transition and strengthen the future of global energy in a secure and sustainable way.

What are you looking forward to at the inaugural edition of India Energy Week 2023?
Organised under the theme of Growth, Collaboration, and Transition, India Energy Week is taking place at a time of unprecedented complexity in energy markets and the global economy, as industry and governments work to achieve the goals of energy security, access and affordability with fewer emissions – while simultaneously planning for a clean energy future. This is especially critical in the context of India, which is projected to witness the largest increase in energy demand of any country over the next two decades, as its economy continues to grow and create opportunities for its people, and the global energy value chain.

As an all-encompassing international energy event that brings together stakeholders from across conventional and non-conventional energy value chains, India Energy Week will therefore be the key platform for the industry to discuss and deliberate the pathway to tackling the dual missions of delivering the world's energy needs of today, while investing in the energy systems of the future.

I am looking forward to engaging conversations with the industry, forging greater collaborations with other nations and to exploring the strategies and commitments on innovation, technology, security, and sustainability that will set the pace for the future of the energy industry in India and beyond. This is an event that provides an opportunity to showcase India's potential to be both an engine of global economic growth and a driver of global consumption, supported by a conducive and investment-friendly environment, and a skilled workforce.

Could you highlight some of the giant strides that India has made recently in the energy sector?

The energy sector represents one of the most critical components of India's growth as well the future of energy demand. India's economic growth is three times that of global growth, and a major part of energy demand in future will be from India.

That's why we have taken bold and decisive steps across the sector – in exploration, production, biofuels, refinery, green hydrogen and more. This includes making India an investment-friendly destination in exploration and production, and energy infrastructure, and moving energy manufacturing centres to India.
Reducing 'No Go' areas for energy exploration by almost 99%, and providing easy access to data through the National Data Repository (NDR) and Hydrocarbon Resource Assessment (HRA) projects, are examples of the government's relentless focus to develop the sector.

Similarly, the launch of the Stratigraphic Wells Initiative, and a robust City Gas Distribution system, in addition to providing considerable impetus to gas infrastructure, have made a major difference to the sector. India Energy Week is the destination where the industry can explore these measures in depth and participate in the India growth story.

How is India leading in the areas of global hydrocarbon and petrochemical demand?

India is set to contribute 10% to the incremental growth of global petrochemical demand, while achieving 20% ethanol blending in petrol by 2025. India has also increased the number of its crude oil suppliers from 27 countries in 2006-07 to 39 in 2021-22 – forging and deepening strategic partnerships with countries old and new to mitigate the impact of market volatility on supplies.

In addition, the government is also setting up five second generation (2G) ethanol biorefineries across the country, in places such as Panipat in Haryana, Bathinda in Punjab, Numaligarh in Assam and Devangere in Karnataka.

How does India Energy Week reflect India's commitments on energy transition and achieving its net-zero goals?

As India accelerates its efforts to achieve its target of net-zero emissions by 2070, one of the key priorities of India's G20 Presidency is to devise solutions for the future global energy transition, because India's energy transition will play a pivotal role in global energy markets.

India is undertaking an ambitious journey of energy transition to achieve its net-zero target by 2070. In fact, about $60 billion worth of investments are underway in the country in setting up the infrastructure – pipelines, terminals, regasification facilities and so on. However, for the transition to be enduring and stable it is imperative that the accessibility and affordability aspects of energy remain intact.

These are the aspects that will be in the spotlight at India Energy Week, the pre-eminent platform that embodies India's energy ambitions, showcasing it as a global powerhouse for energy transition and a hub that brings together the international energy industry.

Under its Presidency of G20, India has also called for a Global Biofuel Alliance. What does such an alliance seek to achieve?

On the lines of the International Solar Alliance that India launched in 2015 along with France, we would like to utilise our G20 Presidency to set up an international biofuels alliance to promote clean and affordable energy. We already have enough countries globally which are producing biofuels – in fact, the major producers of biofuels are all members of G20. So if we can get the ecosystem working around it in terms of the standards, the flexi-fuel engines and so on, I think we are on our way to setting up an international alliance.

In the initial stages, such an alliance would focus on the sharing and transfer of technology for the production of biofuels from advanced feedstock as well as second and third generation biofuels. In India, we already have plans to build 12 bio-refineries to produce fuel from items including crop stubble, plant waste and municipal solid waste. The time for biofuels and clean energy has certainly come, and a Global Biofuel Alliance can make that into a reality.

India recently approved a US$2.3 billion plan to become the global hub for green hydrogen. What are your thoughts on this ambitious programme?

India is destined to become the global hub for cleaner energy that includes green hydrogen, and this funding plan is yet another instance of the enabling environment created by the government to stimulate growth and innovation in the energy sector. The idea is to make green hydrogen affordable and bring down its cost over the next five years, as well as help India lower its emissions and become a major exporter in the field. This ambitious financing will also add about 125 gigawatts of renewable energy capacity by 2030.

Given the work already done in moving ahead on green hydrogen, both in terms of producing for India and the export market, the 5 million metric tonnes (MMT) per annum target looks quite conservative. But the ultimate success of green hydrogen will also depend on factors such as market demand and the production capacity to meet that demand.

What are your thoughts on the inaugural India Energy Week being hosted in Bengaluru?

I am deeply delighted that the first India Energy Week is taking place in the Garden City of Bengaluru – a city synonymous with the spirit of innovation, technology, entrepreneurial talent and start-ups, particularly in the energy sector. Bengaluru is known globally for its research and development centres, and we welcome the global energy industry to explore the vibrant spirit of this pioneering city that embodies India's age-old motto of Vasudhaiva Kutumbakam – the World Is One Family.
KEEPING THE ENERGY INDUSTRY CONNECTED
Subscribe to our newsletter and get the best of Energy Connects directly to your inbox each week.
By subscribing, you agree to the processing of your personal data by dmg events as described in the Privacy Policy.