Nuclear chief: countries must have a coherent energy plan to get to net-zero
May 23, 2022 by Energy Connects
Countries such as the UAE, Sweden and China are the ambassadors of nuclear energy, says Dr Sama Bilbao y León, Director General of the World Nuclear Association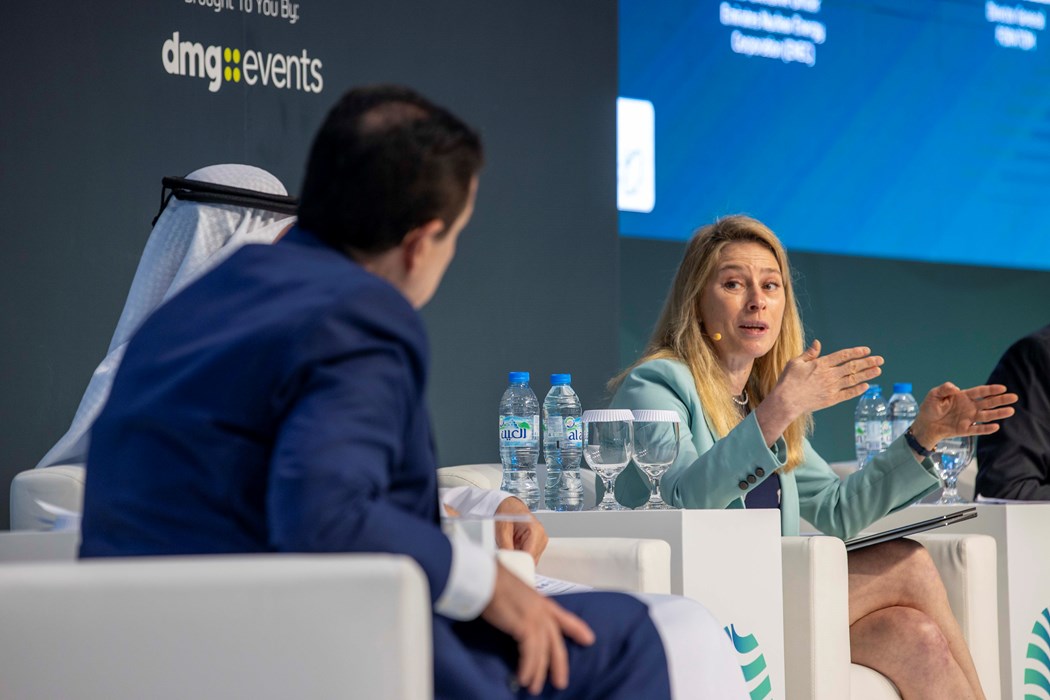 Nuclear power can help the world combat the dual challenge of decarbonising developed economies while energising developing ones, but countries must adopt a coherent energy policy to reach net-zero goals by 2050, according to the Director General of the World Nuclear Association.
"If you look at the latest working group report of the IPCC's sixth assessment cycle that was released recently, we are already late in fighting climate change. In our pursuit of the key energy goals of the United Nations Sustainable Development Goals (SDGs), the role of nuclear energy is absolutely essential," Dr Sama Bilbao y León, Director General of the World Nuclear Association, told Energy Connects in an exclusive interview.
Nuclear power plants globally provide 10 percent of the world's electricity – about twice the combined contribution of solar and wind, and the Paris Agreement has set an ambitious goal for the industry, targeting the doubling of current installed nuclear capacity by 2050.
Framing the industry's challenges
For Dr León, this represents an opportunity to replace older nuclear plants and encourage innovation such as advanced small modular reactors (SMRs).
"It is important to frame the challenge facing the industry. It is massive, urgent and facing us right here. That's the reason why countries such as the UAE and France are actively pursuing nuclear energy today," Dr León told Energy Connects on the sidelines of the World Utilities Congress in Abu Dhabi, which she described as an "incredibly successful and diverse event with a clear focus".
Along with investments in infrastructure, technology and supply chains, human capital was key to the success of nuclear industries. "That's why countries from France, Sweden and the UAE to China and Bangladesh are all the future ambassadors of nuclear energy," Dr Leon said.
According to her, nuclear energy is among the cleanest technologies available today with the lowest greenhouse gas (GHG) emissions, producing only 15 grams CO2-equivalent per kilowatt hour (kWh), when considered over a nuclear plant's entire lifecycle.
'Hard to understand German nuclear policy'
"Our planet needs a new energy system able to sustainably provide a reliable and incessant supply of electricity. In that context, I don't understand the energy security policy of Germany. While several countries are diversifying their energy mix with nuclear power, Germany is going in exactly the opposite direction," Dr León said.
The German government has shut down nearly all of its six nuclear plants that were in operation until recently and has vowed to phase out atomic power by the end of 2022 under a commitment it adopted decades ago.
Advocates of nuclear energy argue that keeping the plants in operation could have helped Germany meet its climate targets for reducing GHG emissions, and ensured adequate electricity supplies in the face of the energy crisis in Europe. Instead, the new German government has decided to keep coal power plants in operation beyond 2030, reversing an earlier decision in the aftermath of the Ukraine conflict.
The pressure of public opinion
"Public opinion is often complex to analyse. When it comes to nuclear energy, we often ask questions without any context – and that's why most people have a perception problem with it," said Dr Leon, one of the founders of the North American Young Generation in Nuclear (NA-YGN) who has served in senior capacities at the International Atomic Energy Agency (IAEA) and the OECD Nuclear Energy Agency.
The situation in Germany contrasts with the likes of the UK, which has launched a US $146 million fund to support eight new nuclear reactors to be built by 2030.
'Get serious on decarbonisation'
Countries facing the challenges of energy security, cost and availability need to re-examine their strategy and get truly serious about decarbonisation, the top nuclear expert said. "If you look at all the questions, nuclear energy delivers on all the counts. The role of nuclear energy is going to be critical in providing abundant, affordable and clean source of energy to everybody," she said.
At the same time, nuclear energy was not for every country to pursue.
"Energy today is the basic infrastructure of any country. We need to look at energy demand for the long term and as the essential enabler of development – so all countries need access to abundant energy to be able grow. The socio-economic benefits of using nuclear power must be measured, as should be its reliability, availability of raw materials and the climate. Not everyone is going to use nuclear energy – but this can only be understood after measuring the need," Dr Leon said.
SMRs to the rescue in smaller communities
In many cases, small modular reactors – which typically have a power capacity of up to 300 MW per unit and can be factory-assembled – could provide an alternative instead of a large, traditional nuclear plant.
"SMRs have brought lot of excitement to the industry and are a great addition to existing technology. They are a cost-effective solution in remote areas with limited grid capacity or for markets such as industrial applications," she said.
When it comes to implementation of their net-zero goals, Dr Leon was critical that almost all stakeholders across the industry had a fantastic wishlist but very few had an action plan and a holistic energy policy.
"They just don't know how to get there," she said.