Schlumberger advancing with the energy transition
Nov 04, 2021 by Energy Connects
Khaled Al Mogharbel, Executive Vice President – Geographies at Schlumberger talked exclusively to Energy Connects about the strategy for the future which will see Schlumberger expand beyond oil and gas with the energy transition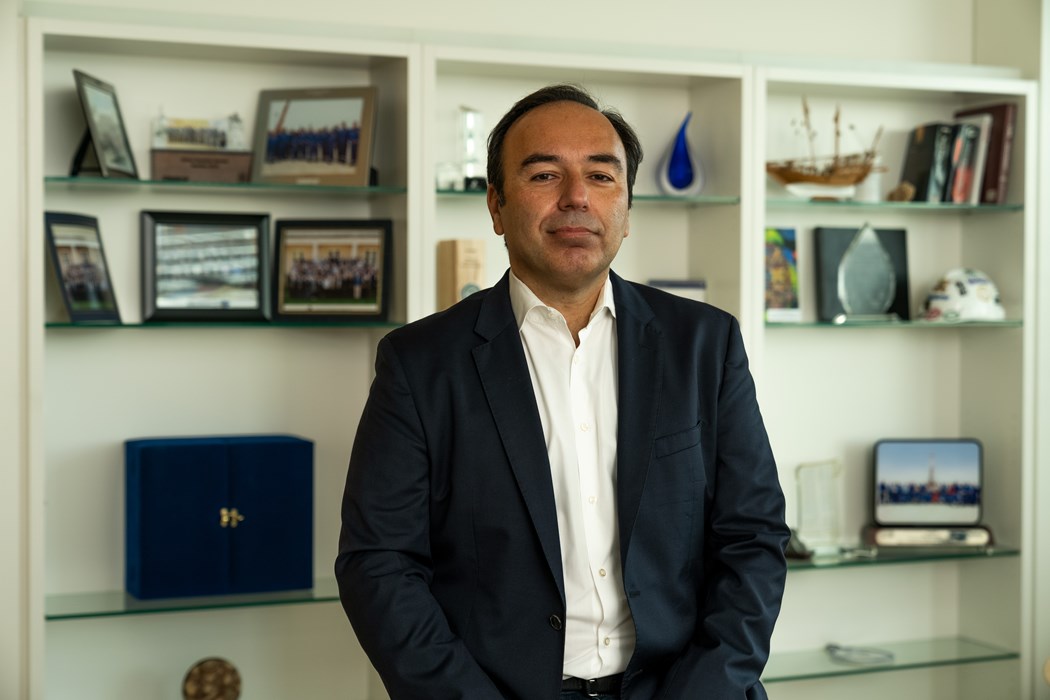 How is Schlumberger transforming itself to be ready for the future of energy?
Schlumberger has been changing for the future of energy since 2019, when we adopted a new strategy, based on elevating performance not only within the company, but for our customers.  
Changes in our industry are driving the importance of performance—of being efficient, creating more value, and doing so in a more sustainable way. Our ambition is to be our customers' performance partner of choice. True customer centricity is a powerful concept. It means focusing on our customers' success, delivering an outstanding experience, and always working towards creating mutual value. Being the performance partner of choice means creating more value together.
To do this, we restructured our organization to deliver the corporate strategy and in alignment with our customers' workflows.
One of the key drivers of change in the industry is the decarbonization mandate.  As a technology company, we believe that we can use technology and digital solutions to reduce our environmental impact. We also see a significant opportunity for our technology and operating practices to decisively impact and accelerate the industry's decarbonization efforts.
We are collaborating to evolve industry practices for much greater efficiency, through digital transformation, remote operations, and new approaches to sustainability. Improving our operating practices can yield a much lower carbon footprint per unit of energy produced.
At the same time, we create and deploy technology for the industry. Our technology portfolio includes solutions that help our customers eliminate flaring, reduce fugitive methane emissions, and leverage automation and digital surveillance to reduce environmental impact. We believe that high performance and sustainability are complementary, and we can help our customers elevate their performance while reducing emissions. This technology focus on low-carbon impact will be an increasing element of differentiation for Schlumberger in the future.
One of the key drivers of change in the industry is the decarbonisation mandate. As a technology company, we believe that we can use technology and digital solutions to reduce our environmental impact.
We are very proud to have announced our ambition to achieve net-zero emissions by 2050, as we were the first service company to include Scope 3 emissions in that ambition—rather than just considering our Scope 1 and 2 footprint. Because of this, our emissions reduction roadmap addresses the entire oil and gas value chain, and we believe we can help our industry customers drive change. 
In fact, we recently introduced our Transition Technologies* portfolio to enable our industry's decarbonization efforts. This portfolio is focused on our largest opportunities to reduce the industry footprint, including fugitive emissions, flaring and venting, and electrification. We are experiencing significant interest in implementing these technologies and are rapidly expanding our technology and solution portfolio to accelerate decarbonization of our industry. 
We also recognize that our future will expand beyond oil and gas with the energy transition, we are advancing new businesses in low-carbon or carbon-neutral energy technologies.
What is Schlumberger's regional operations strategy?
Our new organizational structure informs our operations strategy. It consists of four Divisions that combine and integrate Schlumberger's technologies. The Divisions are positioned to deliver on the growth drivers in the new industry landscape: digital transformation, sustainable and lower carbon operations, the improvement of production and recovery, maximizing reservoir performance, and well construction integration and efficiency.
The Divisions are deployed around a geographical structure within five highly focused Basin organizations that bring agility, responsiveness, and competitiveness. The Basins were configured around common regional characteristics to deploy fit-for-purpose technologies, operating models, and skills.
With a strong focus on regional customers, the Basin organization is the conduit to deliver performance innovation. It keeps us close to our customers and enables us to develop and deploy fit-for-basin services and equipment, uniquely collaborate with partners to leverage access to our technology, and tailor regional operating and go-to-market models.
With a strong focus on regional customers, the Basin organization is the conduit to deliver performance innovation.
How do you retain and recruit talent into the industry in the current environment? 
Let me start by saying that our industry can do a better job communicating to the next generation of innovators our unique opportunity to contribute to the energy transition and beyond. This industry has domain expertise, technical capability, and project management knowledge that we can leverage to contribute to the sustainable energy system of the future. We solve complex problems with solutions based on science and engineering. We have a big role to play. 
This is part of how we can attract and keep talent—motivating them with the big-picture goals we have as an industry. But convincing them they can come here and make an impact is just the first step. We have to deliver a challenging and fulfilling career and foster a work environment that encourages teams to do their best.
There are several things that have been part of the Schlumberger culture for many years that we believe resonate with people who want to build an impactful career unlocking energy for the benefit of all: borderless and growing careers with continuous development opportunities, and a diverse, inclusive working environment.
In the past, borderless careers meant you could work anywhere in the world. This still holds true, but today, it also means you can work anywhere in the company—in any part of the organization with roles and responsibilities that are not bound strictly by functional training. We believe this kind of mobility and opportunity for development is important in a company today. We have always had a strong culture of training and learning and have augmented this with technology that integrates virtual instructor-led training, online modules, and facilitated networking to enable our employees to continue their career growth, advance their skills, and continuously learn. In a dynamic business environment, this is strategically important to our talent pipeline.
The environment in which people pursue their careers is also quite important. We have believed for many years that diversity is a strength of our teams, and that we perform better when we hire and invest in the local communities throughout the 120 countries where we live and work. Our diverse workforce—representing 160 nationalities—is also better able to respond to the unique expectations and requirements of our stakeholders. Schlumberger's long-standing commitment to national and cultural diversity fosters a culture that is global in outlook, yet local in practice, which permeates every layer of the company.
In addition, improving gender balance has been a focus in Schlumberger since the late 1970s, when we began recruiting women for field operations roles. Since then, we have continued to expand opportunities for women across field operations, technology, business, and management roles.
Our current gender balance goal is for women to comprise 25 percent of the salaried workforce by 2025. In 2020, women made up approximately 23 percent of the company's salaried employee population. Additionally, approximately 21 percent of management roles were held by women in 2020. We believe gender diversity helps maintain a competitive advantage.
How we work is also an important factor, and almost half the company worked remotely in 2020. In Schlumberger we are committed to improving employee experience and initiated what we now call the BlueFLEX program to implement work models to provide flexibility in how, when, and where employees work.
The industry is changing and adapting, and we are reminding people that there is a big opportunity to join us and make an impact in the energy transition.  
How are you digitalising energy production?
Digital is having huge impact on our industry, from streamlining workflows and enabling better collaboration, to applying artificial intelligence and machine learning to achieve faster insights.
We are leading the industry in these applications, however, the area of the industry where we can have the largest performance impact by working together and using technology and business models in new ways is production. Here, the industry stands to benefit greatly from the application of digital, system performance solutions, and asset management optimization. Just a small increase in production performance or recovery factor can yield a significant increase in value generation for the industry.   
In field operations, we see tremendous potential in automating specific suites of tasks and industrializing remote operations capabilities across the full Schlumberger portfolio.  
In our artificial lift operations, we started implementing field automation solutions at scale to reduce costs and to improve uptime. In North America, we implemented a new machine learning algorithm for electrical submersible pump surveillance and an automated intervention solution.  
Since then, 80 percent of yearly pump interventions were handled remotely, reducing costs and limiting driving exposure for our field personnel. That equates to the removal of around 10,000 physical interventions—where either the customer or a Schlumberger technician would have been required to drive to the wellsite.   
This is a perfect example of how we were able to increase efficiency by boosting uptime, enhancing recovery, and reducing environmental impact of our operations all at once. To achieve the efficiencies that are needed and to fully realize sustainability ambitions, the industry must implement this type of process across the entire E&P value chain.  
How is Schlumberger looking to play an increasing role in the energy transition?
We see a big role for Schlumberger in the energy transition with two aspects. First, we believe that we are uniquely capable of helping reduce the operational greenhouse gas emissions of our industry with technology. The industry is shifting toward decarbonizing operations, and many of our customers have stated emission-reduction goals. We see an opportunity to use our technology and wide reach in the industry to help them achieve those goals.
As a technology company, we are already applying our knowledge and capabilities in some sectors beyond oil and gas. We launched Schlumberger New Energy last year to explore opportunities to apply our domain expertise in areas adjacent to our existing activities and use our global footprint and execution platform to deliver low-carbon or carbon-neutral technologies at scale.
We are using partnership models and our experience in technology industrialization to expand into different energy verticals. Our New Energy portfolio includes ventures in geothermal and carbon capture and sequestration (CCS)—where we bring decades of project experience—and geo-energy, clean hydrogen, and lithium, where we are working on breakthrough technologies for new markets.
We have already reached several milestones in some of these sectors—establishing new ventures, forming strategic partnerships, and are de-risking technology for upscaling. We are extremely proud of the tangible results we have realized in only a short time.
*Mark of Schlumberger