The IEF is looking to shine a light on the new energy landscape
Sep 17, 2020 by Energy Connects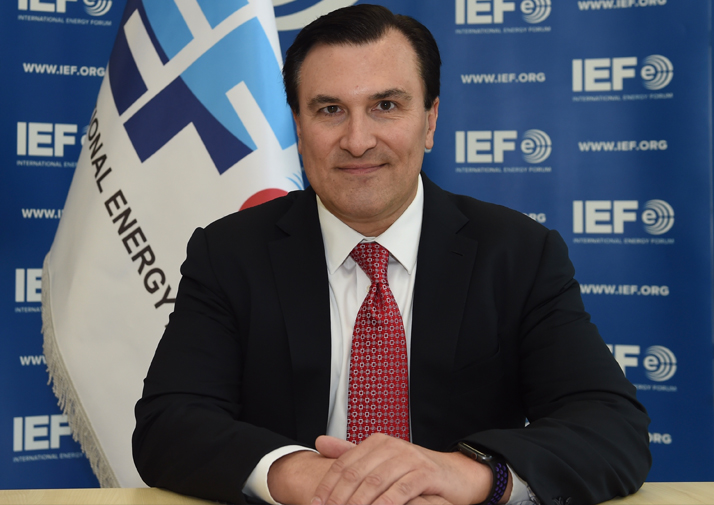 The new Secretary General of the International Energy Forum, Joe McMonigle, spoke exclusively to Eithne Treanor about re-positioning this global organisation to focus on the new energy landscape
As the world tackles the wider energy transition, the newly appointed Secretary General of the International Energy Forum is planning a re-vamp and a transition of his own as he presides over the world's biggest energy ministerial organisation.  Thousands of miles from his home and former professional base on the east coast of the United States, Joe McMonigle arrived in Riyadh in August with a fresh mandate and a focused mission to re-position this global energy institution that's been around for more than 20 years.
With 70 member countries currently in the organisation, one of McMonigle's main focus points will be to increase the membership back to the 90 member countries that once formed the organisation and maybe add a few more members. Established in 1991, the IEF represents more country members than OPEC and the International Energy Agency combined, from six continents and accounting for some 90 per cent of global supply and demand for oil and gas. The IEF is also comprised of major unaffiliated economies such as Argentina, China, India, Russia and South Africa. McMonigle passionately believes that the IEF "is the global home for energy dialogue," not just because of the "wider membership, but also due to its broader reach than other organisations."
From its formation, McMonigle acknowledges "the leadership of Saudi Arabia that really felt it was important that producers and consumers should be talking more to each other as opposed to just among themselves." The Minister of Energy for the Kingdom of Saudi Arabia, HRH Prince AbdulAziz bin Salman al Saud is a founder and big supporter of the Forum and will no doubt be an influential friend to McMonigle as he begins his tenure. Recently addressing the Forum, he said, "the International Energy Forum remains the only international energy body under whose umbrella both producers and consumers can cooperate on energy issues, exchange information and gain deeper understanding of each other's energy concerns to enhance their common interests."
McMonigle is a lawyer, an analyst and former communications specialist and has spent 20 years in the energy industry, advancing energy interests in the United States and globally. He spent four years as Chief of Staff of the US Department of Energy where he developed a solid foundation in global energy policy and a first-hand understanding of the complex interconnections in the oil and gas industry. He is no stranger to international energy engagement having been the US representative to the International Energy Agency and Vice Chairman of its governing board. He also served as the American co-chair of the US-China Energy Cooperation Working Group and led the Energy Department's bilateral engagement with China. In his role as an energy analyst, he has long been a keen contributor at OPEC meetings and international energy conferences.
He's the fifth Secretary General of the IEF and the first American to hold this position, a fact not lost on the wider energy community who saw US President Donald Trump ease his rhetoric on OPEC and friends as the impact of COVID-19 hit global energy sector demand. President Trump has been publicly critical of OPEC over the years but since the demand crash that sent WTI into negative territory earlier this year, he appears to appreciate the role that higher prices can help US producers while also stabilising global markets.
McMonigle is a former colleague and contemporary of Dan Brouillette, the current Secretary of the US Department of Energy, so all indications should point to a more open dialogue with key players in North America. "I'm honoured to be the first American to lead one of these key international energy organisations and I don't take this responsibility lightly," says McMonigle, who considers himself a "citizen of the world" thanks to his frequent international agenda.
"We need to modernise to respond to COVID, which has had such a big impact on energy markets and the world economy," says McMonigle," adding "but we will continue to broaden the IEF agenda focus on energy issues well beyond oil and gas markets, while also strengthening IEF engagement by modernising our communications and organisation." McMonigle highlights how "COVID-19 has reminded us of the critical role that oil and gas play in powering the world, but it has also demonstrated clearly that we are all interdependent. Now more than ever, the IEF's global platform is needed to discuss important shared goals."
One of the key themes of McMonigle's tenure will be a greater focus on the energy transition. While oil and gas issues will be a prime focus of the IEF, McMonigle also believes in the necessity for continued progress on clean energy that involves all technologies and sources. Energy poverty will also be a key focus for the IEF as access to energy still remains a human and economic challenge in many developing economies.
"There are so many exciting developments in smart energy and promising new technologies, and I look forward to the IEF being at the forefront of these important conversations," says McMonigle. "Our member countries can benefit from this collaboration and so the energy transition is cleared for take-off at the IEF."
McMonigle often uses the language of aviation to explain issues, not surprising given that flying is one of his passions. He is a qualified private pilot who enjoys surveying the wider landscape with birds eye vision, a talent he will no doubt put to great use in his new role as the energy transition progresses.
Widening the discussion and increasing transparency continues to be important for the IEF; already the IEF Twitter feed is busy with weekly updates and valuable opinion. It's been more than 10 years since the IEF initiated the IEA-IEF-OPEC Symposium on Energy Outlooks. This is a far cry from the distance once instituted by the producer and consumer organisations formed to serve separate agendas almost 60 years ago. The conversation has widened over the years with senior government and industry representatives meeting alongside heads of international organisations, policy makers, energy analysts, and economists. This dialogue is about to broaden even further as McMonigle expands the mandate to discuss much more than energy outlooks. The dialogue needs to include more open discussion on global energy security, energy poverty, energy market transparency, and orderly energy transitions.
The IEF has been collecting valuable data from the oil and gas industry for 20 years when the Joint Organisations Data Initiative [JODI] was announced. The IEA and OPEC are key contributors to this data gathering exercise. The focus has always been to help improve market transparency and stability with cross referenced research and figures shared by key global organisations, the Asia-Pacific Economic Co-operation (APEC), the European Union through Eurostat, the Latin-American Energy Organisation (OLADE), and the United Nations through their statistics division, UNSD.
With its unique position and connectivity as the world's largest international energy organisation, McMonigle believes the IEF "has a unique global platform to engage in energy dialogue. We have to be more adept at using this platform and highlighting its important discussions." So we can expect to be seeing and hearing a lot more from Joe McMonigle in years to come.
With his election as Secretary General in December 2019, McMonigle, began his four-year term on 1 July 2020, opening the door to what he hopes will be a more contemporary IEF. He is charting the flight plan for his very clear mission as the IEF enters a new decade and a dynamic time in the energy transition. A seasoned energy veteran with diplomatic skills, McMonigle will navigate around any turbulence enroute and strategically position the organisation to command a more visible presence in energy thought leadership, dynamic data analysis and more informed international energy dialogue.