SnapLNG by T.EN presented as the solution zero for low carbon LNG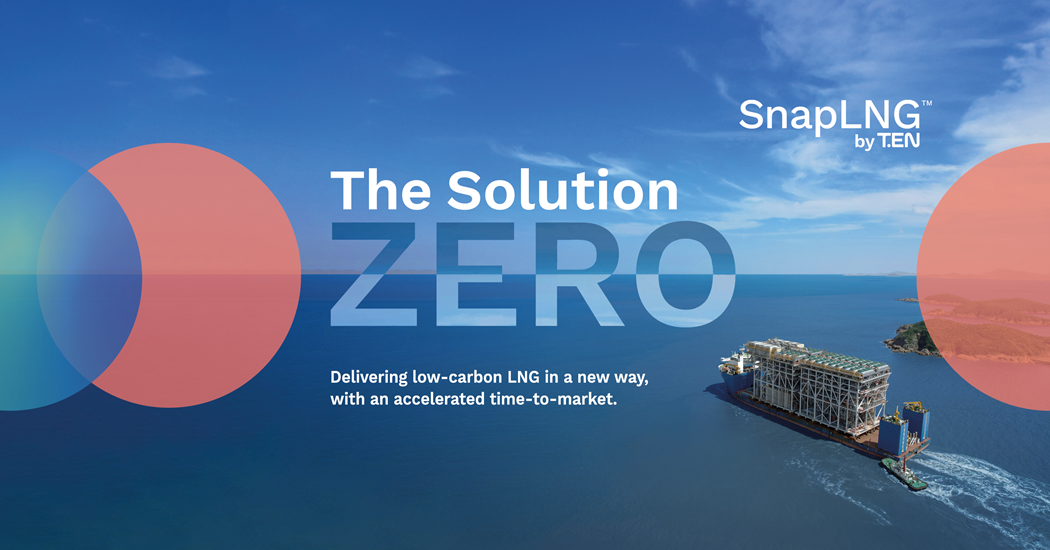 Technip Energies discusses a new approach to decarbonise LNG production with unprecedented certainty and an accelerated time to market.
Taking modularisation to new level in LNG Projects
Pioneered to a large extent by the LNG industry, large-scale modularisation of process plants has expanded a lot in the past 15 years. Constraints with construction in OECD countries, the development of Floating LNG, and the long search for a viable method of developing liquefaction facilities within the Arctic Circle have all pointed to modularisation.
This created an enthusiastic investment climate on all continents and there are now several operating facilities that demonstrate this approach. However, attention to 'economy of scale' has yet to be fully exploited to ensure that LNG train size remains within modularisation constraints boundaries, including optimised module fabrication sequence, offshore and onshore transportation, and site installation.
Increasing scale of standard LNG modules 
With this challenge in mind, as a world leader in LNG, Technip Energies has developed SnapLNG by T.EN™, a new offer combining a compact modular design for mid-scale trains with standardised components and technology. The system benefits from speed to market with greater certainty around costs and schedule, as well as best available process technology, refrigerant compression, and digitalisation. This solution offers lower emissions and is suited for low- to zero-carbon footprint LNG.
With SnapLNG by T.EN™, Technip Energies provides a pre-engineered and tangible product with the main advantage of significantly shortening the overall execution schedule compared with the usual project development process from feasibility study to the end of the engineering, procurement and fabrication (EPF) module.
State-of-the-art low-emission LNG plant
SnapLNG by T.EN™ addresses environmental imperatives through standard design features that limit hydrocarbon and chemical gas emissions, mainly methane, carbon dioxide and volatile organic compounds (VOCs), and through measures to detect fugitive emissions and repair them. We implement strategies to limit emissions from process and utility units during normal continuous operations, normal transient operations and abnormal transient phases, and from specific pieces of equipment.
SnapLNG by T.EN™ main technical features
The technical aspects of SnapLNG by T.EN™ have been secured through the development of a robust and reliable FEED design based on Technip Energies' experience in modularised LNG plants from concept to delivery:
A nominal large plant capacity to bring economies of scale, but including complete systems in single modules, allowing pre-commissioning at fabrication yard and minimum site hookups. It means a four-modules 2.5 Mtpa LNG train ready for transportation and installation.
Three utility modules supporting the operation of the pre-engineered LNG train.
A fully electrified design to eliminate greenhouse gas emission allowing to avoid ~350kTe/year of CO2 emission per train versus a gas turbine solution.
Air Products AP-DMR liquefaction process, most efficient in energy consumption and easiest to modularise.
Electric motor drivers for refrigeration compressors of around 50 MW.
Module sizing, in other words, dimensions and weights, compatible with the constraints of sea and on-land transportation.
Maximised activities at module fabrication yards. The design considers the full integration of the refrigerant compressors into the liquefaction modules.
Extensive use of digital solutions, including data management digitalisation during FEED, and identification and description of tested digital solutions for the EPF phase.
Identification of environmental solutions to limit and detect GHG (Greenhouse gas) and VOC emissions.
Sound and reliable EPF cost and delivery schedule
SnapLNG by T.EN™ comprises a full-cost estimate of the modules built from market inquiries for the most critical pieces of equipment and module fabrication yards. Extensive schedule analysis is performed to assess the duration of a specific EPF project developed from the SnapLNG by T.EN™ design.
Fully digitalised solution
SnapLNG by T.EN™ offers numerous initiatives in digitalisation, adding value during EPF project execution and future plant operation:
Possible use of full digital twin 4DMS (4 Dimensions Materials and Systems)
Operator training using our Plant Operator Digital Simulator (PODS).
Operational performance optimisation
Robotics intervention
Predictive maintenance
Connected workers for site activities and operation
Digital support for construction, pre-commissioning, commissioning and handover.
Blue electrical power on the horizon 
As an alternative to renewable power, Technip Energies also offers clients the possibility of using an industrially proven combined cycle power plant equipped with post-combustion carbon capture, for which technology is commercially available. Modularised designs exist at a scale compatible with a turbogenerator such that the power plant could be built in a similar way to the liquefaction plant. This feature potentially completes the offering of a self-supported productised and decarbonised design.
KEEPING THE ENERGY INDUSTRY CONNECTED
Subscribe to our newsletter and get the best of Energy Connects directly to your inbox each week.
By subscribing, you agree to the processing of your personal data by dmg events as described in the Privacy Policy.