Sheikh Mohamed at COP27: UAE-US clean energy deal paves the way for collective climate action
President says the United Arab Emirates is a responsible supplier of energy globally and will continue to play this role as long as the world needs oil and gas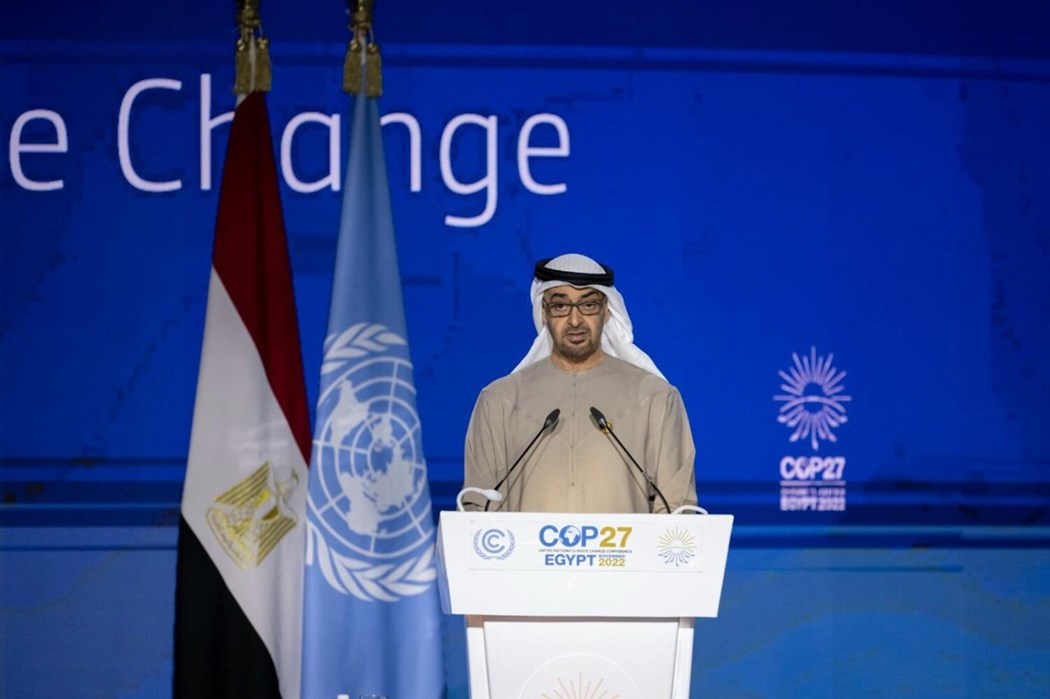 The United Arab Emirates is a responsible supplier of energy globally and will continue to play this role as long as the world needs oil and gas, President His Highness Sheikh Mohamed bin Zayed Al Nahyan told delegates at the start of the COP27 summit in Egypt on Monday.
"The UAE is considered a responsible supplier of energy and it will continue playing this role for as long as the world is in need of oil and gas," Sheikh Mohamed said in his speech at the global climate summit in Sharm El-Sheikh.
Pioneer of renewable energy investments
He highlighted that the UAE, which is one of OPEC's biggest producers but has also been a pioneer in renewable energy investments in the region, was focused on reducing the carbon impact of its fossil fuel output, and that the UAE's hydrocarbons are among the least carbon-intensive globally.
Underscoring the UAE's leading role in global initiatives aimed at preserving the environment and reducing emissions, Sheikh Mohamed tweeted after his speech: "I was pleased to attend the COP27 summit and I thank the host nation Egypt for providing this important platform for global collaboration. The UAE is firmly committed to pursuing effective climate action solutions and we look forward to welcoming the world at COP28 next year."
Landmark US-UAE agreement at ADIPEC 2022
During his speech, Sheikh Mohamed cited a landmark strategic partnership between the UAE and the United States signed at the recently concluded ADIPEC 2022 in Abu Dhabi, that will see US $100 billion mobilised to develop 100 gigawatts of clean energy by 2035.
The deal, titled the "Partnership for Accelerating Clean Energy" (PACE), includes four main pillars: the development of clean energy innovation and supply chains, managing carbon and methane emissions, nuclear energy, and industrial and transport decarbonisation.
Sheikh Mohamed told delegates gathered at Sharm El-Sheikh that along with the UAE's pledge to be carbon neutral by 2050, initiatives such as PACE "pave the way for us to accomplish our common goal and prevent the Earth's temperature from rising more than 1.5˚C."
Tackling global challenges 
He urged nations gathering in Egypt for COP27 to unite to deal with the challenges facing the planet. "We meet today at a critical juncture for our planet and future generations," Sheikh Mohamed told the summit.
"Our world is facing complex challenges, most important of which is climate change, which now affects the world's stability and security – including food security… We have only one planet, and with that in mind, it is imperative that we partner and work together in a spirit of determination and optimism to address this common challenge through climate action," Sheikh Mohamed said.
KEEPING THE ENERGY INDUSTRY CONNECTED
Subscribe to our newsletter and get the best of Energy Connects directly to your inbox each week.
By subscribing, you agree to the processing of your personal data by dmg events as described in the Privacy Policy.