Britishvolt's Failure Reinforces UK Car Sector's Existential Dread
(Bloomberg) -- The writing was on the wall when Britain finalized its break from the European Union: The UK sorely lacked the battery manufacturing capability that would be absolutely critical to the auto industry's future, leaving the country's already declining car sector in a make-or-break bind.
The failure of Britishvolt Ltd. to get past the stage of developing prototypes for an industry still vital to the UK's economy casts further doubt on its prospects in the global race by nations to become self-sufficient in greener technology. The three-year-old startup filed for Britain's equivalent of bankruptcy on Tuesday, letting go of all but a couple dozen employees.
"I would call it an unmitigated disaster for the auto industry in the UK," Andy Palmer, the former Aston Martin CEO who helped Nissan launch the Leaf electric vehicle, said Wednesday on BBC Radio 4. "Ultimately, British car manufacturing will migrate to where the battery factories are, which is going to be in central Europe."
In the wake of Britishvolt's downfall, a House of Commons select committee opened an inquiry into the viability of EV battery manufacturing in the UK.
The committee will find little reason for optimism. BMW AG ceased making electric Mini hatchbacks at its 110-year-old facility near Oxford in October, shifting production to China. When Tata Motors Ltd.-owned Jaguar Land Rover — the UK's top car producer — laid out ambitions in early 2021 to electrify its lineup within a few years, the manufacturer warned that its Castle Bromwich plant employing almost 2,000 people may be left without any models to make.
The lone major manufacturers to have announced sizable investment in UK battery and EV making are Nissan Motor Co. and Envision AESC. The two are setting up a £1 billion ($1.2 billion) hub in Sunderland, home to one of the Japanese car company's biggest plants in the world, to produce as many as 100,000 electric crossovers and the cells powering those vehicles.
Grand Plans
Britishvolt had grander plans for an enormous £3.8 billion plant that it said would create around 3,000 jobs. Then-Prime Minister Boris Johnson hailed his government's pledge a year ago to contribute £100 million as emblematic of the "green industrial revolution" that would take shape in the former industrial heartlands that voted him into office.
In the end, that funding never came. After Ian Lavery, a Labour member of parliament representing the area home to Britishvolt's factory site, criticized Johnson's administration in July of last year for sending the company "not a single ha'penny," then-Business Secretary Kwasi Kwarteng responded that the government had extended a final grant offer.
What Britishvolt was never able to give the government was the assurance of firm orders from car manufacturers. The company reached preliminary deals last year to work with Aston Martin Lagonda Global Holdings Plc and Group Lotus Plc, but the two low-volume automakers merely committed to research and development tie-ups.
"It's important that we dispense that money in a responsible way," Kevin Hollinrake, a minister in the government's business department, said Tuesday.
Industrial Strategy
Within days of Rishi Sunak becoming Prime Minister in October, the auto industry's trade group called on the government to improve the UK's business environment while reporting another monthly contraction in production. The Society of Motor Manufacturers and Traders specifically asked for measures to bring down electricity costs that the group has said are the highest in Europe.
As of November, about 786,000 cars were built in the country during the trailing 12 months, less than half the roughly 1.7 million made in the period preceding the 2016 referendum.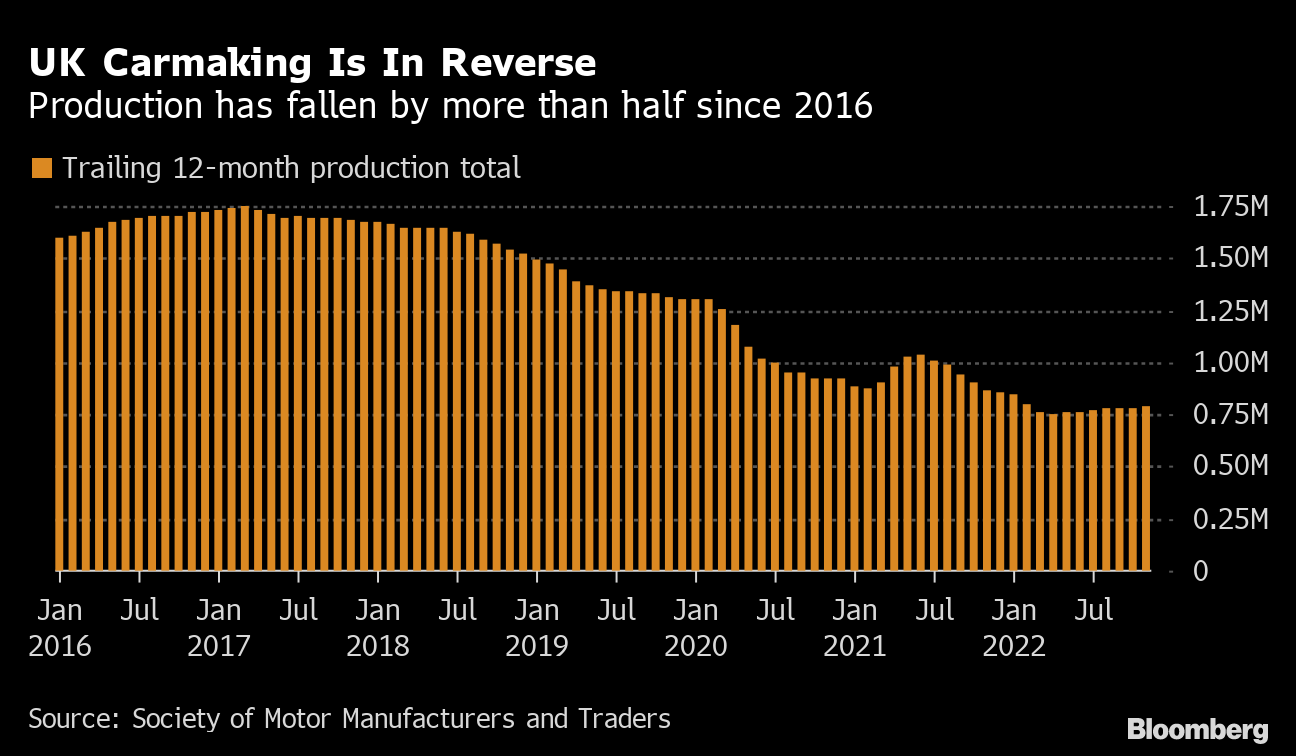 While new-vehicle sales have slumped to a 30-year low, the UK remains one of Europe's largest auto markets. EVs also have been a bright spot, seizing a record 16.6% share of registrations last year, and their momentum will only accelerate as the government seeks to phase out the internal combustion engine.
The challenge for Sunak's government will be luring investment to a country that is increasingly losing the critical mass of carmaking needed for battery manufacturing to be viable. Adrian Hallmark, chief executive officer of Bentley, said last month that the Volkswagen AG-owned company will ship cells into England from elsewhere.
--With assistance from , and .
More stories like this are available on bloomberg.com
©2023 Bloomberg L.P.
KEEPING THE ENERGY INDUSTRY CONNECTED
Subscribe to our newsletter and get the best of Energy Connects directly to your inbox each week.
By subscribing, you agree to the processing of your personal data by dmg events as described in the Privacy Policy.