French Strikes Are Slowing Recovery From Europe's Energy Crisis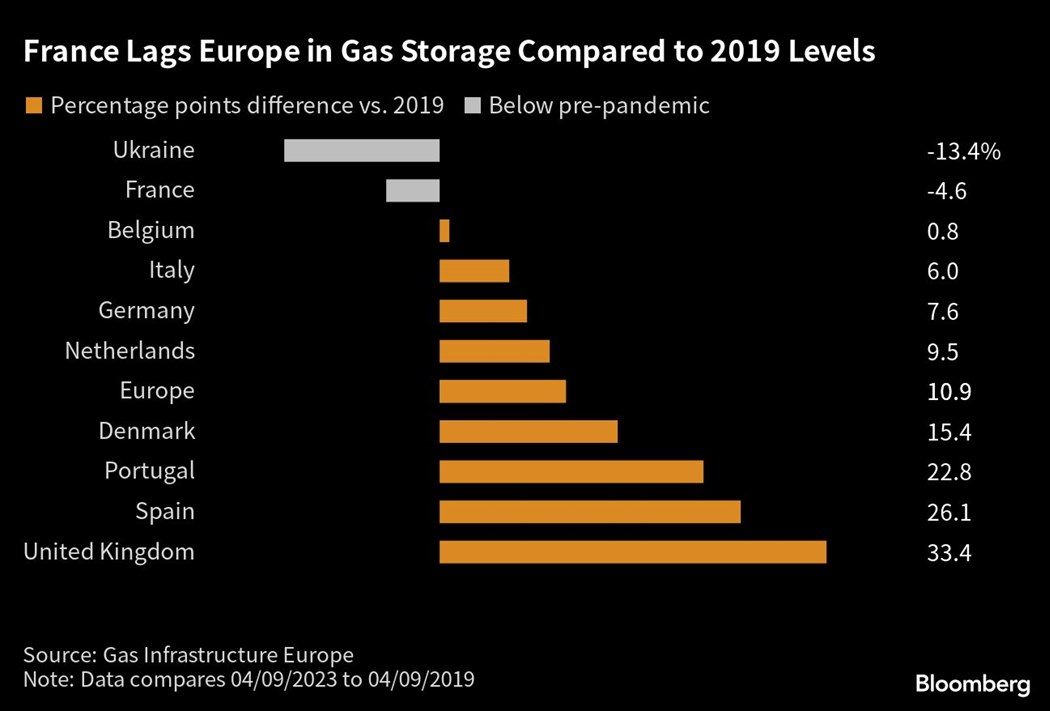 (Bloomberg) -- Europe survived the most perilous stretch of its energy crisis without significant supply disruptions. Then workers in France went on strike, roiling activities from ports to power plants.
The unrest — in protest of President Emmanuel Macron's proposed pension reform — began in January but has gained momentum in the past six weeks. Electricity prices have surged, ships hauling fuel have diverted from the country's shores, and the nation has burned through much of its natural gas stockpiles.
Labor actions at nuclear and hydropower plants have cost utility Electricite de France SA about €1 billion ($1.1 billion) in lost output, according to people familiar with the matter. The broader toll on the economy is yet to be determined.
France is typically a powerhouse of European energy, but the disruptions have come at a crucial moment. The region is recovering from its worst supply crisis in decades, after Russia cut gas flows in the wake of its war in Ukraine. French nuclear power, the bedrock of the nation's electricity supply, has been hobbled for months due to reactor outages.
Some activities at energy facilities are starting to recover as the protests begin to subside. Still, the effects from weeks of turmoil have rippled across the continent. As Europe strives to get back on its feet, it's doing so with one of its key energy pillars weakened. Here's an overview of the situation.
Gas Struggles
Three of France's liquefied natural gas terminals have been largely blocked by the strikes since early March. A fourth, Dunkerque LNG on the English Channel, faces regular interruptions. Ships hauling the fuel have diverted to nations including Spain and the UK. 
Loadings at one of the shuttered facilities, Elengy SA's Montoir terminal, may resume in the coming days. But the country has already taken a serious hit to LNG imports. Flows declined by 1.1 million tons from February to March, mainly due to strike disruptions, vessel-tracking data show. That's about €650 million worth of LNG, according to Bloomberg calculations.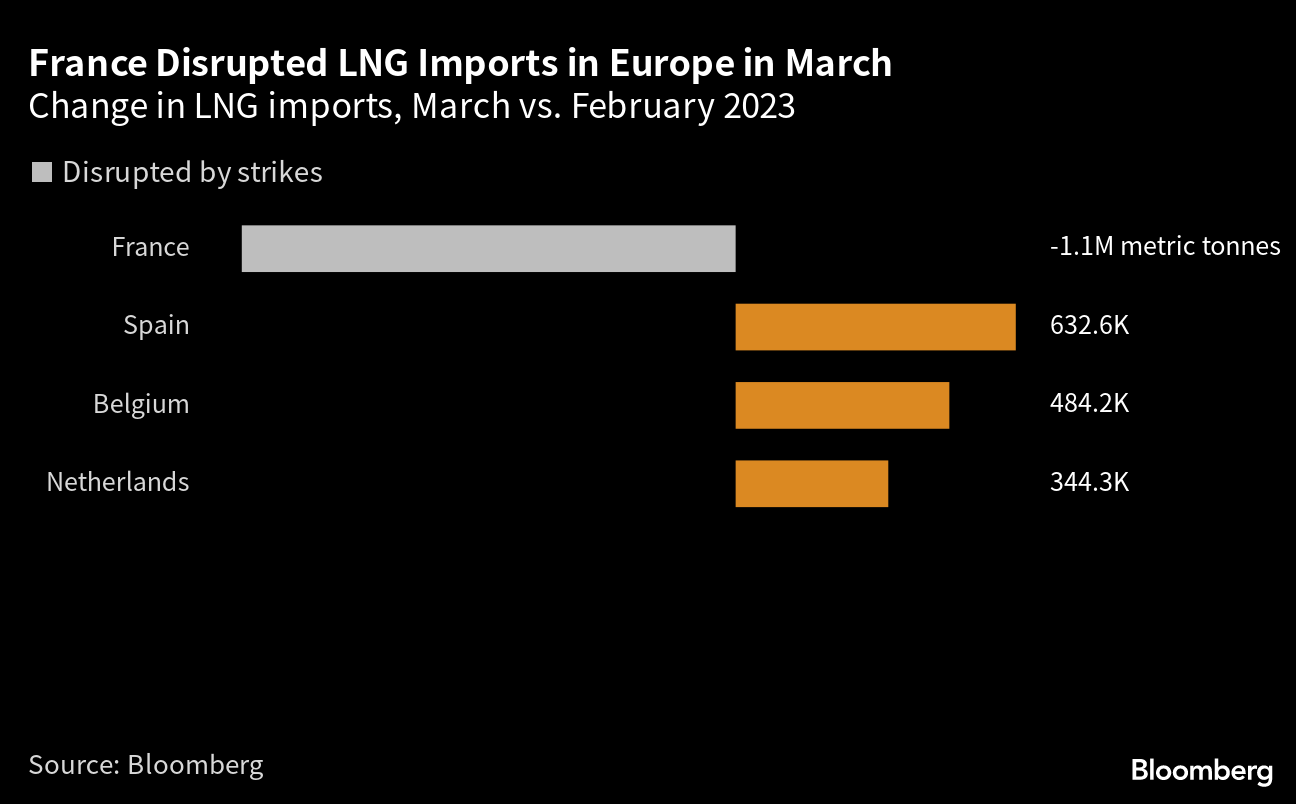 France has dug deep into its gas inventories for heating and electricity, with its gas stockpiles lower than in 2019. The nation's storage sites are just 29% full, according to data from Gas Infrastructure Europe. While that's slightly higher than the historical average, it compares with 65% in Germany and 56% for all of Europe.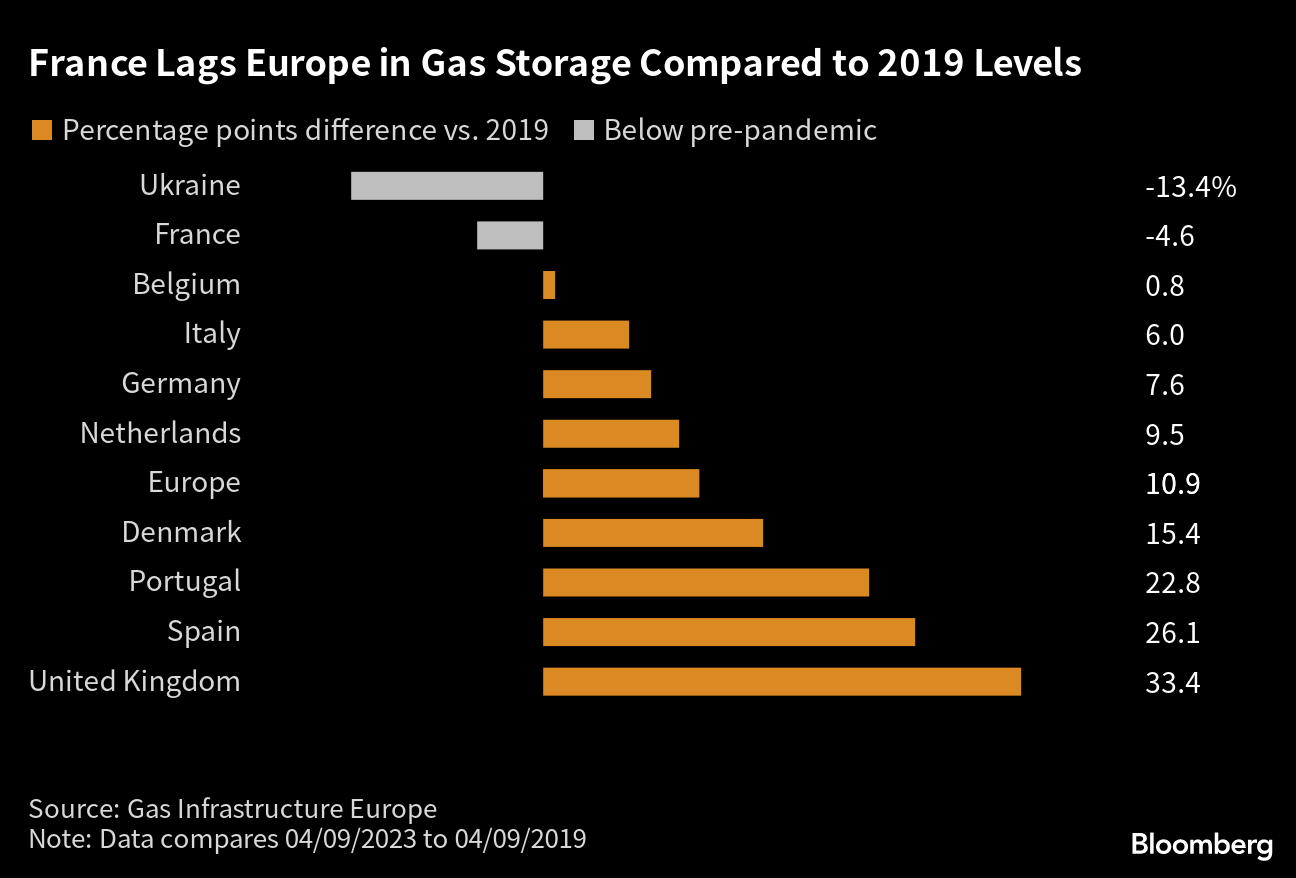 One potential bright spot: Because its neighbors have relatively high inventories, France may face less regional competition when refilling them this summer.
Nuclear Woes
French energy security rests on the shoulders of the country's nuclear-reactor fleet, the largest in Europe. But maintenance and unplanned outages due to cracked pipes at about a dozen units last year caused atomic output to plunge to the lowest level since 1988. 
The strikes have further dented production and reactor restarts in recent months. As a result, EDF's atomic output fell 7.4% in the first quarter from a year earlier, according to the utility, reviving concerns about nuclear power supply in the near term.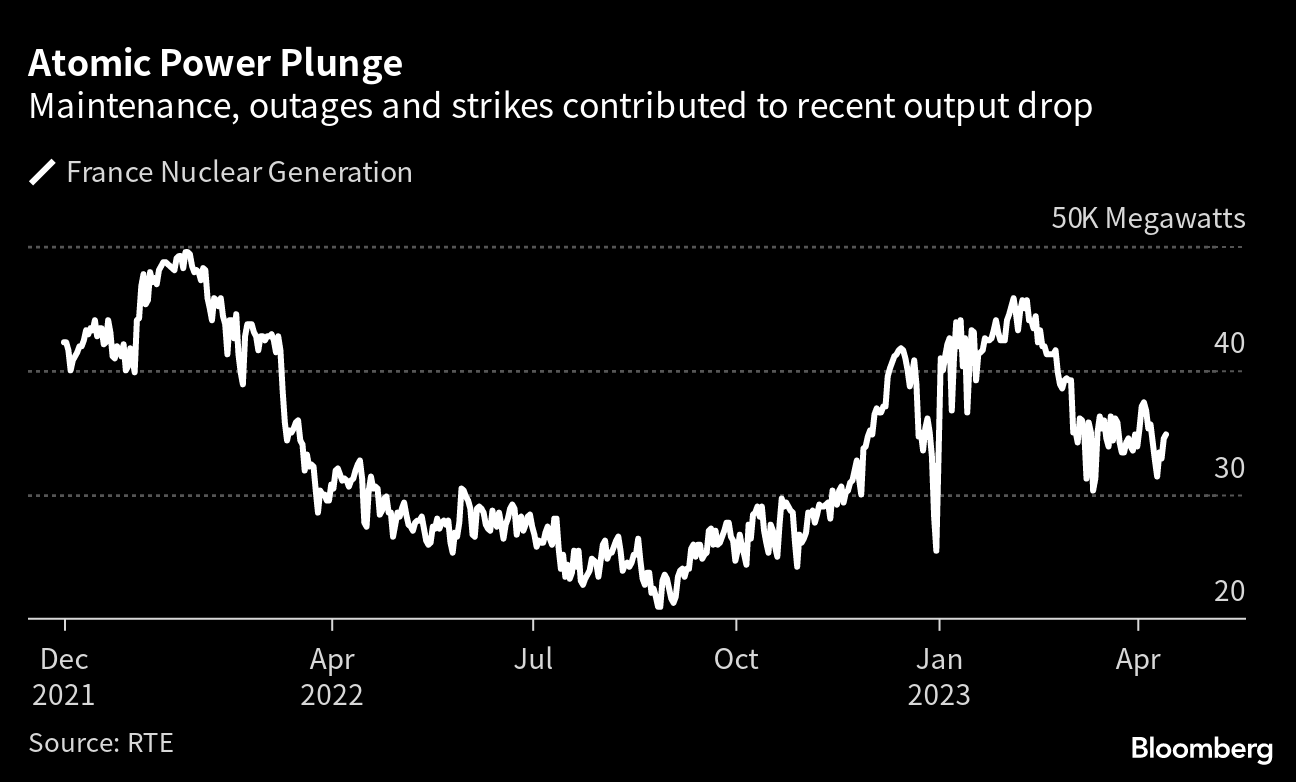 A few weeks ago, the nuclear regulator ordered EDF to review its program of reactor checks due to the discovery of new cracks earlier this year. It also hinted that inspections at a handful of units might have to be brought forward, creating uncertainty about future outages. 
Cracking Under Pressure: The Race to Fix France's Nuclear Plants
Power Surge
The combined punch of strikes and renewed nuclear concerns has sent French electricity prices soaring. Futures for power delivery next year have risen by about 50% since early March, to more than €220 per megawatt-hour. While that price pales in comparison to the record levels in August, it's much higher than the German equivalent contract.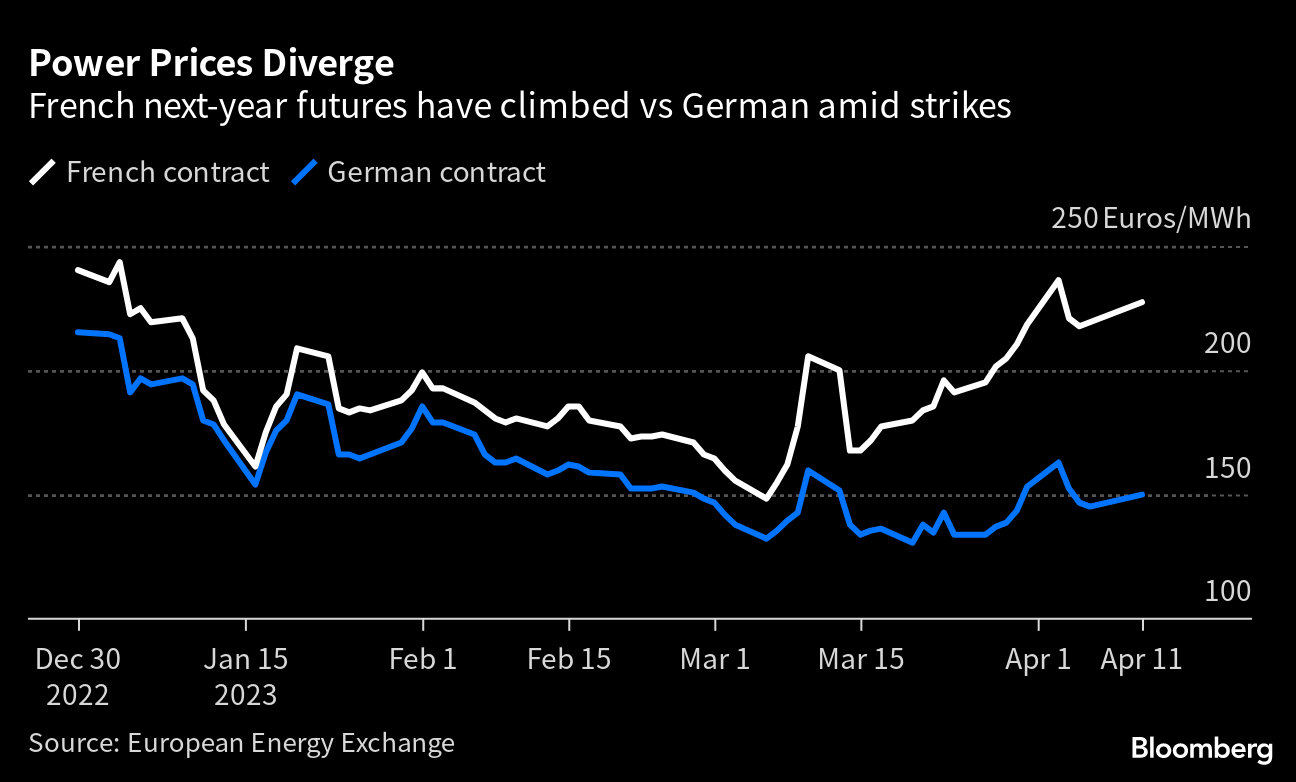 Europe was spared blackouts and energy rationing over the winter, in large part due to mild weather and efforts to conserve power, while skyrocketing prices last year curbed industrial demand. The French government has recently urged businesses to pursue further savings, notably by encouraging more work from home, to reduce power bills and cut road-fuel consumption.
Oil Crunch
As with LNG facilities, the strikes halted operations at France's fuel terminals, oil refineries and petrochemicals plants. Tankers have also diverted to countries that are able to unload oil cargoes. 
France has has relied more on fuel inventories during this round of strikes than it did during separate walkouts in October, due to disruptions at ports, according to researcher Facts Global Energy. Meanwhile, the French government has released more than 3 million barrels of crude from its strategic stockpiles since early March. 
France has six major oil refineries, and while operations have recovered to some extent, the damage from the strikes could linger. It may take weeks to restream some plants because of the length of time they were out of service, FGE said. 
©2023 Bloomberg L.P.
KEEPING THE ENERGY INDUSTRY CONNECTED
Subscribe to our newsletter and get the best of Energy Connects directly to your inbox each week.
By subscribing, you agree to the processing of your personal data by dmg events as described in the Privacy Policy.