Germany Begins Historic Takeover Swoop: Energy Update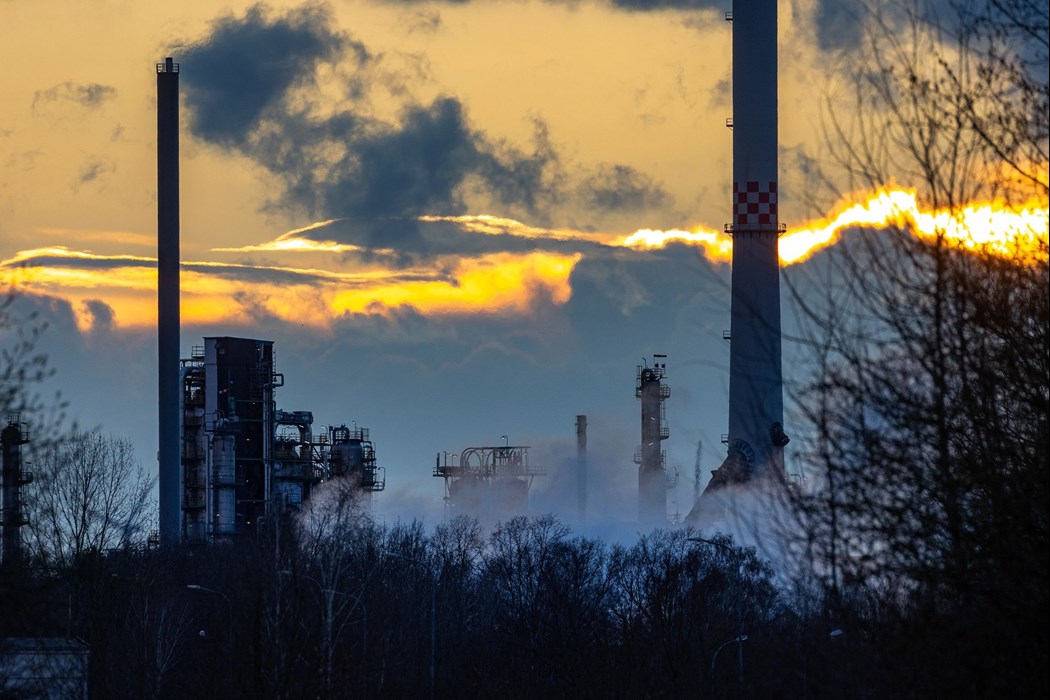 (Bloomberg) -- Germany is taking control of Russian oil major Rosneft PJSC's German oil refineries and is nearing a decision to take over Uniper SE and two other large gas importers as it tries to avoid a collapse of its energy industry.
Regulator BNetzA will take trusteeship of stakes in oil refineries in Schwedt, Karlsruhe and Vohburg, equivalent to around 12% of Germany's oil processing capacity, the economy ministry said Friday. 
State ownership of Uniper, VNG AG and Securing Energy for Europe GmbH, formerly Gazprom Germania GmbH, is the now main solution under discussion to prop up the gas industry too.
Surging gas prices and Moscow's move to squeeze supplies to Europe have already prompted a series of government bailouts and rescue loans. But those measures are increasingly dwarfed by the scale of the crisis and there's a risk that systemic energy providers collapse without more robust government support.
Key Developments:
Germany Tightens Control Over Industry With Russian Oil Grab
Germany Working on Historic Takeover of Three Gas Companies
France Aims to Cut Energy Consumption by 10% This Winter
UK to Meet Energy Firms in Push to Cap Low-Carbon Power Costs
(Timestamps in London.)
Trading Houses Central to Highly Lucrative Trades (10:48 a.m.)
While utilities are buckling under margin calls, sparking fears of Lehman Brothers-like contagion risk across Europe's energy sector, major trading houses are in a better position. Since previous stresses, they've cut trading volumes and moved more business off exchanges -- easing margin pressures -- while boosting credit-line buffers and equity to secure more loans if needed.
The shift has kept the clutch of largely private trading houses at the center of what are now highly lucrative trades, while enabling them to keep supplying much-needed gas and power to buyers, often for eye-watering profits.
Netherlands Secures Nitrogen to Process Gas (10:40 a.m.)
The Dutch gas-transmission network operator asked for one of the country's nitrogen-producing plants to delay maintenance to help ensure stable fuel supplies. Nitrogen is needed to enable the country to use imported gas. 
German Rosneft Grab Includes Stakes in Italy, France, Austria (10:20 a.m.)
Germany's takeover of Russia's Rosneft entity also includes stakes in business units in Italy, France and Austria, according to a paper published by energy regulator BNetzA. The regulator's trusteeship over the Russian units is limited to March 15, 2023.
Germany 'Can Stop Russian Gas Imports by End of 2023' (10:15 a.m.)
Chancellor Olaf Scholz said Germany's push to expand LNG imports via new terminals on the north coast will mean it's able to end purchases of Russian gas by the end of 2023.
"We will have established so much import infrastructure by the end of next year that we can, with complete certainty, guarantee supply of our country also without Russian gas," Scholz said during a Q&A in Berlin. "This will then at the latest also have an impact on prices," he added.
EU Spoke With Qatar About Gas Meant for Asia (9:31 a.m.)
European Council President Charles Michel said that he discussed with Qatar the possibility of rerouting gas meant for Asia to Europe in the short term.
The issue would first have to be discussed with the Asian nations, Michel told reporters in Brussels.
Uniper Shares Plunge (9:20 a.m.)
Shares in Uniper dropped for a fourth day, down as much as 16% to a record low after Bloomberg reported the government is close to taking control of the company.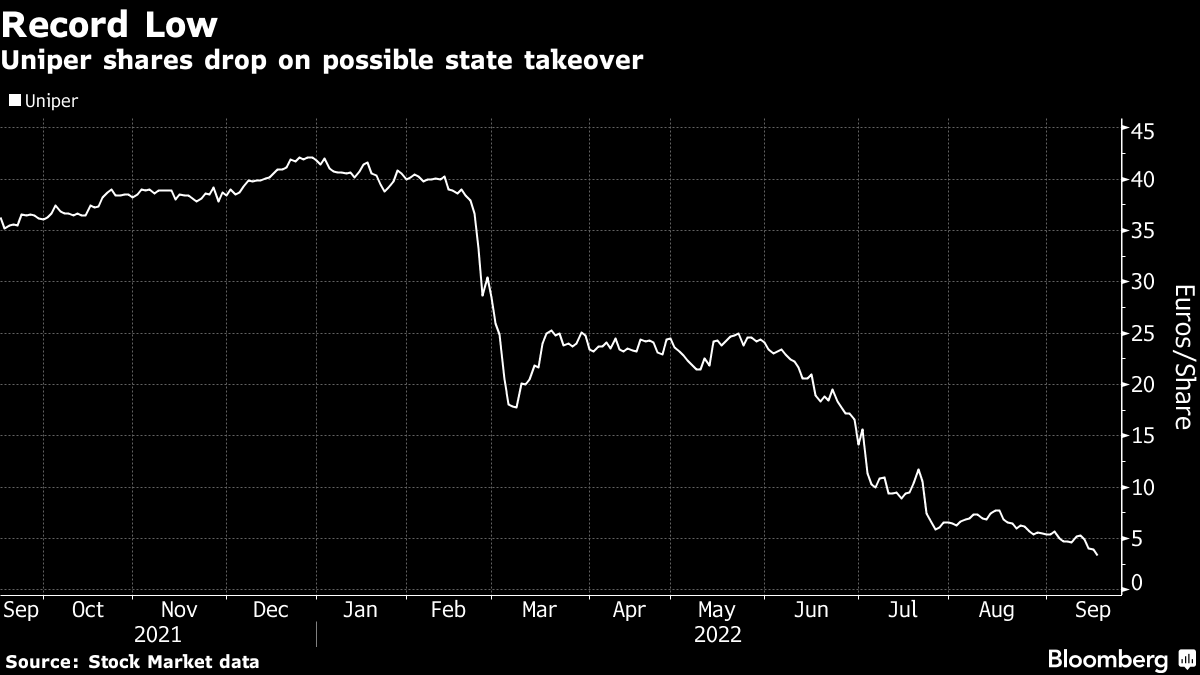 Fortum Wants Its Money Back for Uniper (9:04 a.m.)
Fortum OYJ has already granted loans to Uniper but made clear earlier this year it didn't want to keep extending credit. Any deal in which Germany takes control, would mean giving partly state-owned Fortum its money back.
"It is very clear that Finland will not agree that Germany could nationalize Uniper without compensation," Finland's ownership steering minister Tytti Tuppurainen. "We also maintain that the 8 billion euro financing provided by Fortum to Uniper will still be available to us."
Germany Worried About Systemic Failure: RBC (9:00 a.m.)
Willingness in Berlin to provide further bailout support to Uniper shows "clearly the government is worried about systemic failure in imports of gas into Germany," John Musk, analyst at RBC Europe Ltd said.
A takeover is complicated by Fortum's 78% stake in Uniper but RBC expects the German government to press on given the strategic importance of securing gas supplies ahead of winter.
Gas Prices Slip in Early Trading (7:18 a.m.)
Benchmark European gas futures fell as much as 3.9% to 206 euros per megawatt-hour. Trading has been volatile in recent days as traders take stock of various government plans to ease the crisis. For now, prices are little changed on the week.
UK to Meet Energy Firms Next Week (6:30 p.m. Thursday)
The UK government is set to meet with some of the country's biggest power producers to push through a measure that would cap wholesale electricity prices starting this winter for low carbon sources of electricity. UK Business Secretary Jacob Rees-Mogg is pushing to quickly agree long-term contracts with energy sources like wind farms, nuclear plants and biomass-burning stations. 
France Steps Up Target to Cut Power Use (5:30 p.m. Thursday)
The French government hiked its target to reduce energy consumption this winter and avoid energy outages in a bid to shake up public awareness.
Prime Minister Elisabeth Borne urged households, businesses and local and national authorities to cut their power use by 10% compared to last year, according to a presentation sent to reporters following a press conference. Emmanuel Macron's government had previously put forward a target to reduce consumption by that amount within two years. 
More stories like this are available on bloomberg.com
©2022 Bloomberg L.P.
KEEPING THE ENERGY INDUSTRY CONNECTED
Subscribe to our newsletter and get the best of Energy Connects directly to your inbox each week.
By subscribing, you agree to the processing of your personal data by dmg events as described in the Privacy Policy.