WUC 2022 Live: clean energy mix must be affordable and sustainable
May 09, 2022 by Energy Connects
Team Energy Connects brings you live updates and analysis from the inaugural edition of World Utilities Congress taking place in Abu Dhabi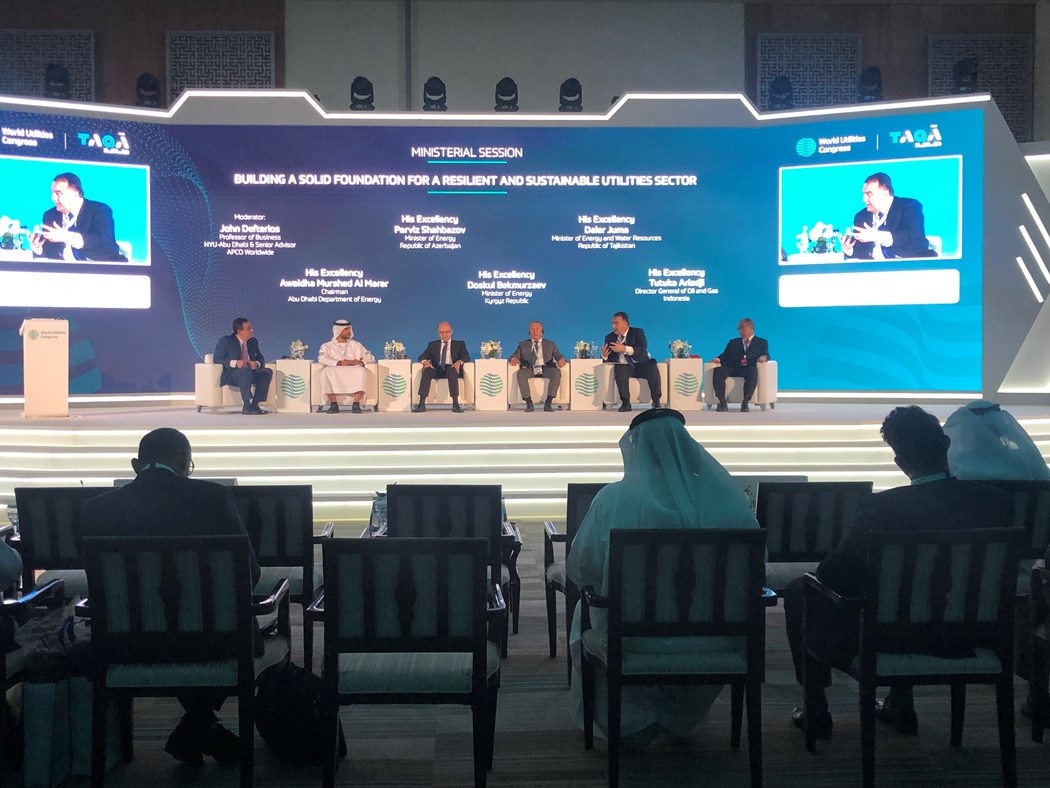 Governments in the region and around the world must build on a balanced energy system which is both cost effective and reduces emissions, according to the United Arab Emirates (UAE) Minister of Energy and Infrastructure, Suhail Al Mazrouei.
"At a time when many governments did not have a long term vision on the energy mix, the UAE formulated an energy diversification and security strategy nearly 15 years ago with a focus on a clean energy mix, and water and power supplies at the core, to reduce carbon emissions," Al Mazrouei said on Monday at the first edition of the World Utilities Congress being held in Abu Dhabi.
A vital part of that evolving strategy was to invest in utilities, bring the new energy mix to the GCC grid, harness new technologies especially in AI and digitalisation, focus on low-carbon desalination and encourage new energy sectors such as hydrogen, the minister said.
Explaining that the UAE aims to produce 44 gigawatt solar energy by 2050, Al Mazrouei cited the example of Masdar's Al Dhafra Solar PV IPP in Abu Dhabi – which once fully operational will be the world's largest single-site solar power plant, using approximately 3.5 million solar panels to generate enough electricity for approximately 160,000 homes across the UAE. It will mitigate 2.4 million tonnes of carbon dioxide annually.
Hosted by TAQA and held under the patronage of HH. Sheikh Khalid Bin Mohammed Bin Zayed Al Nahyan, the first edition of the World Utilities Congress (WUC) convenes the global power and water industry to discuss trends and technologies impacting future power and water demand.
Other dignitaries at the opening ceremony focused be on the proactive measures being taken in the UAE and the region for decarbonisation, curbing emissions and attracting the long-term capital investment needed for a sustainable future.
According to Jasim Hussain Thabet, Group CEO and Managing Director of TAQA, there has been a tremendous growth in demand for affordable and reliable cities following a strong economic recovery from the pandemic last year.
With energy security once again taking the spotlight due to the current geopolitical situation, the international community is trying to balance its way towards a sustainable energy transition, Thabet said.
"We see accelerating growth in green and blue hydrogen, which presents enormous opportunities. The cost of producing hydrogen from renewables could fall by 50 percent by 2030," said Thabet.
The UAE has been a pioneer of clean energy mix globally with the inclusion of nuclear power in the national grid, said Mohamed Al Hammadi, Managing Director & CEO of Emirates Nuclear Energy Corporation (ENEC).
The UAE's pursuit of a clean energy mix is based on the pillars of supply security, sustainability, and a low carbon future, with Abu Dhabi the first to include nuclear power in the clean energy mix. "This has resulted in stranger interest for investments in the clean energy sector," said Al Hammadi.
Al Marar: mapping the energy transition is vital for progress
During the ministerial session under the title of Building a Solid Foundation for a Resilient and Sustainable Utilities Sector, several energy and water resources ministers were of the opinion that mapping energy needs was a critical part of the energy transition to ensure commitments towards a low-carbon future as well as fulfilling needs of the population.
Awaidha Murshed Al Marar, the Chairman of Abu Dhabi Department of Energy, said: "We have an integrated energy model that helps us do the mapping and test the model before we launch. We look at the impact on the industrial, economic and socio-economic model too."
According to him, this is a model that's ready for further deep investments as well as for sharing with the rest of the world. "We can share it with the rest of the world. We cannot be in isolation and say that we are mapping energy demand and consumption – our scenarios could be different from their energy," he said. "We welcome any investment in this integrated model."
Parviz Shahbazov, Azerbaijan's Minister of Energy, said that at the moment in the global energy market there is a "usual" situation. "We actually do not have an energy shortage, we need to do more in order to bring stability to the energy market. The most important thing is diversification."
The diversification of energy resources could provide stability and trigger more investments in the sector, he said.
Protecting and optimising water resources is not just an issue for the energy sector, but for others too, said Dosul Bekmurzaev, Minister of Energy at the Krygyz Republic.
"Solar and wind power are good because they will significantly boost energy efficiency. We need big investments for them – so we are using God's gift [water]," he said.
According to Daler Juma, Minister of Energy and Water Resources at Republic of Tajikistan, a major part of every single wattage of electricity produced in the country is being exported to other countries to supplement the energy demand-supply gap.
The CASA-1000 project in the country will bring 1.3 gigawatts (GW) of power from Tajikistan and the Kyrgyz Republic to Afghanistan and Pakistan, he said – and all four countries were keen to make sure the project goes on.
Tutuka Ariadji, Director General of Oil and Gas Indonesia, told the Congress that while the country's oil production was declining, its gas supply was picking up. "So we are trying hard to move to a gas energy transition, and we have the courage and confidence to use gas for energy transition," he said.
According to Ariadji, Indonesia has a great potential in promoting the new energy mix with its wealth of solar, geothermal and wind energy. "We are mapping that potential and we are trying hard to put resources there. Based on domestic needs, we will change the policies there," he said.
Thabet: Utilities must work with heavy industries
Utilities players operating in close synergy with heavy industries can be one of the best catalysts for speeding up the energy transition, according to Jasim Husan Thabet, Group CEO & Managing Director of TAQA.
"What we need to be focusing in is blue and green hydrogen, see how we can industrialize that," Thabet said during a panel discussion at the World Utilities Congress.
"I also think there is a role that utilities companies have in supporting oil and gas," he said, explaining that TAQA supports ADNOC offshore with stable, reliable cleaner energy that is going to be both nuclear and solar.
According to Jean Bernard Levy, Chairman & CEO of EDF, public opinion could make operations challenging for many energy operators.
"We see governments that were very positive about nuclear now moving away from nuclear power. We see unexpected events such as the invasion of Ukraine create a total surprise for countries," he said. "A lot of capital expenditure needs to be diversified, relying on things such as the diversity of technologies," Levy explained.
In Morocco, this is already under way with a focus on energy efficiency – especially water efficiency. "We cannot waste energy or water," said Said Mouline, Director General, Moroccan Agency for Energy Efficiency.
"We have to be careful, we have to produce clean energy and develop the infrastructure," added Mouline, adding that it is easier to install renewables when there is "connectedness".
More gas to Europe
During a ministerial panel, Azerbaijan energy minister Parviz Shahbazov said that they plan to supply natural gas to Europe. "We are now working on the ways, in a short relatively period of time, upgrade this infrastructure and subsequently our energy supply to Europe in terms of gas," he told his crowd.