European Gas Falls With Traders Weighing Ukraine Transit Risks
May 11, 2022 by Bloomberg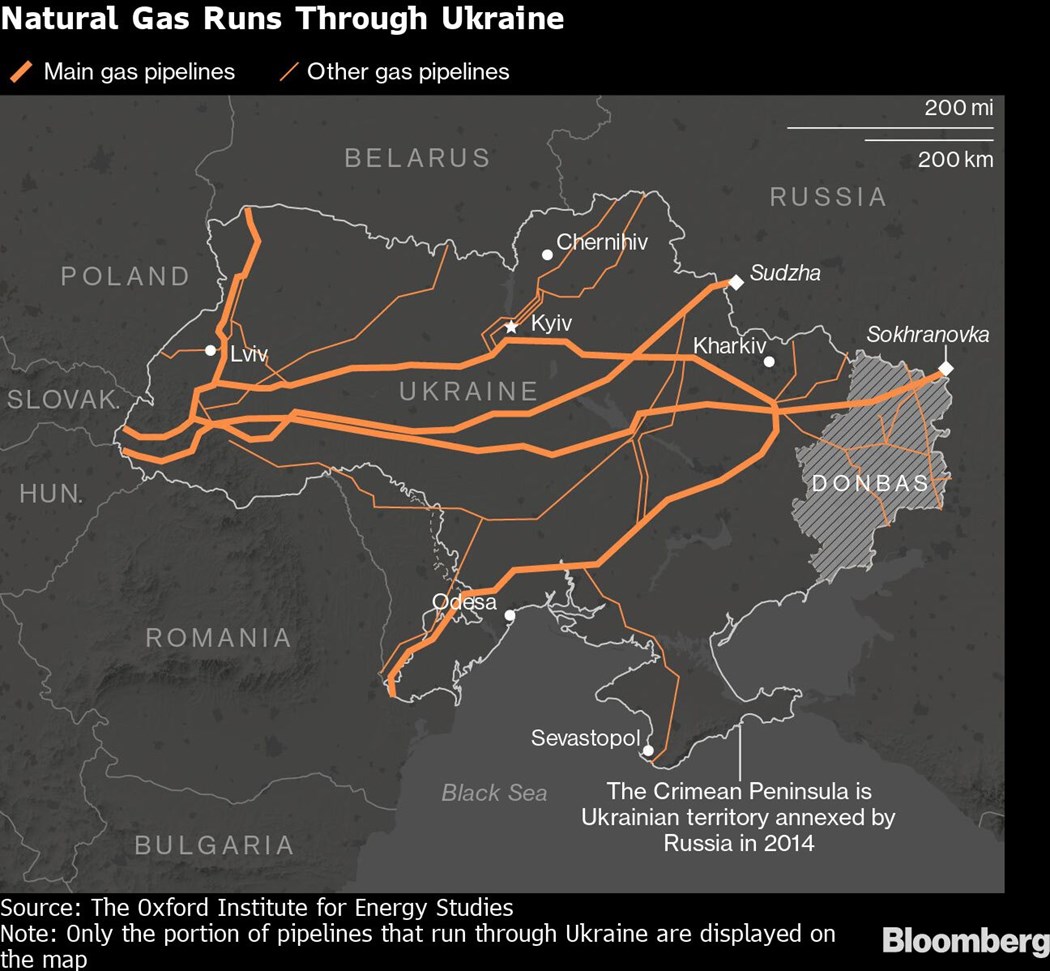 (Bloomberg) -- European natural gas prices eased as traders weighed a decline in Russian flows through Ukraine against bearish factors including warmer weather and steady LNG imports. 
Benchmark futures erased an earlier gain to decline as much as 7.3%. Russian supplies transiting Ukraine are set to fall 18% on Wednesday amid a spat between the countries. But it's not yet clear if those volumes would be lower than demand, with Austria, a key hub that receives the fuel, saying there are currently no "significant restrictions."
Ukraine's gas network operator said late Tuesday it would stop receiving Russian fuel through the cross-border Sokhranivka station at 7 a.m. local time because it can't control the infrastructure in the occupied territories. Russian gas giant Gazprom PJSC said it can't reroute supplies to another entry point, Sudzha, because of how its system currently works. 
The development marks the first time the war in Ukraine has disrupted gas deliveries to Europe via the country. Russian gas had been flowing normally through both entry points despite the conflict, although most of the time at lower rates than the transit deal envisages. 
Read More: Ukraine, Russia Gas Clash Raises Threat to Europe's Supply
"To get a big market reaction you're going to need to see a contract holder confirming that deliveries aren't being made," said James Huckstepp, an analyst at S&P Global Commodity Insights, adding that shipments appeared to be enough to meet orders for now. "Gazprom's statement yesterday suggests they could blame Ukraine for a cut in flows, but a lot of risk is already baked into prompt prices."
The benchmark Dutch front-month contract was 5.2% lower at 93.65 euros per megawatt-hour by 12:19 p.m. in Amsterdam. The UK equivalent fell 4.9%.
Ukraine Transit 
The Sokhranivka station, known as Sokhranovka in Russian, handles about a third of the Russian gas flows entering Ukraine for further transit. The rest passes through the Sudzha station, which is further away from the occupied territories in the east.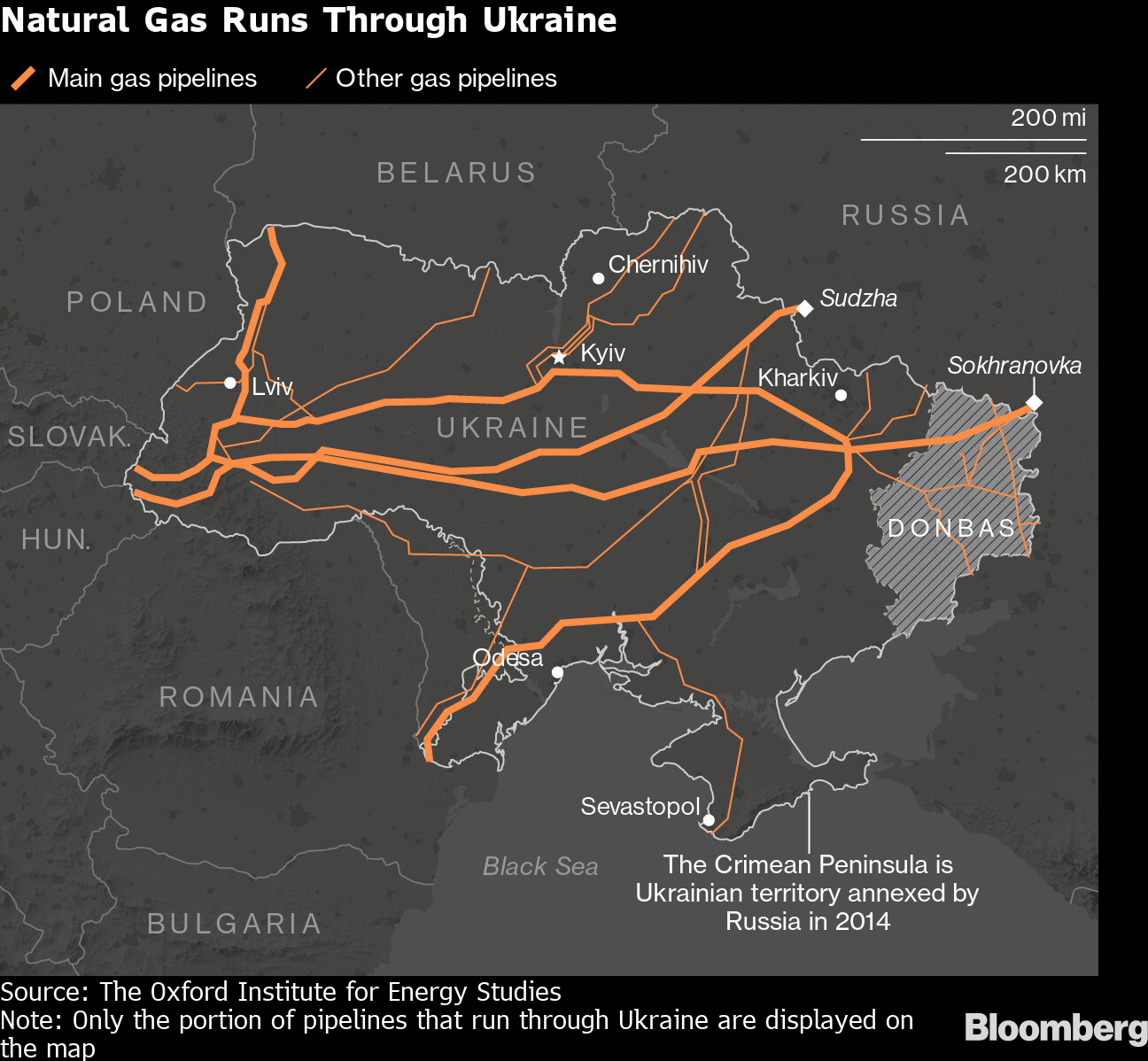 The Gas Transmission System Operator of Ukraine said occupiers had interfered in technical processes and had engaged in unauthorized offtake of the fuel, making it impossible to fulfill obligations at the connection point. As a result, the grid issued a force majeure, meaning it is unable to provide deliveries for reasons beyond its control. 
Orders to ship gas via Sudzha are set at 72 million cubic meters for Wednesday, higher than for Tuesday, but still below nominations for both stations combined earlier this week, according to the grid. The flows are also far below what Sudzha has handled in previous years.
A Gazprom spokesman confirmed on Tuesday that the company had received a notice from Ukraine, but added that it didn't have confirmation of the force majeure. Early Wednesday, the company reported the same shipment orders for the Ukrainian transit, but didn't provide any further details. It also skipped its previous comments that flows to Europe via Ukraine are in line with clients' requests.
Europe's Needs
Shipments through Ukraine to Slovakia's Velke Kapusany, the main transit route to Europe, are also set to fall 18% to the lowest since April 30, based on grid data. Yet, Austria, which receives the fuel from Slovakia and sends it onwards to other destinations including Italy, said there are currently no disruptions. 
Even before the transit spat, Europe had been racing to find alternatives for its supply from Russia, including importing large amounts of liquefied natural gas. The demand for the fuel has been alleviated in part because of warmer weather as the summer approaches.
"The market seems to consider that given the current fundamentals (high LNG supply, weak demand) it is still sufficient, particularly as Norwegian flows are rebounding this morning," EnergyScan, Engie SA's market analysis platform, said in an emailed note. 
Meanwhile, European buyers are facing deadlines for Russia's demand that deliveries of gas be purchased in rubles. Germany utility Uniper SE, one of the continent's largest buyers of Russian gas, said Wednesday that its next payment for supplies is due at the end of May. The company believes it's possible to make a payment conversion that is compliant both with sanctions and Moscow's decree. 
More stories like this are available on bloomberg.com
©2022 Bloomberg L.P.
By Anna Shiryaevskaya , Elena Mazneva