Germany Mulls Uniper Bailout to Stem Russian-Gas Contagion
(Bloomberg) -- Germany is in talks to bail out energy giant Uniper SE to stem broader fallout from Russia's moves to slash natural gas deliveries.
Uniper, the largest buyer of Russian gas in Germany, said it's discussing a possible increase in state-backed loans or even equity investments to secure liquidity. The crisis could also affect Finland, which controls Uniper's parent Fortum Oyj. The utility said Uniper's rescue requires a national effort "in Germany." 
Talks are ongoing to provide "stabilization measures" for the utility, German Economy Ministry said in a statement on Thursday. "The reason for this is the sharp rise in gas prices and the reduced supply volumes from Russia," it said. 
Uniper shares plunged as much as 23% on Thursday to the lowest level in over five years. Fortum fell 10%.
German Economy Minister Robert Habeck has warned that a squeeze in Russian gas supplies risked creating deeper turmoil, likening the situation to the role of Lehman Brothers in triggering the financial crisis. 
Energy suppliers are piling up losses by being forced to cover missing Russian volumes at high prices on the spot market. The shortfall is costing Uniper about 30 million euros ($31.3 million) a day, according to estimates from analysts at RBC and Citigroup.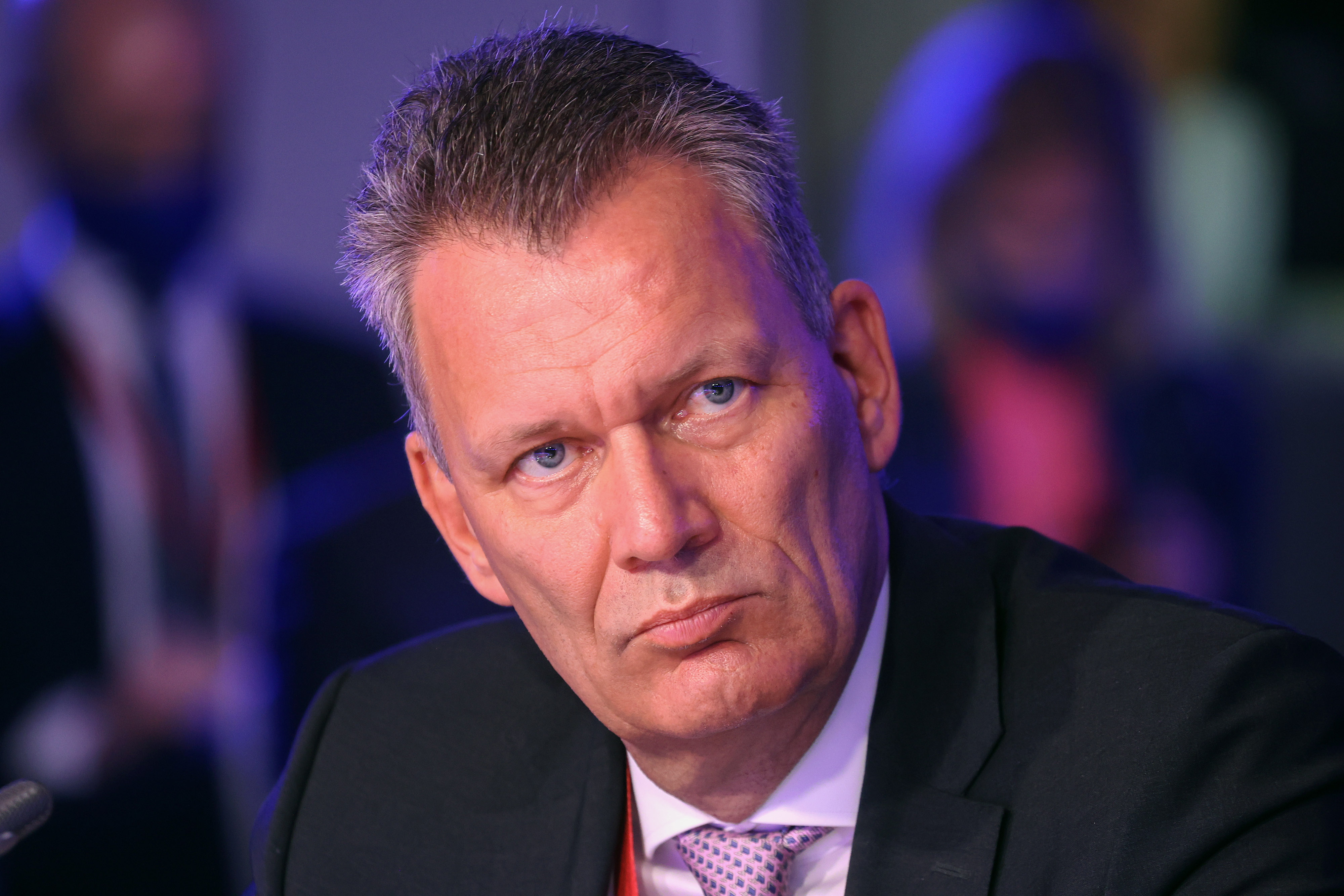 "The business development has noticeably deteriorated due to the war in Ukraine," Chief Executive Officer Klaus-Dieter Maubach said in emailed comments late Wednesday. The supply squeeze prompted the company to withdraw its outlook for the year. 
If utilities like Uniper can't deliver, there's danger of spillover on local utilities and their customers, including consumers and businesses, Habeck warned after raising the country's gas risk level to the second-highest "alarm" phase last week.
Despite the heightened alert, the government didn't implement legislation that would allow energy companies to pass on increased prices to customers. There could be more pressure now in order to give utilities breathing room. German authorities have said that consumer energy bills could double or triple as a result.
"Since Uniper can't yet pass on these additional costs, this results in significant financial burdens," the company said. The ability to pass along higher costs "would be a necessary and essential prerequisite for being able to issue a new earnings outlook with sufficient certainty," it said.
Germany has beefed up its powers to stabilize energy markets. A law passed in May gave the government the ability to seize critical energy infrastructure in an emergency. Habeck has said the "dramatic" powers were needed to counter Russia's weaponization of energy, as the Kremlin retaliates against Europe for sanctions over the war in Ukraine.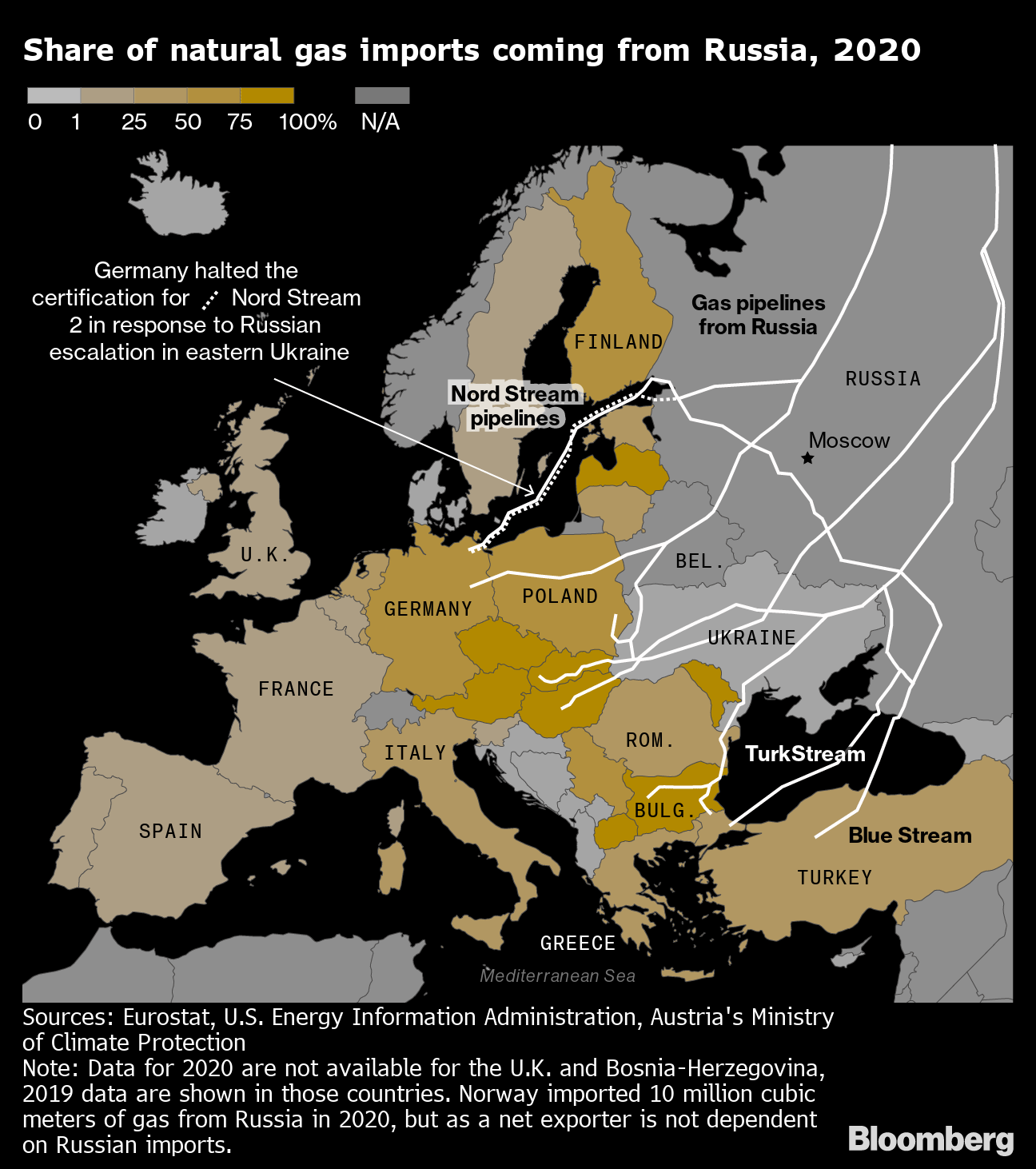 Russia's Gazprom PJSC has been delivering only about 40% of the contracted volumes since mid-June after cutting flows via the key Nord Stream pipeline, according to Uniper. The crunch is also impacting countries including France, Italy and Austria. Gas futures have jumped more than 40% in the past two weeks.
Russian gas flows need to resume or price adjustments need to be activated to "avoid very negative consequences for the entire gas and power markets in Europe," Piotr Dzieciolowski, an analyst at Citi, said in a note. He estimates Uniper has lost 1.8 billion euros since Russian gas flows were reduced in mid-June. 
Related: The Weakest Link in Germany's Energy Security Is Fraying
The next big test for gas buyers in Europe is when flows through Nord Stream halt completely for about 10 days in July for planned maintenance. Germany's government fears that Russia might decide not to resume flows after the outage. 
If that happens, the country runs a serious risk of not being able to secure enough gas reserves to make it through the winter and could force it to ration energy. Habeck said it will be a "tight calculation."
"The good news is we are getting gas," Habeck said Thursday at a conference organized by Sueddeutsche Zeitung in Munich. "The bad news is we are paying top prices for it."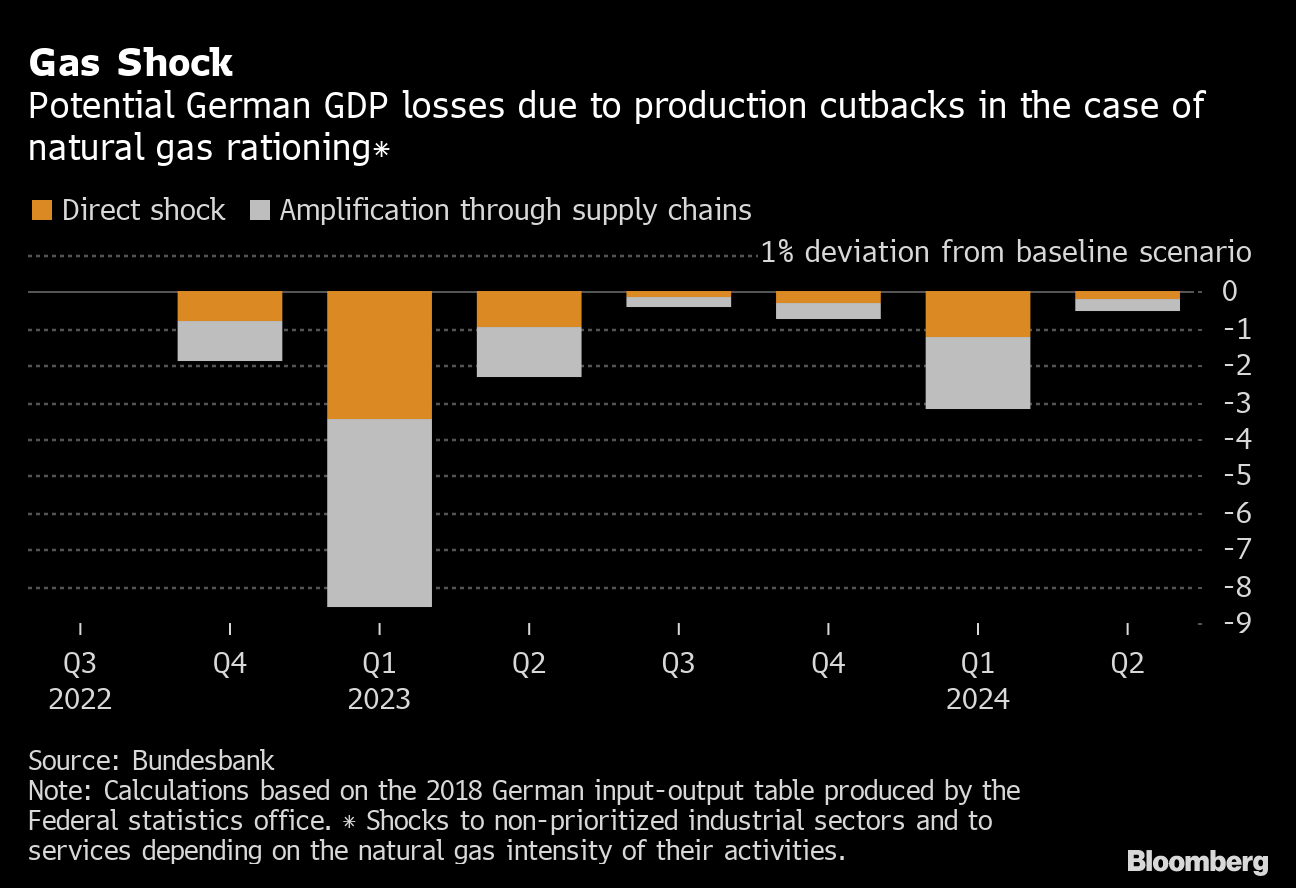 Uniper has emerged as the weakest link in the energy network that powers Europe's largest economy. The company -- created in 2016 from the fossil-fuel assets of EON SE -- epitomizes Germany's cozy relationship with Russia over energy, an issue that Berlin failed to address until tanks rolled toward Kyiv in late February.
Fortum has acquired a 78% stake of Uniper and could be asked to participate in a bailout. The utility said it wants Uniper to be able to fulfill its commitments if the gas curtailment to Germany prolongs or escalates, but didn't commit to providing more money. 
The rescue of its German subsidiary "needs to be a national and industry-wide effort in Germany," the Finnish company said in an emailed response to questions. It declined to comment on "the size or possible format of support Uniper might need."
Uniper was already facing a liquidity crunch even before Russia's war in Ukraine, with wild price swings forcing the company to borrow 10 billion euros to cover margin calls. The funding included 2 billion euros from Germany's state-owned development bank KfW and 8 billion euros from Fortum, which the Finnish utility said has been partially used up.
Last month, S&P Global Ratings downgraded Uniper to the lowest investment grade level, and a further decline in its rating would make financing even more expensive. The utility said last week it may face difficulties in fulfilling contracts signed with its clients if Moscow prolongs or increases supply cuts. 
"The focus will also be on other utilities with gas supply exposure, perceived or real," John Musk, analyst at RBC Europe Ltd., said in a note, adding that German rivals EON and RWE AG and Italy's Enel SpA could be "negatively impacted."
(Updates with Fortum and Habeck comments beginning in second paragraph)
More stories like this are available on bloomberg.com
©2022 Bloomberg L.P.
KEEPING THE ENERGY INDUSTRY CONNECTED
Subscribe to our newsletter and get the best of Energy Connects directly to your inbox each week.
By subscribing, you agree to the processing of your personal data by dmg events as described in the Privacy Policy.