Germany's €60 Billion Hit Puts Green Shift Further Out of Reach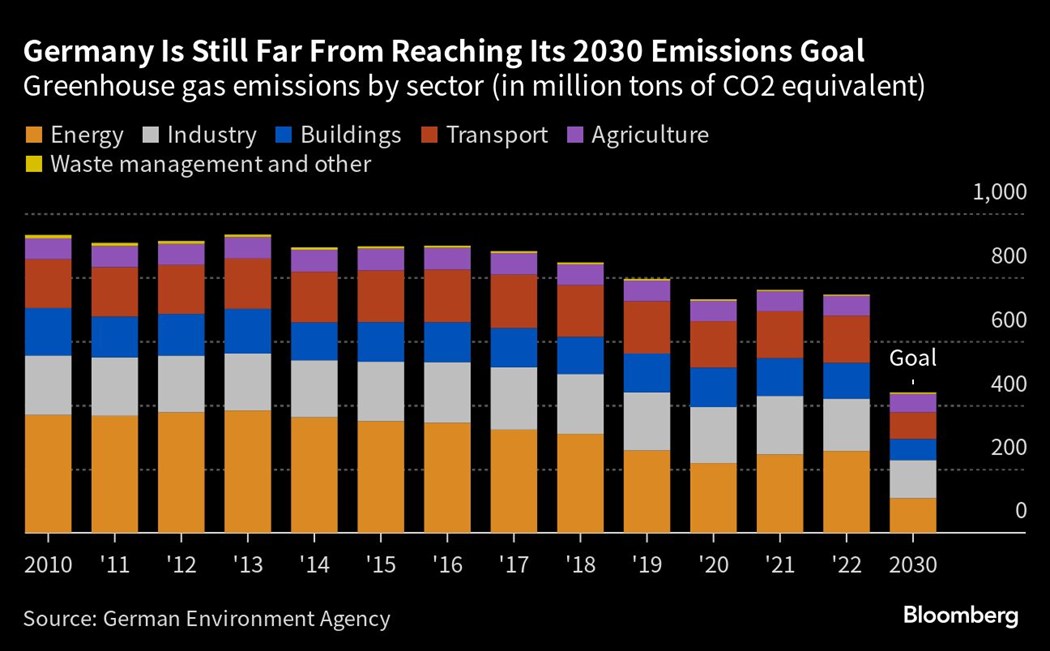 (Bloomberg) -- Germany was already struggling to keep up with its climate goals. Now that effort appears to be even further out of reach after a court ruling this week. 
Judges at the constitutional court in Karlsruhe struck down €60 billion ($65 billion) in off-budget funding for clean energy and industrial projects. Government officials fear that similar financing vehicles — perhaps as much as €770 billion — may also need to be changed. 
The ruling was yet another blow to attempts to decarbonize Europe's largest economy, and it raises questions about what policymakers do next. Germany was forced to use more fossil fuels to tame soaring energy prices during last year's region-wide crisis. The government has already acknowledged it's lagging in its goal to curb emissions by two-thirds from 1990 levels by the end of the decade. 
Germany's transport and energy emissions are on the rise, the expansion of hydrogen and other renewable infrastructure is too slow, and nearly every effort at far-reaching climate policy this year has fallen prey to economic concerns or voter frustrations.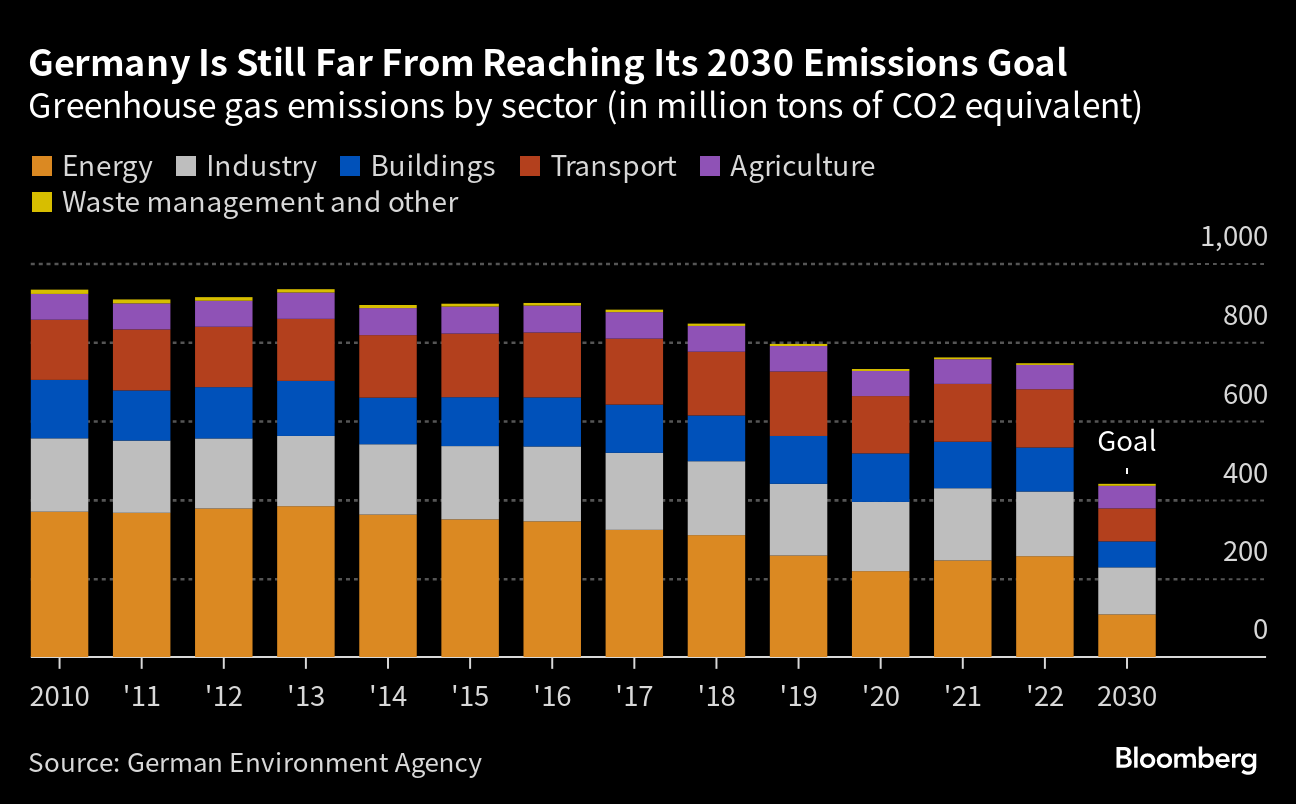 Finance Minister Christian Lindner said Thursday that the ruling marks a "turning point" for finance policy, forcing government to set stricter priorities when allocating spending. The ruling coalition is working on a revised financing plan for its Climate and Transformation Fund, he said.
Electric Vehicles, Hydrogen
Depending on which initiatives come under threat, the budgetary reshuffling could affect the rollout of charging stations for electric vehicles or the expansion of hydrogen infrastructure.
Potential adjustments "would likely focus on borrowing for and spending on energy transition plans," Berenberg economist Salomon Fiedler said after the verdict was announced Wednesday. 
Economy Minister Robert Habeck pledged soon after the ruling that "all promised commitments will be honored and new commitments can only be made once the new economic plan has been drawn up." A partial ban on fossil-fuel heating systems that kicks in next year, for instance, is set to proceed.
Still, industry representatives were alarmed by the possible consequences of the verdict, which some worry could lead to the reintroduction of a levy to support the expansion of renewables, or affect power price subsidies.
"Politicians must now ensure the financing of important energy and climate policy projects as quickly as possible," said Peter Adrian, head of the Association of German Chambers of Industry and Commerce. "More investments are the order of the day."
The funding hit also comes at a crucial time in international climate diplomacy. Habeck is due to travel to the United Nations' COP28 summit in Dubai next month to lay out his country's plan to phase out coal and persuade big emitters like China to do the same. 
Germany is in a particularly contentious position as Europe's largest polluter, and due to the vulnerability it demonstrated during last year's crisis. Its heavy reliance on foreign fossil fuels underscores why such large green funding programs are needed.
The verdict "has made the world even a bit more complicated," Foreign Minister Annalena Baerbock said Wednesday, during a briefing in which she was due to outline what Germany will push for at COP28. "But it is clear that in the fight against the climate crisis we will need these funds."
©2023 Bloomberg L.P.
KEEPING THE ENERGY INDUSTRY CONNECTED
Subscribe to our newsletter and get the best of Energy Connects directly to your inbox each week.
By subscribing, you agree to the processing of your personal data by dmg events as described in the Privacy Policy.