Gas Producer Santos Aims to Bury Asian Carbon in Australia
May 16, 2023 by Bloomberg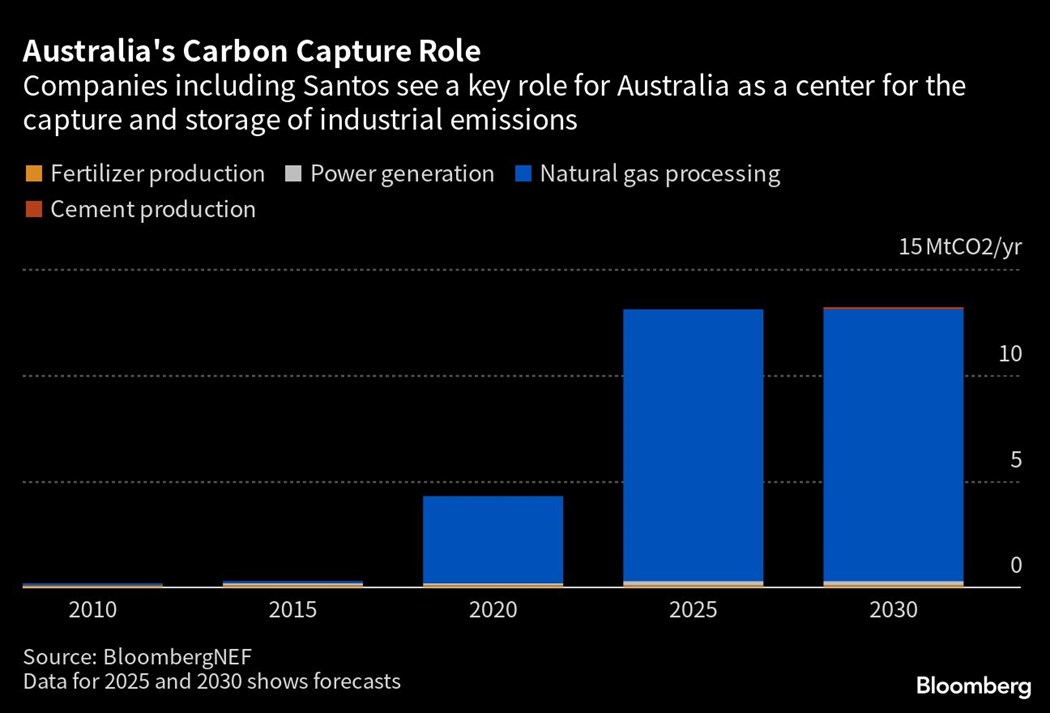 (Bloomberg) -- Santos Ltd., Australia's second-biggest natural gas producer, wants to use carbon capture projects to store emissions for some of Asia's top industrial polluters.
The Moomba facility, in the gas-rich Cooper basin north of Adelaide, in South Australia, is intended to store 1.7 million tons of the producer's own carbon dioxide releases annually from 2024, and the firm sees potential to handle tens of millions of tons of emissions from third parties, including customers in Japan and South Korea.
It's a move that highlights how Australia's A$91 billion ($61 billion) natural gas export industry sees a potential future role in using its expertise — and technology aimed at reducing its own climate impact — to handle pollution generated by some of the region's most difficult to decarbonize sectors.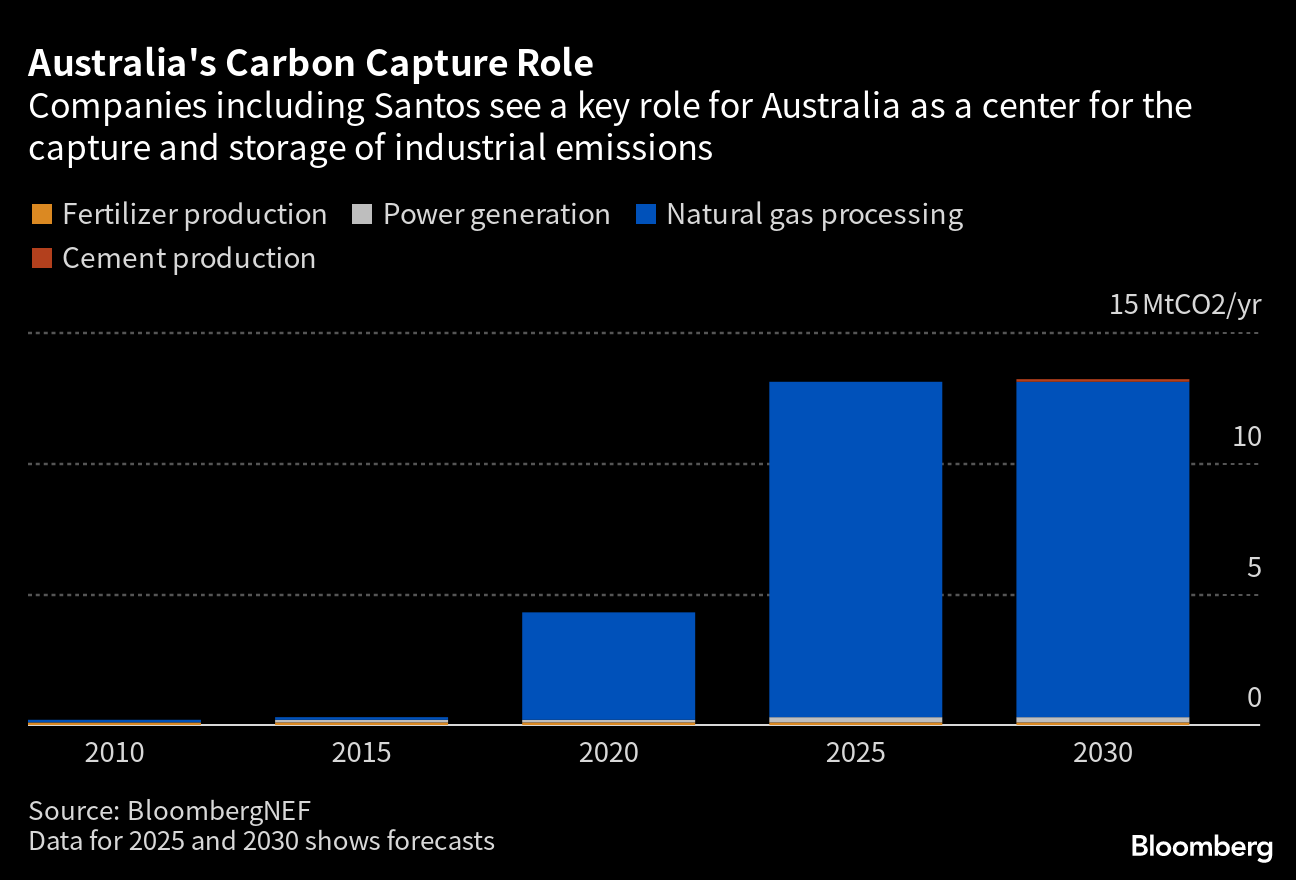 BP Plc, Chevron Corp. and Woodside Energy Group Ltd. are also among energy companies examining large-scale carbon capture and storage projects intended to offer climate solutions to industrial customers. Australia is seen as a potential key location for the sequestration of emissions because of its geology.
The nation's depleted underground natural gas reservoirs could store carbon dioxide, Woodside Chief Executive Officer Meg O'Neill said Tuesday. But a lack of incentives akin to the US Inflation Reduction Act was putting off the necessary investment, she said. 
"If we had the right regulatory framework, we'd be accelerating work" on CCS, O'Neill said at a press conference in Adelaide. The Perth-based company was looking at a CCS project that would use the depleted Angel gas field in the North West Shelf complex off the coast of Western Australia, she said. 
Meanwhile, Santos has the ability to import carbon dioxide and permanently store the material in South Australia, Brett Woods, president of the company's energy solutions business, told reporters Monday at the Moomba site. 
"Hard to abate sectors such as fertilizer, such as cement, such as steel manufacturing, all require solutions beyond what's being currently offered," he said.
The producer has sufficient empty gas reservoirs in the Cooper Basin alone to store 20 million tons of carbon dioxide a year for half a century, according to Woods. Santos is also developing two other early stage carbon capture facilities in Australia.
Still, carbon capture technology has had limited success to date. There were only around 30 projects in operation globally as of last year and Australia's largest facility — Chevron's Gorgon — has repeatedly missed targets. Critics accuse the oil and gas sector of pursuing costly, complicated and potentially ineffective carbon capture as a justification for the continued use of fossil fuels.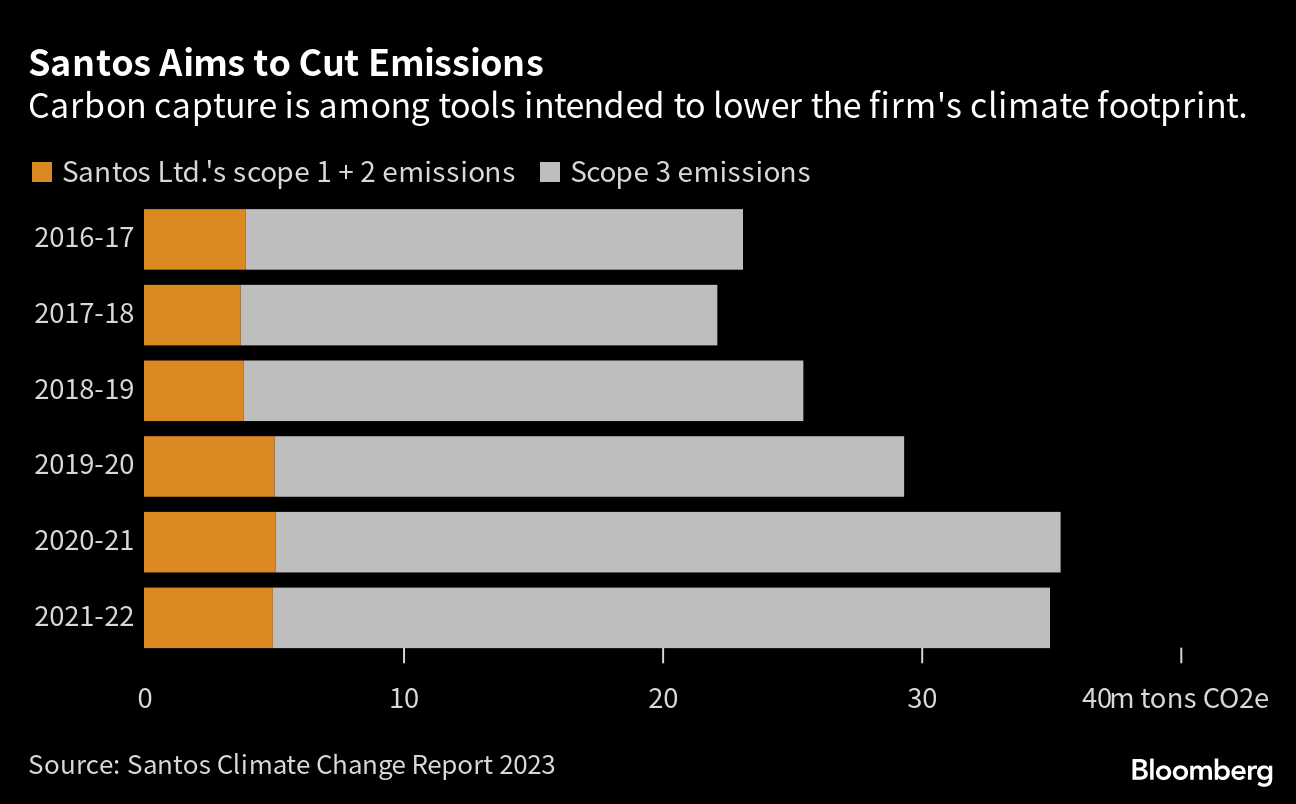 Santos estimates the first stage of the Moomba CCS facility will cost a total of A$220 million and will be able to sequester emissions produced from its own facilities at a rate of $24 a ton. That's cheaper than many other locations, though costs at natural gas processing plants tend to be lower because CO2 concentrations are high, according to BloombergNEF. 
Global providers are aiming to reduce the cost of carbon capture to as low as $30 a ton for industrial sources, BNEF said in an October report.
Adelaide-based Santos has set a target to eliminate emissions from its operations by 2040, and has pledged to work with suppliers and customers to reduce its far larger Scope 3 climate footprint.
(Updates with Woodside comments from fifth paragraph)
©2023 Bloomberg L.P.