China's Rising Emissions May Soon Be Eclipsed by Clean Power Push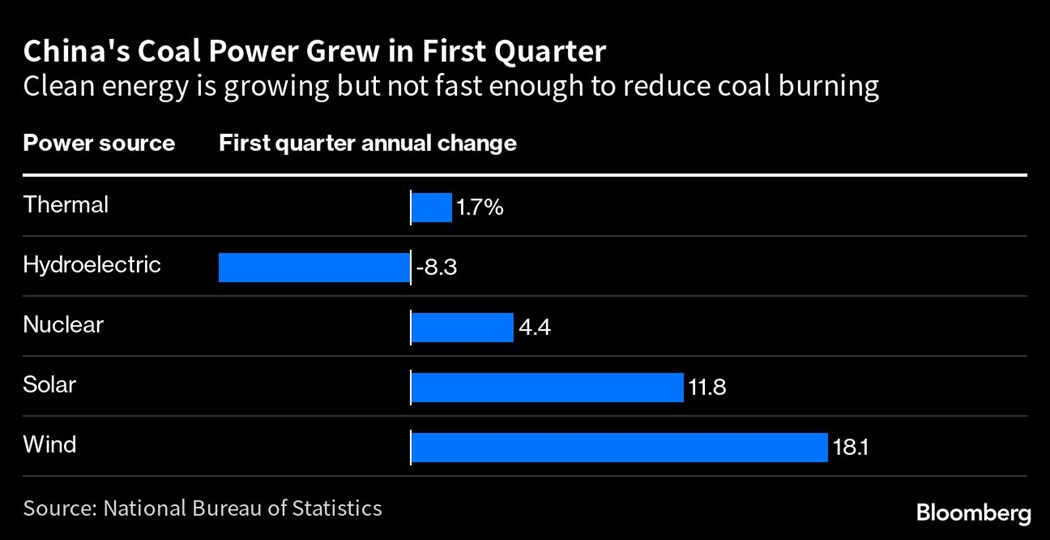 (Bloomberg) -- China's post-Covid rebound is boosting its world-leading power emissions this year, but rapid deployment of clean technology means they could soon peak, according to a new report.
Emissions grew 4% in the first quarter of this year and are likely to rise to a record high this year, according to an analysis by Centre for Research on Energy and Clean Air for Carbon Brief. At the same time, wind, solar and nuclear power growth is accelerating, bringing the country near the tipping point where clean energy can meet all new demand and start putting fossil fuel use into long-term decline.
"Beyond 2023, a continued rapid expansion of low-carbon energy could enable emissions to peak and enter into a structural decline, once the post-Covid recovery has played out," CREA analysts Lauri Myllyvirta and Qi Qin said in the report. China's official stance on peaking emissions is just that it will do so before 2030.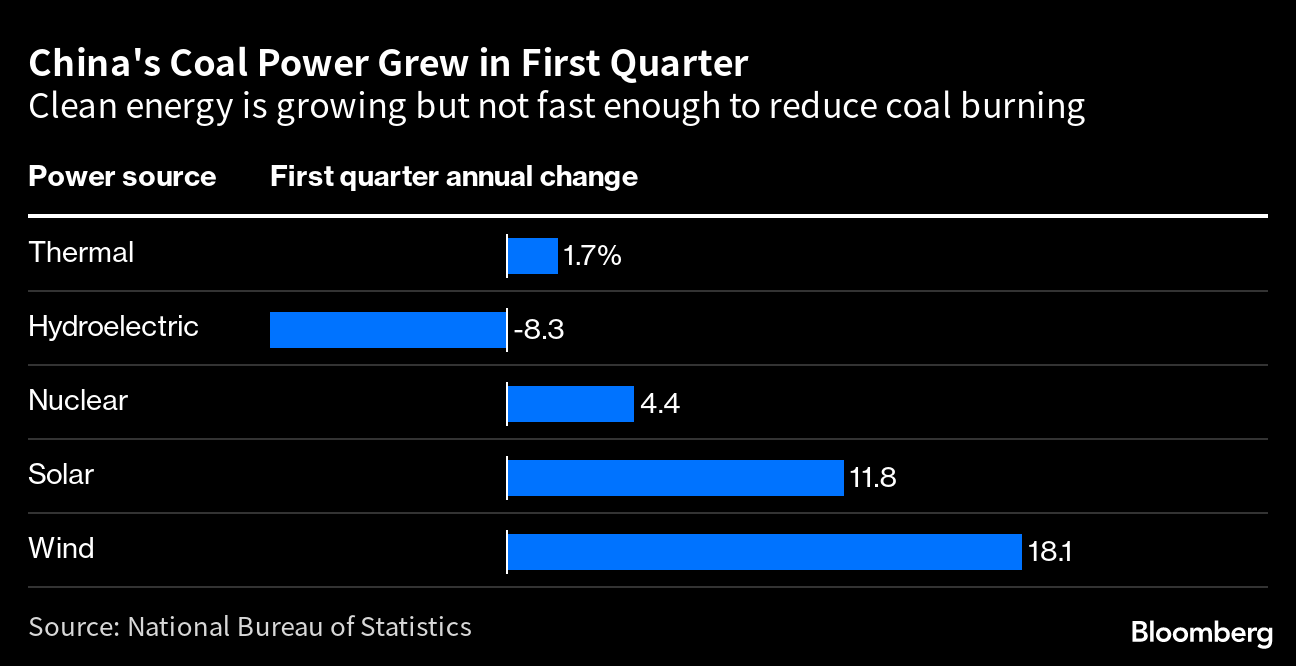 The report highlights China's two-pronged approach to energy as it tries to balance current economic and security needs with its desire to reach net zero emissions by 2060. Chinese firms are investing massively in new coal mines and power plants, with plans to shift the fuel to a backup source as intermittent wind and solar become dominant.
This year, China's economic rebound, infrastructure stimulus and weak hydropower generation have spurred more consumption of oil, coal and gas, according to CREA. Meanwhile, solar and wind installations both hit records for the first quarter, and the country is speeding up approvals and construction of nuclear power plants. 
In a report last month, researchers from think tank Ember also said China is getting closer to meeting new power demand with additional low carbon electricity rather than coal. The country's ability to do so could have global implications. 
"China is the world's biggest coal power country but also the leader in absolute wind and solar generation," analyst Małgorzata Wiatros-Motyka said in the report. "Whether peaking fossil generation globally happens in 2023 is largely down to China."
©2023 Bloomberg L.P.
KEEPING THE ENERGY INDUSTRY CONNECTED
Subscribe to our newsletter and get the best of Energy Connects directly to your inbox each week.
By subscribing, you agree to the processing of your personal data by dmg events as described in the Privacy Policy.