Renewable Diesel Bubble Begins to Burst as Costs Spark Pullback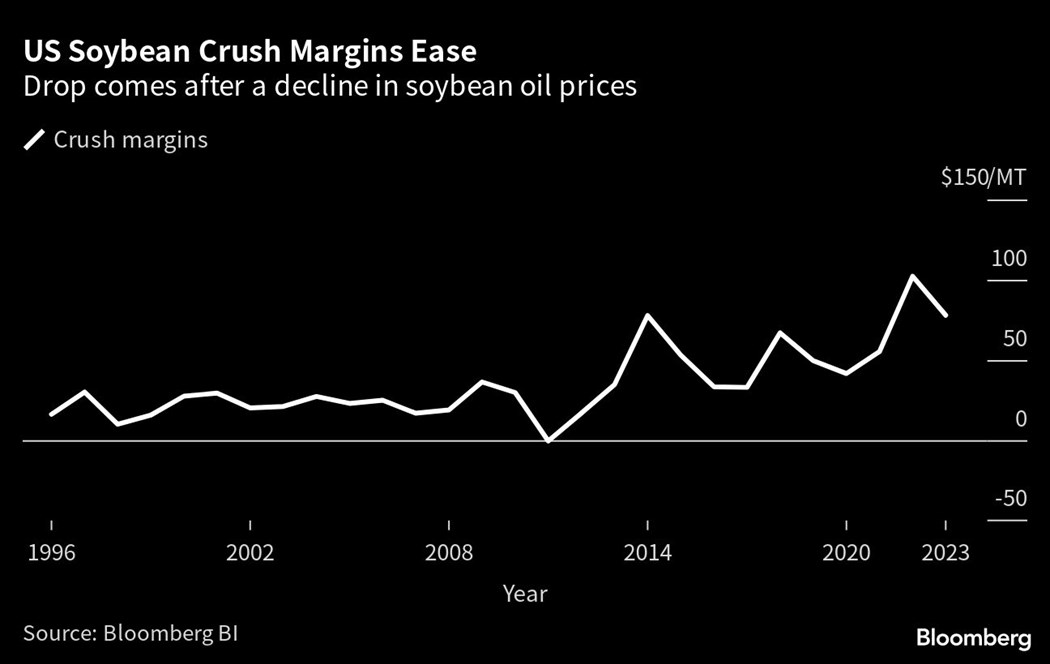 (Bloomberg) -- The US renewable diesel rush is losing steam as soaring costs eat into profits, prompting the world's top crop trader and North America's largest energy company to pull back on planned investments.
Agricultural behemoth Cargill Inc. said it has suspended plans to build a giant soybean-processing plant that would have provided feedstock to the renewable diesel industry due to "shifting market dynamics." Exxon Mobil Corp. has meanwhile canceled a deal to buy the green fuel from Global Clean Energy Holdings Inc., a company that said it's facing project delays in part from lack of skilled workers.
The retrenchment is a setback for an industry that expected a boost from President Joe Biden's Inflation Reduction Act, the largest investment in energy and climate in the US. Renewable diesel — made from crops and animal fat — is chemically equivalent to the petroleum-based fuel, and has been heralded as the best solution to reduce carbon emissions in hard-to-electrify heavy road transport.
But surging commodity and labor costs have boosted the price tag to build facilities when proposed government mandates to blend biofuels into diesel and gasoline have failed to meet industry expectations. That's putting at risk billions of dollars in expansion plans that were expected to fuel a sevenfold increase in American green diesel production by 2025 from 2020 levels.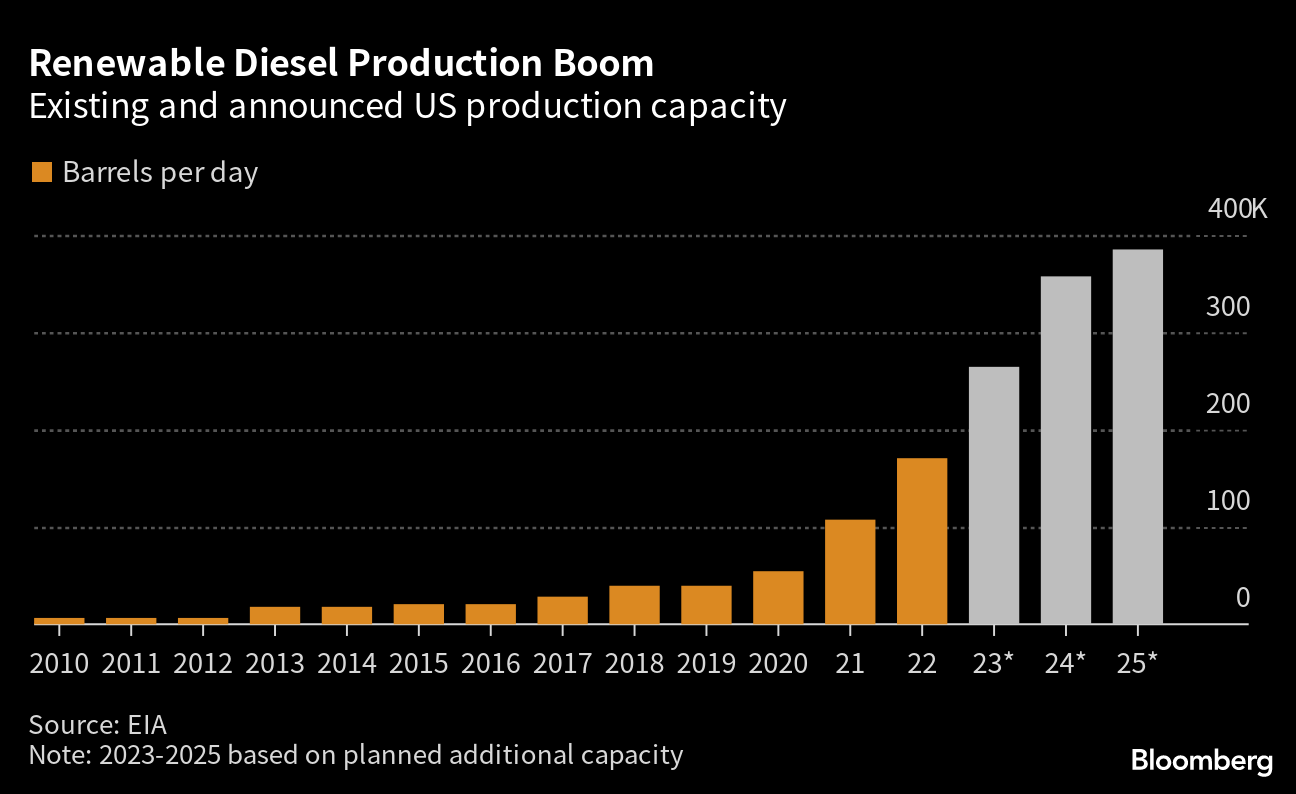 "Processors continue to be frustrated by delays, which include shortages of skilled construction labor, the availability of steel and unexpected cost increases brought on by supply chain issues," said John Jansen, vice president of marketing at United Soybean Board, responsible for promoting American soybeans.
Global biofuel investments totaled $5.9 billion last year, the second-highest amount in more than a decade, according to BloombergNEF. Renewable diesel attracted 93% of last year's funding. In 2021, spending totaled $7.7 billion.
Billions of dollars have also poured into oilseeds crushing. Still, some 30% of the additional 2.2 million bushels a day of soybean-processing capacity won't be operating by 2026, industry consultant Gordon Denny said this week in a presentation to US soy buyers in Indonesia.
Building a soybean processing plant and edible oil refinery now costs about 20% to 25% more than two years ago, according to Denny.
Archer-Daniels-Midland Co.'s Chief Executive Officer Juan Luciano said last month that the expansion in renewable diesel will be bumpy, and added that not all plants announced "will come on the exact year."
Processing soybeans to make the cooking oil used in renewable diesel has become less profitable. That's because sky-high prices of everything from soy to canola oil following Russia's invasion of Ukraine curbed demand. To make matters worse, US government mandates proposed in December fell far short of industry expectations.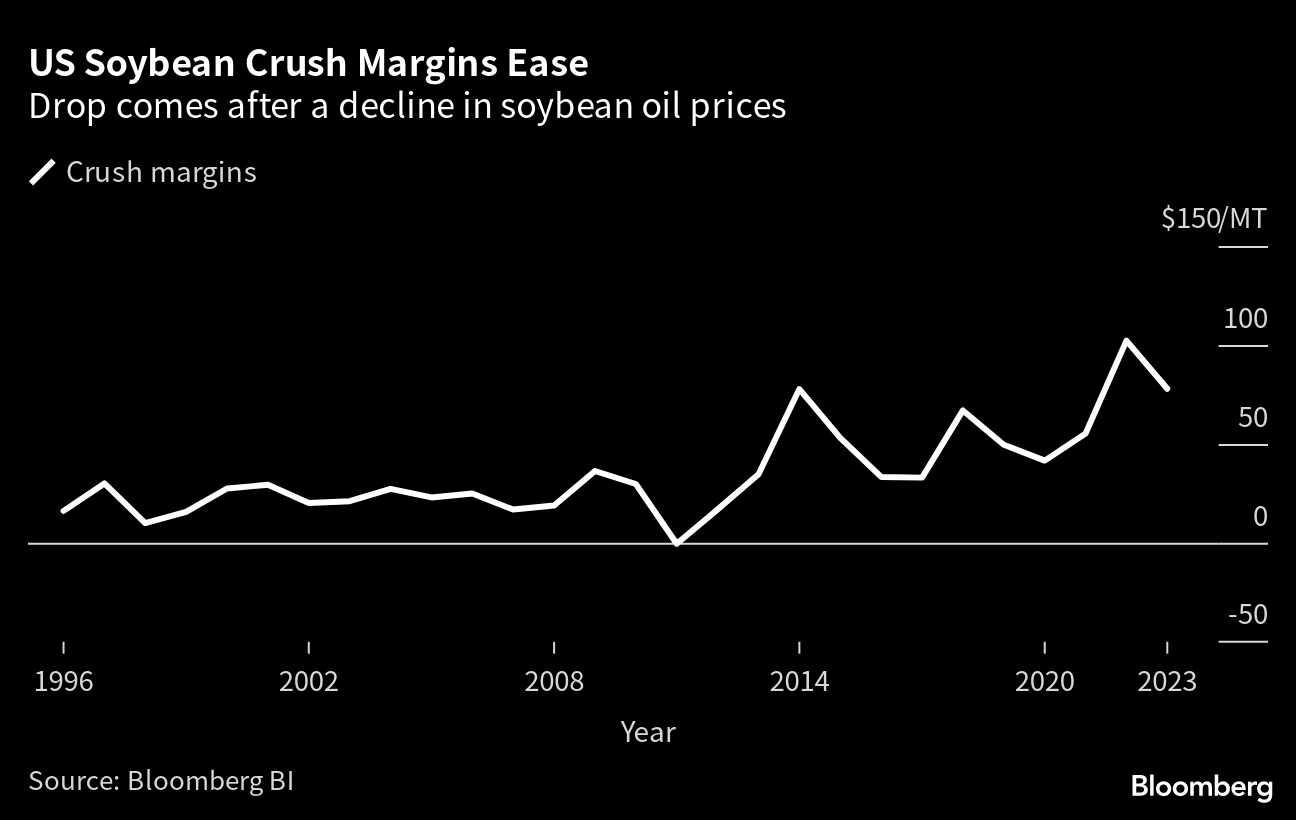 Cargill put its plan to build a soybean processing plant in Hayti, Missouri "on pause due to many shifting market dynamics," a company spokesperson said Wednesday. The facility was expected to be the biggest to come online by 2026. 
Building plans were put on hold after the Minneapolis-based trader bought family-owned soybean processor Owensboro Grain Company in January, reducing its need for a costly new facility, according to people familiar with the matter who asked not to be identified because the details aren't public.
Exxon canceled its contract with GCE on May 19, according to a regulatory filing. The Texas oil giant said in an emailed statement that the move stems from "continued delays and mismanagement," a claim the California-based company rejects. GCE, which is contesting Exxon's move, has said its project is delayed due to issues including material shortages.
Some are still positive. Bunge Ltd.'s Chief Financial Officer John Neppl said in a February interview that government mandates were more a reflection of what the Environmental Protection Agency thought the feedstock availability would be, rather than actual demand from the energy industry. 
"The US farmer will find a way to grow soybeans," Neppl said. "We will find a way to get the feedstocks to those to those plants."
The White House has been reviewing the EPA's plan to set the amount of biofuels to be blended into diesel and gasoline for 2023-2025. The agency is under a court-ordered deadline to set the quotas by June 14.
"If EPA fails to raise the biomass-based diesel volumes, it will certainly impact prices for farm commodities and market opportunities for our producers," said Kurt Kovarik, vice president of federal affairs with Clean Fuels Alliance America, adding that soy values could fall as much as 13% if the rules aren't meaningfully changed.
©2023 Bloomberg L.P.
KEEPING THE ENERGY INDUSTRY CONNECTED
Subscribe to our newsletter and get the best of Energy Connects directly to your inbox each week.
By subscribing, you agree to the processing of your personal data by dmg events as described in the Privacy Policy.