Hydrogen must move from boardroom strategy to scaled up investment and delivery
Jun 09, 2022 by Energy Connects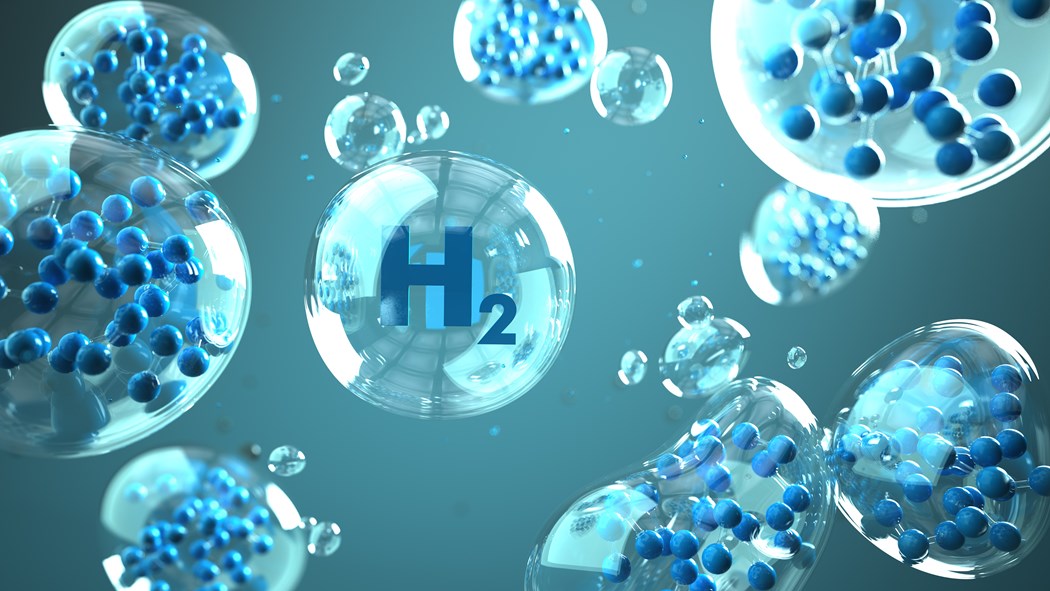 The role of hydrogen in the global energy mix has moved beyond boardroom presentations to a must-develop option for the future, but the energy industry must work together to scale up the infrastructure, technologies and investment needed to deploy hydrogen-based fuels.
That was the key takeaway from a global panel of experts and thought leaders who took part in the Hydrogen: from strategy to delivery webinar on Thursday, that was attended by nearly 1,000 energy executives and professionals from around the world.
Powered by Gastech and Energy Connects, the webinar convened senior executives from Baker Hughes, Siemens Energy, Technip Energies and McKinsey & Company to discuss the key factors driving the hydrogen industry – ranging from the funding outlook for hydrogen projects and challenges to the development of critical infrastructure to the future outlook for the industry and its role in enabling a net-zero future.
Decarbonising critical sectors
"We see hydrogen more under the banner of a carbon-free carrier and a vector to enable decarbonisation in critical sectors such as power and utilities," Matt Pitcher, Head of Hydrogen Technology Portfolio at Technip Energies, said in response to a query on the current role of hydrogen in the energy mix.
"We are forecasting up of 500 million tonnes of hydrogen sourced from different portfolios, with a healthy mix of blue and green hydrogen along with technologies such as CCS," he said.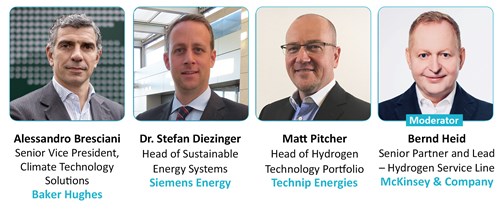 According to Bernd Heid, Senior Partner and Lead – Hydrogen Service Line at McKinsey & Company, who was also the moderator of the webinar, the trajectory of investments across the hydrogen value chain has increased by more than 50% in just under the six months since COP26 in Glasgow last year.
"The reason behind this is that hydrogen is increasingly becoming affordable, and its cost could settle below $1.5 in the US over time. At the same time, today's global energy map looks very different – with countries and regions such as Australia, India, Middle East emerging as future energy hubs," he said.
Building the right hydrogen infrastructure
The hydrocarbon economies among these countries, such as in the Middle East, would see an increase in low carbon and clean hydrogen production, said Dr. Stefan Diezinger; Head of Sustainable Energy Systems at Siemens Energy.
"It is very important that we build the right production infrastructure to help transform the hydrogen molecule, since long-range transport is an issue – such as creating import and export terminals, enabling the transformation into derivatives and so on," he added.
Other key takeaways focused on the need to strengthen the industry across the value chain and make it platform agnostic. "We need hydrogen as a molecule – the colour and carbon content are not so important at this stage and the focus must be on an open portfolio," Heid said.
Europe as a hydrogen terminal
Another key takeaway from the webinar was that the energy industry must now choose quickly the applications and the speed for implementing clean hydrogen projects – buoyed by the global desire to speed up such projects.
"Why don't we consider Europe as a hydrogen terminal as a whole, since this will help reduce infrastructure and production cost dramatically?" Alessandro Bresciani, Senior Vice President, Climate Technology Solutions at Baker Hughes, asked as he narrated the takeaways of a key conversation in Amsterdam earlier this week.
"About 85% of today's hydrogen infrastructure is in closed areas, and therefore infrastructure is an important aspect of the hydrogen dialogue. I am a fan of hydrogen clusters and networks that help it become an industry at scale," he added.
Need for clear and simple regulations
According to Dr Diezinger, recent announcements by the UK to invest around $6 billion into the hydrogen sector was welcome news and would help leverage private investors, but regular certainty was equally important to motivate the industry.
"That's why regulation should be clear – a lot of hydrogen start-ups for example are overwhelmed by the funding process, which should be simpler and faster. In the US, the use of tax credits for hydrogen and renewables is a different approach than direct funding – it is attractive since its simpler to motivate companies and investors," he said.
50th anniversary edition of Gastech
With hydrogen emerging as a key contributor to a diverse energy mix and supporting future energy security as well as a lower carbon future, the webinar was organised to connect hydrogen experts, policy makers and senior executives from across the globe to share insights into the fuel of the future, and opportunities in the new energy mix.
Amid an unprecedented upheaval in the global energy sector, the Hydrogen: from strategy to delivery webinar comes ahead of the 50th anniversary edition of Gastech in Milan from 5-8 September – the largest of its kind in the world for industry leaders, policymakers, and investors.