As 2030 approaches, Gulf Nations to accelerate investment in renewable energy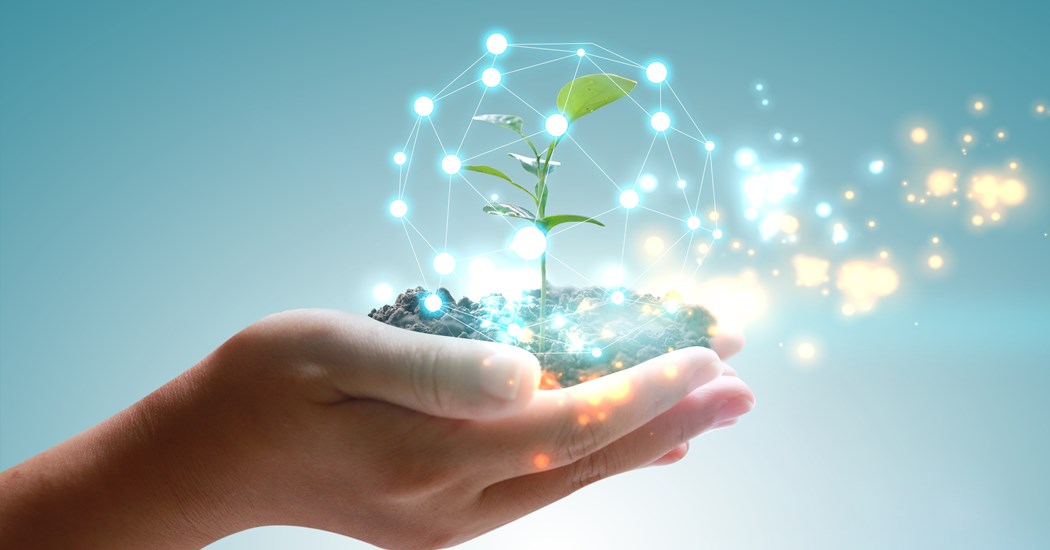 Despite their dependence on the oil and gas industry, the Gulf nations have all announced new targets or renewed their commitment to the Paris Agreement in the past two years. As one of the largest sources of emissions, the power sector looms large in most national plans for decarbonization. S&P Global Ratings expects to see significant investment in renewables during the current decade.
The two largest economies--the United Arab Emirates (UAE) and Saudi Arabia--continue to lead climate-related efforts in the Gulf Cooperation Council (GCC) region. As of year-end 2021, about 90% of the region's established renewable energy capacity was in these countries, with the UAE alone representing 77%. They have also committed to updated targets as part of renewed efforts to reach net zero.
Although net zero strategies encompass other initiatives, S&P Global Ratings focuses here on the GCC's renewables sector. The governments of Saudi Arabia and the UAE have announced their intention to continue to invest in this space. We believe plans to establish a renewables sector could help them in their efforts to achieve their climate goals.
To date, GCC countries have used solar generation more than any other renewable technology. As of 2021, 97% of installed capacity for renewables in the GCC related to solar power.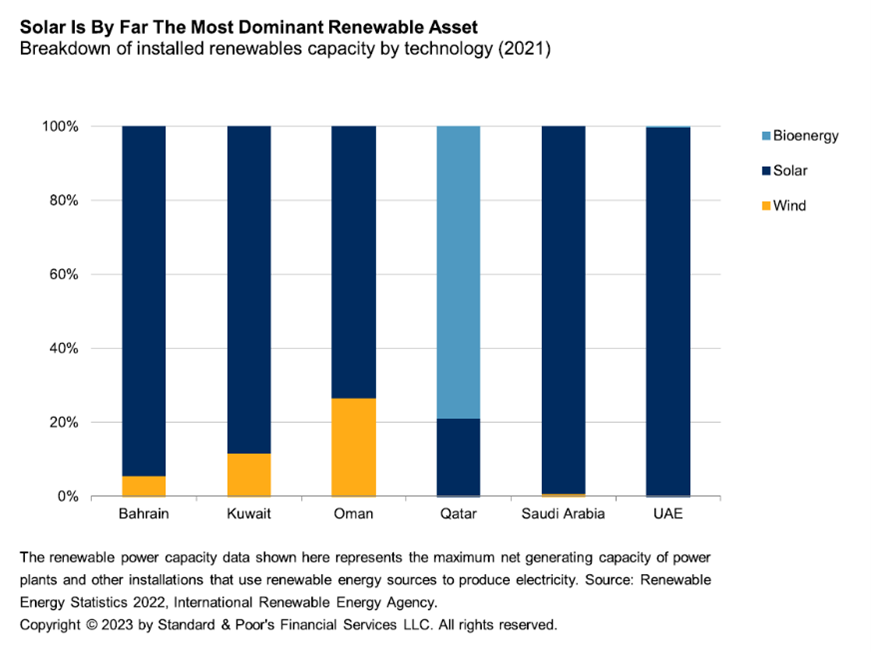 The Al Dhafra plant, in Abu Dhabi, is expected to be fully operational in 2023, and will be one of the world's largest single-site solar plants. When commissioned by Emirates Water and Electricity Co. PJSC (EWEC) and its partners, the plant will have a capacity of 2.1 GW and will cut CO2 emissions by about 2.4 million tons a year. EWEC has also recently announced the Al Ajban Solar PV project tender, which would enhance its solar PV installed capacity by a further 1,500 MW.
Although solar is the dominant form of renewable energy generation in most of the GCC, some countries--Bahrain, Kuwait, Saudi Arabia, and Oman--had also incorporated wind farms into their energy mix by the end of 2021. Dumat Al-Jandal, Saudi Arabia's first wind farm, is the region's largest wind asset in operation, according to the Saudi Green Initiative (SGI). It is expected to displace nearly a million tons of CO2 per year. The commissioning of this 400MWproject significantly increased the country's total renewable energy capacity. Saudi Arabia is also developing larger wind projects at Yanbu (700MWcapacity), Wa'ad Al Shamal (500MWcapacity), and Al-Ghat (600MWcapacity).
We expect investment in renewable energy for hydrogen production to ramp up alongside investment in pure power facilities. Where hydrogen is generated using renewable energy sources such as wind and solar (instead of natural gas), it is defined as green hydrogen. Saudi Arabia plans to build one of the world's largest green hydrogen plants, powered by over 4 GW of solar and wind energy and is expected to come on stream by 2025. The plant, part of the NEOM project, is forecast to produce 650 tons of green hydrogen per day and 1.2 million tons of green ammonia per year.
Further, Abu Dhabi-based renewable energy company Masdar recently entered into a strategic alliance with Engie S.A. to explore the co-development of a UAE-based green hydrogen hub. The two companies are looking to develop projects with a capacity of at least 2 GW by 2030, and to invest a total of US$5 billion in the region. Masdar's ambition is to expand its renewable energy capacity globally to at least 100GW by 2030, and to become a leader in clean energy and green hydrogen.
Despite these significant investments, many solar projects have stalled in recent years due to costs and difficulty of acquiring PV modules over the past two years. Most modules are manufactured in China, where pandemic restrictions caused many manufacturing plants on the Chinese mainland to shut down. At the same time, worldwide logistical issues created a spike in transport costs. Prices for modules soared. As polysilicon and wafer became easier to source, we saw prices start to fall; as of January 2023, module prices were back at pre-pandemic levels. Sourcing modules at an affordable cost is, in our view, a necessary prelude to offtakers achieving the growth in renewables they expect.
Power production in the GCC still predominantly relies on thermal power, although the region has been investing in renewables for some time. According to official sources, the UAE, for example, had invested over $40 billion in renewable energy by 2021.
Despite this investment, total installed capacity for renewable energy in the GCC, at about 3.4 GW in 2021, still represents only a tiny proportion of its total capacity for power generation (source: IRENA). According to IRENA, in 2021, the UAE had the largest installed renewable capacity in the GCC, at around 2.6 GW.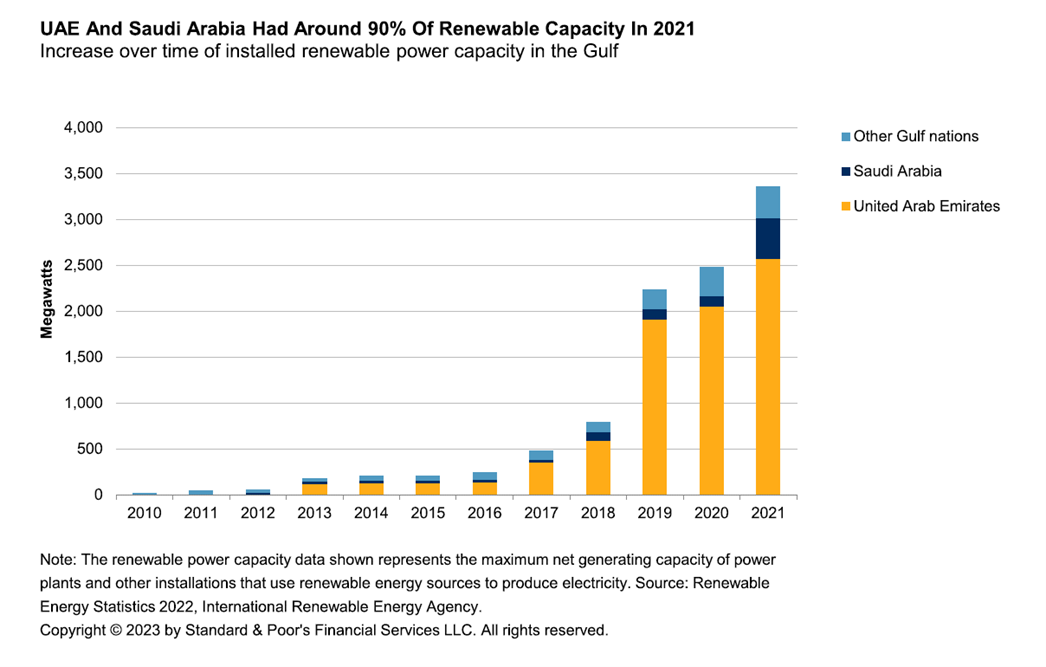 Data from IRENA shows that Saudi Arabia's renewable energy generation capacity increased to 443MWin 2021 from 24.3MWin 2016. Capacity is expanding rapidly--according to the SGI, the country had 700MWin renewable capacity connected to the grid as of 2022, and a further 11.4 GW of capacity under development. SGI announced 13 new projects during 2022. Given the commitments made in the NDCs, and despite the recent price and supply chain stresses, we expect investment in renewable power projects to increase across the region.
KEEPING THE ENERGY INDUSTRY CONNECTED
Subscribe to our newsletter and get the best of Energy Connects directly to your inbox each week.
By subscribing, you agree to the processing of your personal data by dmg events as described in the Privacy Policy.