Bringing sustainable operations to the energy industry with methane reduction
May 26, 2022 by Energy Connects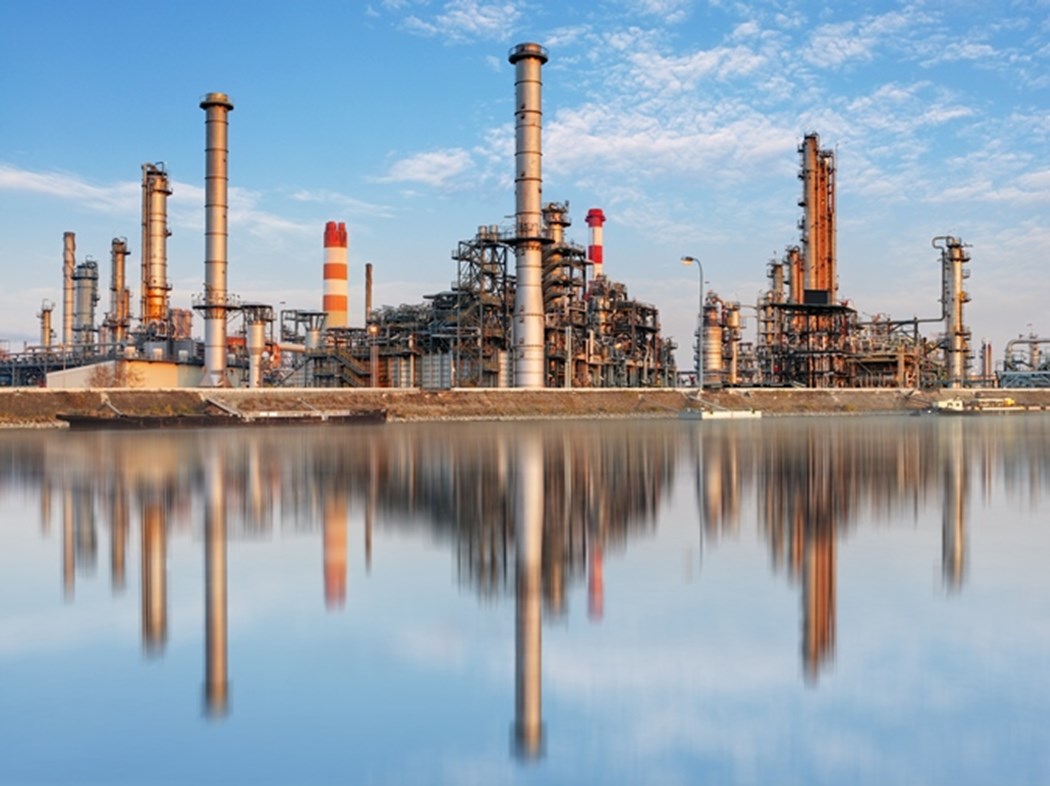 Energy Connects talked to sustainability experts at Asset Integrity Engineering (AIE) regarding sustainable practices in the energy industry and the growing need to reduce Methane emissions.
Sustainability and Sustainable Development are two terms that are rapidly spreading across industries worldwide as the need for sustainable operations is becoming even more evident by the day. Sustainability is defined by the United Nations as meeting the needs of the present without compromising the ability of future generations to meet their own needs. Sustainability presumes that resources are finite and should be used conservatively, looking at long-term priorities and consequences of how we use resources. It covers a broad range of topics that fall under three main pillars: social, economic and environmental.
The United Nations have defined Sustainable Development Goals (SDGs) that are being used by governments, societies, and businesses as a framework for tackling Sustainable Development challenges. SDGs are part of the "Transforming our world: the 2030 Agenda for Sustainable Development." They are built on the principle agreed upon under the resolution, "The Future We Want". The agenda includes 17 SDGs which set out quantitative objectives across the social, economic, and environmental dimensions of sustainable development — all to be achieved by 2030.
SDG 13 covers the need to "take urgent action to combat climate change and its impacts". This includes the control of Greenhouse Gas (GHG) emissions, that play a significant role in the phenomena of global warming and climate change.
Why is reduction in Methane emissions so important?
In recent times, control of methane emissions is getting the much-needed attention it deserves. This is because as a GHG, methane has a far higher Global Warming Potential than CO2 – a ton of methane will absorb thirty-four times more thermal energy than a ton of carbon dioxide over a 100-year period and is a key emission to tackle in relation to climate change.
Methane reduction is crucial for a few reasons, but the primary reason is that the atmospheric concentration of methane is increasing faster now than at any time since the 1980's and acting now to reduce these emissions will have immediate benefits. Methane has a short atmospheric half-life of 8.6 years, while NASA predicts that carbon dioxide can stay in the atmosphere for as long as 300-1000 years. Curbing methane now can slow today's unprecedented rate of global warming and avert acute climate risks including crop loss, extreme weather, and rising sea levels. 
Besides the environmental impacts of methane emissions, there are also financial impacts on energy companies. It is estimated that the methane losses cost the gas industry more than US$2 billion per year as lost product. There are cost-effective means to reduce methane emissions, and this offers energy companies financial incentives to take measures to curb methane emissions.
Why is the energy industry a key player in helping to address climate change?
The energy industry is considered a key emitter of GHGs, particularly carbon dioxide and methane. While renewable energy is gaining momentum, oil and gas will remain a core part of the global energy mix for the foreseeable future and companies will need to develop proactive sustainability practices; methane reduction must be a key element in any plans for a sustainable future.
As per the International Energy Agency (IEA), oil and gas operations emitted just over 70 million metric tons of methane into the atmosphere in 2020. Around 40 percent of the energy industry's methane emissions come from oil production, while the remaining 60 percent come from the natural gas value chain. The energy industry can play an important role in the abatement of methane emissions by implementing procedural and technological changes into their operational practices. The IEA estimates that it is possible to achieve a 75 percent reduction in emissions using existing technologies, with two-thirds of the reduction achieved with no net cost. This puts the energy industry as a key player in helping address climate change as the emissions are significant and the required technology is readily available.
Existing efforts to curb methane emissions include the formation of the Oil and Gas Climate initiative (OGCI), which is a CEO-led group representing 1/3 of global Oil and Gas production. They have targeted reducing methane intensity from upstream Oil and Gas operations by more than 20 percent. In parallel there is the Oil and Gas Methane Partnership (OGMP) which is part of the Climate and Clean Air Coalition (CCAC). They have made a commitment to:
Continually reduce methane emissions
Advance strong performance across gas value chains
Improve accuracy of methane emission data
Advocate sound policy and regulations on methane emissions
Increase transparency
How is AIE helping clients to reduce and manage methane emissions?
AIE have embarked on the journey to support the energy industry to reduce their global methane footprint, from using infra-red imagery to detect and monitor leaks, to developing options and feasibility studies for modifications and projects that reduce emissions. With a dedicated service capacity and expertise to help tackle methane emissions, we are helping clients by providing years of experience and technology solutions from operating facilities across the globe to deliver comprehensive service solutions.
AIE provides a strategic stepwise solution to emissions reduction which companies can efficiently employ across their entire assets base.  Our approach is comprised of key stages as follows: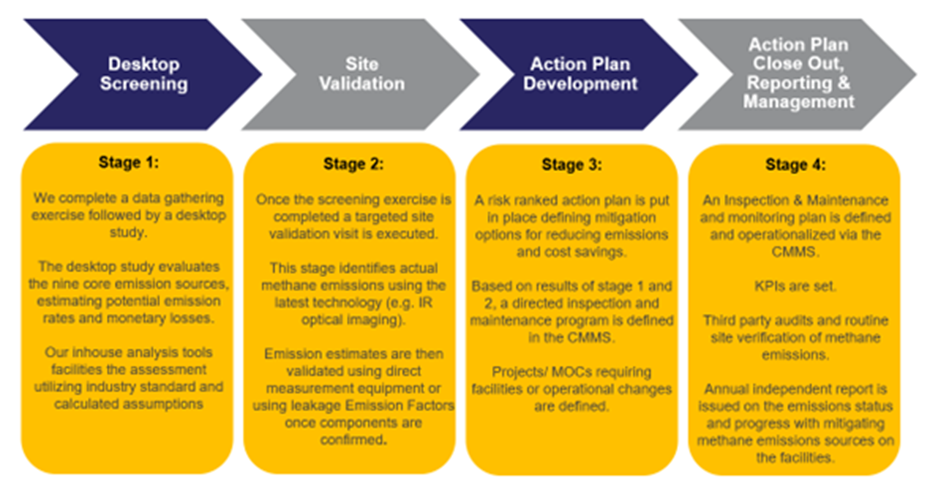 Is there an uptake in clients looking to adopt Sustainability practices into their business?
Across the world we see variation in the speed of uptake for Sustainable practices.
Day by day, more companies are starting to adopt sustainability practices into their operations. Major drivers for this uptake include improved stakeholder relations as well as governmental and public pressure. According to a report from Aflac, 77 percent of consumers are more willing to purchase from a company with a CSR pledge and 73 percent of investors agreed. Also, according to the Environmental Defence Fund (EDF), 9 in 10 business leaders said consumers will likely hold them accountable for their environmental impact. Additionally, more than 7,500 companies have adopted Global Reporting Initiative (GRI) guidelines for sustainability reporting.
What other services does AIE provide in the Sustainability space?
At AIE we are committed to support the energy industry shift to more sustainable practices through our integrated Sustainability service range. We offer a range of services that can be implemented throughout an asset's lifecycle to minimise environmental impacts and maximise business value, including:
Environmental Impact Assessments
Feasibility studies
Energy optimisation reviews
Due diligence & compliance assessments
Provision of operational Sustainability management systems
AIE is known in industry for our ability to develop integrated management systems.  It is no different in the sustainability space where we engineer and deliver best practice Sustainability systems which ensure our clients meet their goals in the long term via the most efficient means possible.