Examining how carbon capture and storage is entering the shipping world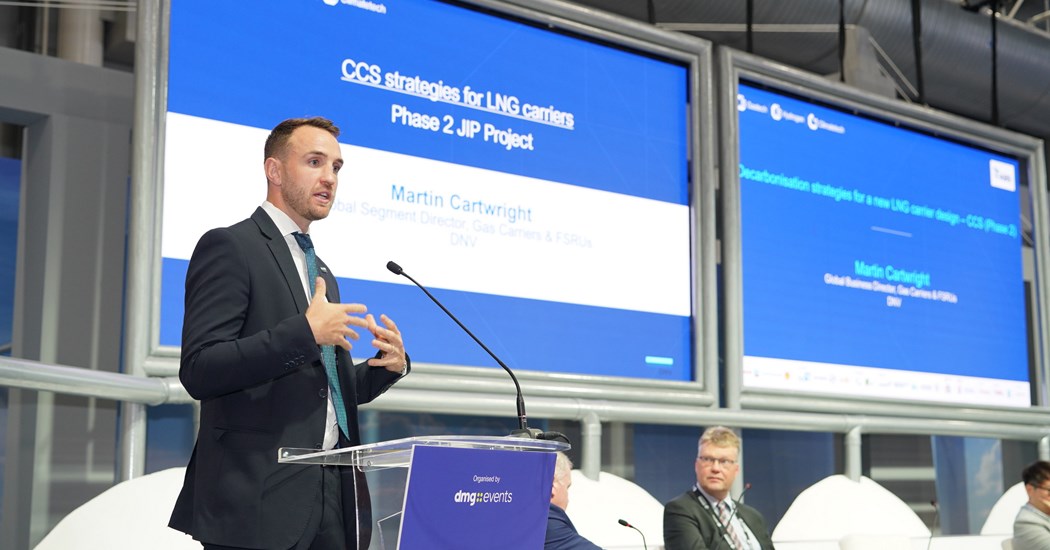 The decision by MEPC80 at IMO in July to strengthen the maritime decarbonisation ambition to achieve net zero by 2050 adds pressure on the shipping industry. Amid the diversified landscape of emission reduction strategies discussed in the latest DNV Maritime Forecast, there is growing interest in onboard carbon capture and storage (CCS).
Martin Cartwright, Global Business Director, Gas Carriers & FSRUs at DNV Maritime, discusses CCS implications and the evolving regulatory environment.
Is CCS technology ready for use in the shipping industry?
CCS technology has been in use in land-based applications for years and is mature. For example, the oil and gas industry injects compressed carbon dioxide into mature oil reservoirs for enhanced oil recovery. As for maritime applications, what is missing is onboard implementation of carbon capture and storage (OCC), which occurs on a much smaller scale than on land. But there are many projects in progress to develop and adapt the technology.
Can you give examples?
There is a lot of activity on the carbon capture front, here in Asia and elsewhere.
Last autumn, Singapore's Global Centre for Maritime Decarbonisation (GCMD) and several industry partners embarked on a two-year project to investigate on-board CCS as well as CO2 offloading.
In July 2022, DNV and PETRONAS signed an MoU to engage in joint CCS projects in South-East Asia. The shipowner Solvang ASA and Wärtsilä agreed a full-scale test of a carbon capture plant onboard an LPG tanker.
DNV issued an Approval in Principle to MOL, PETRONAS and SDARI for liquefied CO2 carriers and an FSO last year, both of which will be crucial elements in a future CO2 value chain.
BASF and CSSC Power Group Co. recently announced new cooperation to speed up development of CCS technology for ships and we have, of course, been sharing insight into our latest extensive, in-depth study on CCS onboard LNG carriers during Gastech that has been carried out with our consortium partners, Total Energies, HHI, Marubeni and SK Shipping.
How can CO2 be captured on board a ship?
Similar to industrial applications, CO2 is captured from exhaust gas. Chemical absorption using amine solvents is currently the most popular option in shore-based applications, and projects like those mentioned are working on adapting it for onboard use. Captured gas is then compressed, liquefied, and stored on board in special tanks for offloading at in-port receiving facilities. In addition, you have impressive membrane separation technologies and mineralisation options entering the market.
What happens to captured CO2 once offloaded?
For maritime CCS to function, key ports around the world must build infrastructure to receive captured CO2 from ships and move it along, linking to industrial networks for CO2 geo-sequestration or industrial use. The maritime sector is beginning to cooperate with land-based infrastructure operators to establish a global CO2 logistics and value chain. The crucial issue for the maritime industry is that for the emission reduction to be recognised, there needs to be assurance the CO2 is disposed off properly. We need an internationally recognised certification scheme.
What are key benefits of CCS for the shipping sector?
First, it means ships can use fossil energy for a longer period in a sustainable way as alternative fuels and energy sources are being investigated and tried, and the biofuel industry ramps up. Provided CCS can be scaled to reduce carbon emissions from ships significantly, CCS would give the shipping industry crucial extra time to figure out the best, most sustainable future propulsion technology and energy source. The energy transition is a huge challenge for humanity, especially for modes of transport that must carry large amounts of stored energy. No-one knows today whether enough green fuels can be generated for all those who will depend on them. The IMO's 2050 decarbonisation ambition leaves little time to decide what kinds of ships to build. CCS can be a means to avoid making the wrong decisions.
Since CCS does not count against any IMO requirements as yet, there are currently no incentives to use CCS. However, onboard carbon capture will be incorporated into IMO Life Cycle Assessment (LCA) guidelines, and we expect CCS to be accepted as a compliance option in future regulations.
How about costs and economic feasibility?
As with every major technology change, the initial phase is challenging. Of course, CCS must make economic sense. Apart from CAPEX for the required on-board equipment, major cost items comprise the energy needed to run the CCS process and the costs of temporary storage, offloading, on-land transport and sequestration. Taken together, this so-called fuel penalty is estimated to add between 10% and 40% to OPEX, depending on factors such as type and size of the CCS system, CO2 density, the carbon capture rate, and others. DNV has conducted extensive research into this. The maritime sector is still at the beginning with this technology, and we need more data to make better cost predictions.
Please read the newly published Maritime Forecast report here
KEEPING THE ENERGY INDUSTRY CONNECTED
Subscribe to our newsletter and get the best of Energy Connects directly to your inbox each week.
By subscribing, you agree to the processing of your personal data by dmg events as described in the Privacy Policy.