PwC Middle East reveals 50 climate tech start-ups making an impact on the region's road to Net Zero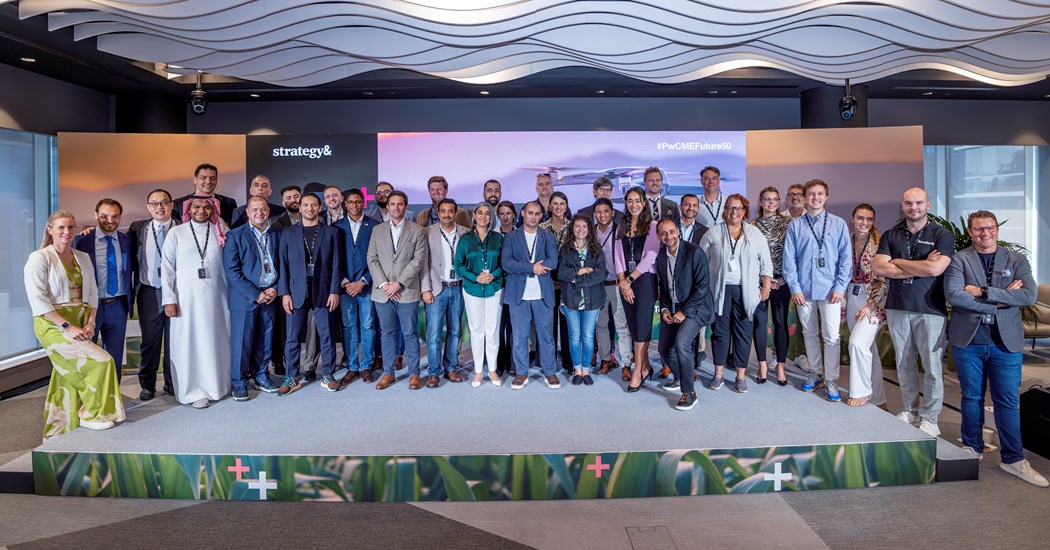 PwC Middle East has launched its first Net Zero Future50 report, revealing 50 pioneering start-ups in the Middle East driving innovation focused on reducing greenhouse gas emissions and addressing the impacts of global warming across key economic sectors in the region.

The report highlights their groundbreaking technologies and achievements in climate management and carbon emissions reporting, in addition to opportunities and challenges in growing and scaling their businesses. Using PwC networks and tech partner expertise, we identified 500 climate and sustainability-focused start-ups operating in the region - with over 200 coming forward in response to their public call for nominations at COP27 in Sharm-El-Sheikh, Egypt, last year. A rigorous selection process, including in-depth interviews and evaluations, led to the Net Zero Future50, chosen by PwC and Strategy& judges specialising in ESG, digital innovation, and energy transition.

Breaking away from global trends in tech and innovation, over half of the featured Future50 companies boast female founders or mixed-gender leadership teams. A remarkable 25% have a female founder, while an additional 32% have a diverse team of both female and male founders, highlighting that the majority of startups feature women as leaders.

Moreover, a large proportion of these founders are young, with nearly half aged between 30 and 39, highlighting a fresh perspective and dynamic approach in the sector.

The 2023 Middle East Climate Tech report was also launched and found that despite the region's commendable increase in investment into global climate tech funding - which nearly tripled to US$5 billion in 2023 from US$1.8 billion in 2022 - a concerning funding gap persists for local and regional climate tech entrepreneurs. Funding for these entrepreneurs saw a stark decline to US$152 million in 2023, down from nearly US$1 billion in 2022. Nevertheless, entrepreneurial spirit remains resilient in addressing regional climate issues through innovation.

Dr Yahya Anouti, Partner at Strategy& and Sustainability Leader at PwC Middle East, said: "Climate tech innovation in the Middle East is being driven by some of the most dynamic entrepreneurs in our region, championing new technologies to accelerate the path to net zero."

He added: "While Middle East players are ramping up climate tech spending globally, they can do much more to fund and empower local entrepreneurs, who may represent the 'missing link' in their strategy. We call for governments and corporations to play a vital role by establishing specialised funds and off-take agreements, fostering demand and reducing investment risks in the climate tech sector. With COP28 just around the corner, we are delighted to spotlight the contributions of these innovators which are instrumental in driving down emissions and propelling the momentum of decarbonisation in the region".

Positively, the majority of the Future50 innovators are operating within sectors responsible for the majority of greenhouse gas emissions in the region, signalling investment is going where it's needed the most. Specifically, Industry, Manufacturing and Resource Management make up 22% of the total list, while Energy makes up 20%; when combined both these sectors account for 75% of regional GHG direct and indirect emissions. The Food, Agriculture, and Land Use (FALU) sector is the third most represented comprising 18% of the list - despite only contributing 2% of GHG emissions in the region. This reflects the focus on climate and sustainability challenges related directly to food security, in a region that imports more than 80% of its food and is vulnerable to supply chain disruption.

Despite this, significant barriers continue to shape the journey for climate tech innovators.

Commenting on the report, Jon Blackburn, Partner, part of the Energy, Resources and Sustainability practice at PwC Middle East, said "The Future50 entrepreneurs identify legal and regulatory complexities as a major obstacle. This hampers talent acquisition, product development and brand establishment. The scarcity of investors and the limited market size in the Middle East creates hurdles, leading to direct competition with larger global companies operating in the same space.'

"On a broader level, it's also widely acknowledged that the region - much like the rest of the world - is facing a shortage of 'green skilled' professionals with the training and knowledge to help develop some of the most-needed technologies - from environmental engineers to experts in advanced technologies like carbon capture. According to our Middle East CEO Survey published earlier this year, 35% of regional leaders have cited a lack of talent in specialised professions. This gap is further compounded by the intense competition for experienced hires. Addressing this issue requires both short-term solutions, such as intensive training programs, and long-term strategies, including the development of new educational curricula to enhance capabilities in key climate disciplines."

Launched last year at COP27 with a public call for submissions, the PwC Middle East's NetZero Future50 initiative aims to support innovators addressing the biggest climate challenges facing the region. Following a rigorous selection process which reviewed over 500 profiles, PwC Middle East has identified 50 who have developed pioneering technologies set to make the greatest impact.
The firm is committed to providing these companies with a platform for growth and scalability, including benefitting from PwC's ESG transformation offerings, receiving expert advisory on corporate investments and supporting the innovators in their fundraisers as they look to grow and scale their operations.
KEEPING THE ENERGY INDUSTRY CONNECTED
Subscribe to our newsletter and get the best of Energy Connects directly to your inbox each week.
By subscribing, you agree to the processing of your personal data by dmg events as described in the Privacy Policy.