India's LNG revolution gains further momentum courtesy of Petronet
Feb 20, 2023 by Energy Connects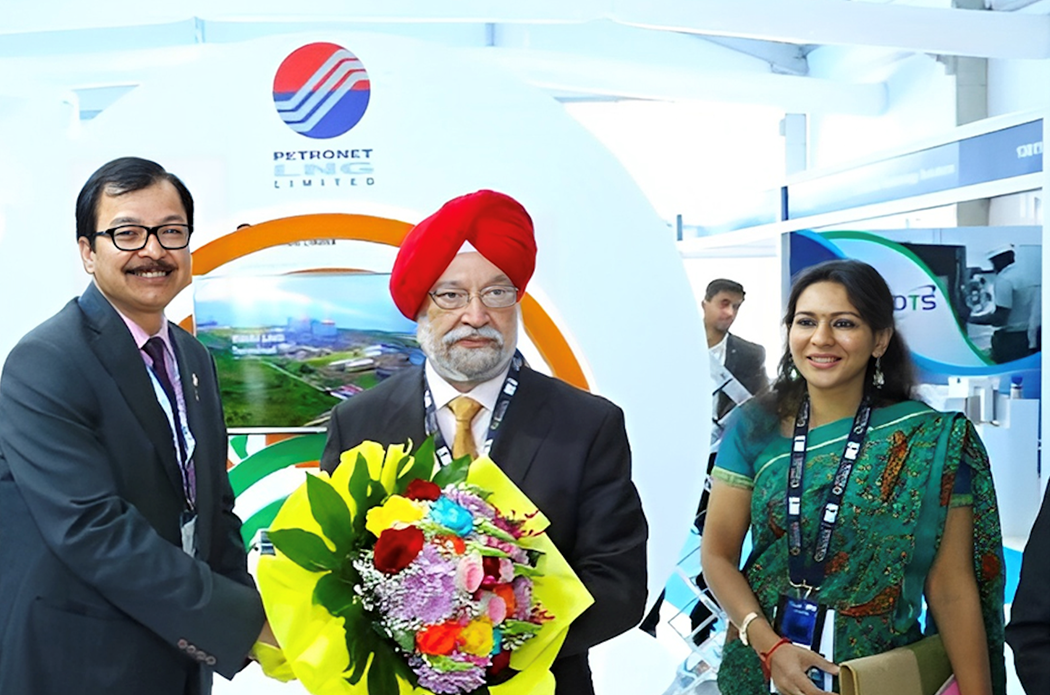 Petronet LNG, one of the stars of India's Fortune 500 businesses, is among the major Indian public sector units (PSUs) staking its claim in meeting the future energy requirements of the nation and beyond, and that was on ample display at the inaugural edition of India Energy Week in Bengaluru. Celebrating its Silver Jubilee this year, Petronet LNG made headlines when it revealed its Strategy: 1-5-10-40.
Petronet LNG Ltd. (PLL) was incorporated on April 2, 1998, with equity participation of 12.5% each from IOCL, ONGC, GAIL and BPCL, primarily to import Liquefied Natural Gas (LNG) and set up LNG import and re-gasification terminals in India.
LNG terminal pioneer
In 2004, it set up the country's first LNG terminal at Dahej with a capacity of 5 MMTPA. The terminal now stands tall with a processing capacity of 17.5 MMTPA and LNG storage capacity of about one million CuM. In 2013, another 5 MMTPA terminal was constructed at Kochi, Kerala. Thus, with a total processing capacity of 22.5 MMTPA, Petronet LNG owns about 53% of India's total re-gasification capacity. Petronet LNG's Dahej Terminal is India's largest and the world's eighth largest LNG import terminal.
In terms of annual throughput, it is globally positioned as the number one terminal. Also, in terms of cargo handling, it handles about 260 to 270 ships in a year at its two jetties and is considered to be the world's busiest terminal. Dahej Terminal handles about 66% of the LNG demand and about 40% of total gas requirement of the nation. The terminal also boasts India's highest number of LNG truck loading bays.
Petronet LNG reported its highest ever turnover of Rs. 43169 crore in the FY 2021-22, and also reported its highest-ever profit before tax (PBT) and profit after tax (PAT) during the same fiscal. The PBT stood at Rs 4,474 crore in FY 202122 against the corresponding figure of Rs 3,968 crore in the previous fiscal, while the company reported PAT at Rs 3,352 crore vis-à-vis that of Rs 2,949 crore in FY 2020-21. The unprecedented performance of Petronet LNG led to significantly improving its Fortune India 500 ranking to 51st position in the year 2022, as compared to 59th position in 2021.
Expansion and diversification plans
The company – which is celebrating its Silver Jubilee this year – made headlines when it revealed its Strategy: 1-5-10-40, thereby setting the path for exponential growth, targeted at achieving a turnover of Rs. 1 lakh crore over the next five years, with a bottom-line of Rs. 10,000 crore through an investment of Rs. 40,000 crore. It has chalked out various expansion and diversification plans, which include augmenting the capacity of Dahej from 17.5 MMTPA to 22.5 MMTPA along with construction of two additional LNG tanks with a capacity of 1,80,000 CuM each which would enhance the LNG storage capacity at the terminal to 1.36 million Cu. meters.
The company plans to diversify into petrochemicals by setting up a Petrochemicals Complex, comprising 750 KTA Propane Dehydrogenation unit (PDH) and 500 KTPA Polypropylene unit (PP) including ethane storage and handling facilities at Dahej. In-line with the expansion plans of Dahej from 17.5 MMTPA to 22.5 MMTPA and in view of the proposed petrochemicals project, PLL is also setting up a third jetty at Dahej at a cost of about Rs. 1700 crore, which besides LNG would also handle liquified ethane and propane.
To foray into the growing Gas Market, Petronet LNG is setting up an LNG Terminal at Gopalpur Port in Odisha – its first such terminal in eastern India with an initial capacity of 4 MMTPA at an estimated cost of over Rs. 2300 crore and set to be operational by the end of 2025.
LNG fuel ecosystem 
To tap the unique business opportunity of gassing up and cooling down (GUCD) of LNG ships at Kochi LNG Terminal, activities for upgradation of this facility have been taken up and the scheme is expected to be operational in 2023-24. PLL is actively taking steps to expedite an ecosystem for LNG fueling for medium and heavy-duty commercial vehicles and will be commissioning four LNG stations in southern India – three in Tamil Nadu and one in Karnataka – within this fiscal year. PLL is also in the process of doubling the Truck loading Facilities at its both the terminals. A wholly owned subsidiary of PLL- Petronel Energy Ltd (PEL) was incorporated in February 2021 to carry out value added operations/ services such as GUCD of LNG vessels, import of LNG for the purpose of storage and re-export/ reloading, LNG bunkering, marketing and distribution of LNG and RLNG, and so on. All the necessary statutory approvals have already been obtained and the company is in the process of entering into agreement with service provider and third parties.
Another wholly owned subsidiary "Petronet LNG Singapore Pte. Ltd." (PLSPL) was incorporated in March 2022 to carry out business activities, including but not limited to purchase of LNG on long, spot and short-term basis and sale and trading of LNG to Indian and foreign companies, optimisation and diversion of LNG under its portfolio, carry out hedging, and investments in overseas ventures. Delegates at India Energy Week gained further insight into the path forward for Petronet and its part in India's future energy journey when PLL's MD & CEO, Akshay Kumar Singh, addressed the event's series of Strategic Conference sessions.