UAE and Egypt sign deal to develop one of world's largest onshore wind projects in Egypt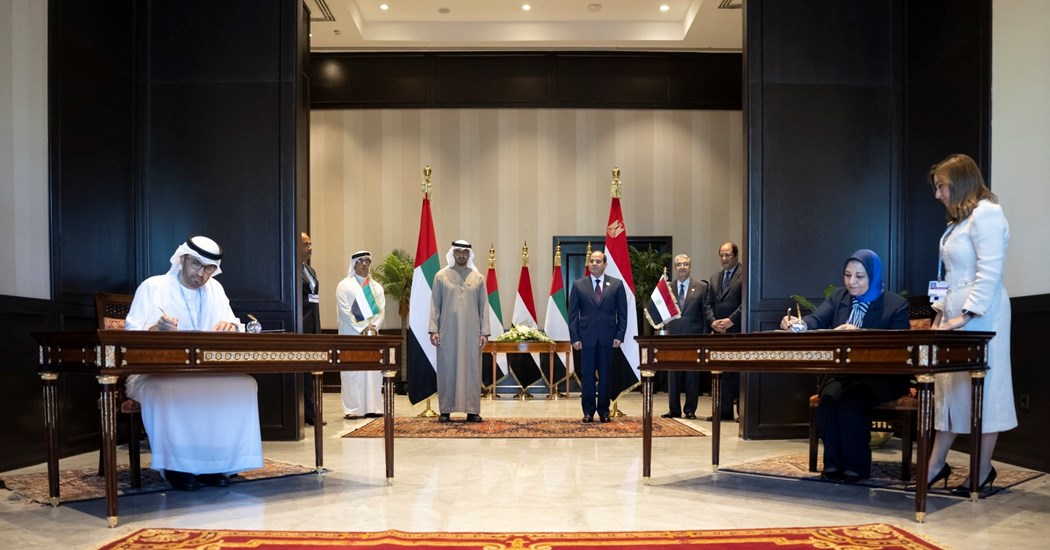 United Arab Emirates President His Highness Sheikh Mohamed bin Zayed Al Nahyan and President Abdel Fattah El Sisi of Egypt witnessed the signing of an agreement between Masdar, one of the world's fastest-growing renewable energy companies, along with its Infinity Power joint venture with Infinity, Egypt's main renewable energy developer, and Hassan Allam Utilities, to develop a 10-gigawatt (GW) onshore wind project in Egypt – one of the largest wind farms in the world.
The Memorandum of Understanding was signed by Dr. Sultan Ahmed Al Jaber, UAE Minister of Industry and Advanced Technology, UAE Special Envoy for Climate, and Chairman of Masdar, and Dr. Mohamed Shaker El-Markabi, Egypt's Minister of Electricity and Renewable Energy, on the sidelines of the 2022 United Nations Climate Change Conference (COP27) in Sharm El-Sheikh.
Dr. Al Jaber said, "The scale of this mega 10 GW onshore wind project – one of the largest winds farms in the world – is a testament to the renewable energy ambitions of the United Arab Emirates and the Republic of Egypt, and demonstrates Masdar's status as a global leader in clean energy.
"Under the guidance of our leadership, the UAE has been at the forefront of positive climate action in the region – and globally, as reflected in the recent US-UAE Partnership for Accelerating Clean Energy (PACE). The UAE and Masdar will continue to support Egypt's net-zero goals, and we will endeavor to take forward the gains made here at COP27, as the UAE prepares to host COP28 next year," he said.
When completed, the 10 GW wind farm will produce 47,790 GWh of clean energy annually and offset 23.8 million tonnes of carbon dioxide emissions – equivalent to around 9 percent of Egypt's current CO2 emissions.
The project will be part of Egypt's Green Corridor initiative – a grid dedicated to renewable energy projects – and will contribute to Egypt's goal of ensuring renewable energy makes up 42 percent of its energy mix by 2035.
The wind farm will also save Egypt an estimated US$5 billion in annual natural gas costs, and help create as many as 100,000 jobs. Direct employment in the construction phase is estimated at around 30,000, with as many as 70,000 people being employed indirectly. After construction, around 3,200 jobs will be added for operation and maintenance.
Mohamed Jameel Al Ramahi, Chief Executive Officer of Masdar, said, "With this agreement to develop our largest ever project, Masdar is proud to bolster our contribution to Egypt's renewable energy goals, while strengthening our partnerships with Infinity Power and Hassan Allam Utilities, and building on our relationship with the Egyptian Government. We are confident this project will help provide clean and sustainable energy to Egypt's people while ensuring the country meets its decarbonisation commitments."
Mohamed Ismail Mansour, Chairman - Infinity Power, said, "We are proud to be working on this project in association with our partners, enabling the Egyptian government to build upon their efforts to deploy effective solutions that confront the global issue of climate change. The project will enable the country to save vast amounts of natural gas; thereby attaining economic growth, reduce carbon emissions and provide greater access to sustainable energy sources, enabling Egypt to move forward in its journey towards becoming a green economy."
KEEPING THE ENERGY INDUSTRY CONNECTED
Subscribe to our newsletter and get the best of Energy Connects directly to your inbox each week.
By subscribing, you agree to the processing of your personal data by dmg events as described in the Privacy Policy.