Will onshore pipeline demand take off with rocketing oil prices and new energies?
Ben Wilby, Senior Onshore Analyst at Westwood Global Energy Group, analyses the road ahead for the onshore pipeline industry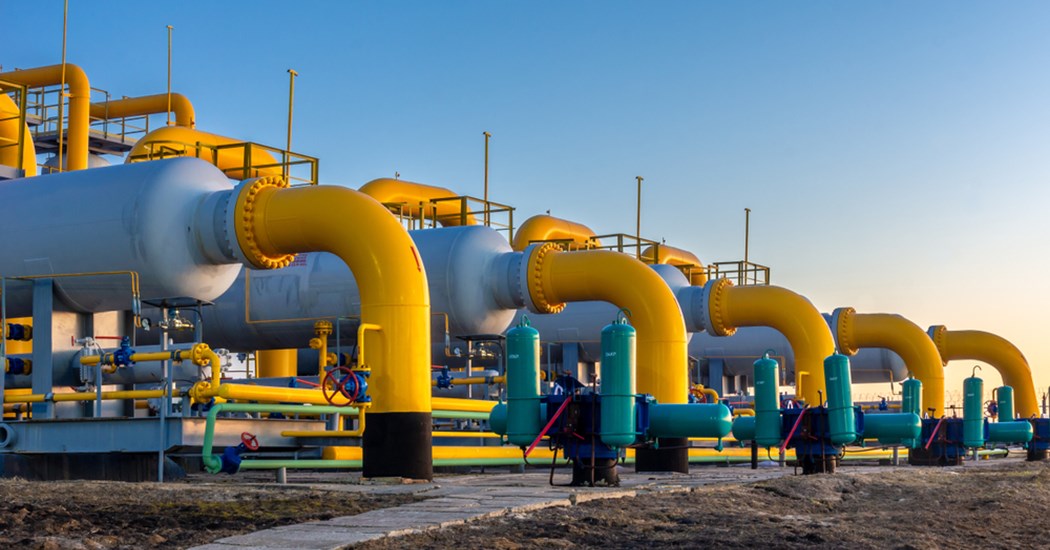 Onshore pipeline installations have dropped dramatically in recent years, with the industry badly impacted by public opposition, political decisions and depressed oil and gas (O&G) prices. As a result, Westwood's outlook appeared relatively flat in the latest edition of World Onshore Pipelines Market Forecast 2021-2025.
However, as we reach the midpoint of 2022, this narrative is looking less clear. The shock of oil futures trading negative in 2020 has been replaced by rocketing O&G prices. As we look ahead to the next edition of the report, Westwood takes stock of the current market for O&G pipelines, as well as considering the growing demand for pipelines to support the energy transition (ET).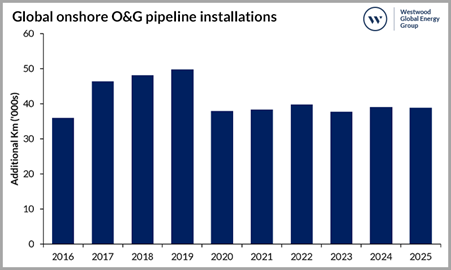 New export routes boost demand
Buoyant O&G prices have strengthened the business case for many pipeline projects. For example, the Vaca Muerta play in Argentina is heavily reliant on new offtake routes but high breakevens have stymied investment in the past. The Presidente Nestor Kirchner Gas Pipeline is quickly being progressed to change this and will total over 1,000 km once both phases are completed, allowing gas to be transported throughout Argentina and into Brazil.
In Africa, both the 1,443 km East Africa Crude Oil Pipeline and the 823 km pipeline for the Lokichar project are moving forward after multiple delays. The construction of these two pipelines will be a significant boost to Africa's annual pipeline installations, which have historically fluctuated.
The 1,665 km Iraq-Jordan crude export pipeline in the Middle East appears to be progressing after many delays, while in the GCC (Gulf Cooperation Council) players are installing new gas pipelines to help monetise a somewhat neglected. This includes the Jafurah project in Saudi Arabia where Saipem was awarded an engineering, procurement and construction (EPC) contract for 835 km of pipelines for gas, condensate and production water.
Potential green shoots in North America
In North America, unprecedented demand for pipelines saw year-on-year growth 2016-2019, reaching almost 21,000 km before falling significantly in both 2020 (13,800 km) and 2021 (12,500 km).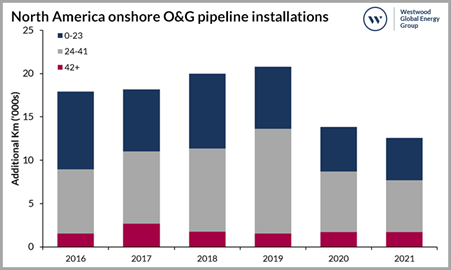 US operators are currently expressing concerns of a potential shortfall in pipeline capacity in 2023 to meet demand. So far, 2022 has seen one large project, the 790 km, 42-inch Matterhorn Express Pipeline, reach FID to help alleviate this. Designed to transport 2.5 bcf/d of natural gas from the Permian, the pipeline is expected to start operations in 3Q 2023.
Despite this, it is likely that expansion projects, both in the US shale patches and at Canada's oil sands, will be preferred over new pipeline installations as public pressure and politics are likely to remain a key stumbling block to regional activity.
Carbon capture and hydrogen projects change outlook
The increasing focus on ET in recent years has added a new component to pipeline demand. The targets set by governments to reach net zero following the Paris agreement, as well as companies setting their own strategies to transition, has rapidly increased the number, scale and potential of these projects. Westwood will soon be releasing a New Energies module in its Northwest Europe Atlas product which highlights there are 48 hydrogen projects, 46 carbon capture sites and 8 carbon storage sites in Norway and the UK, many of which are scheduled to become operational this decade.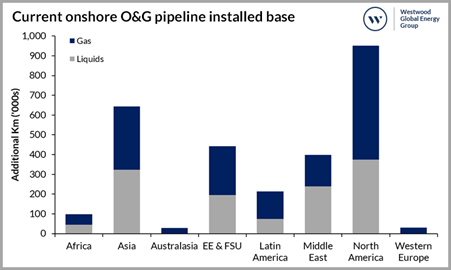 With the sheer amount of existing pipeline infrastructure, there is the potential to reuse existing lines, potentially allowing companies to reduce costs and lessen the impact of construction activities. Westwood has identified approximately 2.8 million km of O&G pipelines installed globally, 55% of which is used to transport natural gas.
Not all existing infrastructure will be viable for reuse, however. The pressures required for CO₂ transmission are substantially higher than natural gas, potentially ruling out many pipelines. Other issues such as age or condition can add extra problems to repurposing pipelines.
Operators are likely to come up with solutions to combat this, such as EnLink's plan in Louisiana to mix new sections of pipeline with recycled old natural gas pipelines that are viable.
Demand for new pipelines from CCS projects change outlook
In the UK, both the Acorn CCS (carbon capture and storage) and the HyNet North West projects will take a similar approach with HyNet combining existing pipelines with 350 km of new pipelines. Approaches such as this, as well as newbuild projects like Wolf Midstream's 563 km CO₂ pipeline in the US, highlight that demand for new pipeline supply from CCS projects should be strong in the coming years, despite the potential to reconfigure the existing install base.
Another potential boost could come in the way ET projects are developed.
Several CO₂ projects are being planned with multiple sites feeding into one main pipeline to reduce costs and congestion. As a result, the diameters required for these projects increase, with pipeline demands increased further by companies consciously over-engineering projects as a way of front-loading investment into the projects to ensure that costly pipeline upgrades are not required at a later stage.
Zero Carbon Humber projects 
An example of this is the Zero Carbon Humber project which will take in CO₂ from several onshore facilities via one main line that will run to an offshore storage facility. At launch, the pipeline will be significantly under capacity but slowly filled as the amount of CO₂ produced from tie-in facilities increases. One facility that is part of the cluster, the Drax power station, is estimated to produce around 4 mt of CO₂ in 2027 before climbing to as much as 12 mt by 2035.
While much of the discussion around CCS has centred on North America and Western Europe to date, Asia is starting to catch on. However, it is hydrogen that has received far more global interest. The gas is expected to be vitally important as both a new source of clean domestic energy as well as a new export commodity for some of the biggest global players as they look to continue to earn revenue in a world where oil and coal are expected to slowly lose relevance.
Countries such as Australia are planning to ramp up production for both domestic use and export. While Japan, a country with limited natural resources, is investing heavily both domestically and abroad to create a commercial hydrogen fuel supply chain. In Saudi Arabia, the Jafurah project will include a major blue hydrogen component as part of its $110 billion development.
Positive signs but threats remain
While this is all positive, the pipeline market remains precarious. Commodity price fluctuations remain a threat, with 2020 underlining how quickly markets can change and how companies are quick to respond to difficult market conditions by stopping projects.
Demand outstripping supply is also a major concern. An already squeezed steel market has been further pressurised by the removal of Russian steel from many international markets, potentially limiting the annual pipe supply. This adds the two-fold threat of long delays to pipeline construction and rapidly increasing costs.
The key issue remains the same as it has for many years. No matter how strong the market appears, political and social outcry are unlikely to go away anytime soon.
Despite progressing, the EACOP line in Africa remains highly contentious, with an organisation remaining active to oppose its funding. Lines in Western Europe and North America are likely to still face strong protests as seen in Canada with the Keystone XL line that was eventually cancelled on Biden's first day in office.
Similarly, the election of a candidate in Colombia who has pledged to halt any unconventional O&G developments, as well as end the awarding of exploration licenses, shows how in thrall to governments pipeline projects remain.
Spectre of protests and legal challenges
Even CCS and hydrogen lines are not immune to protests and legal challenges. For example, the Porthos project in the Netherlands faces a court challenge after environmentalist Johan Vollebroek raised objections at the amount of nitrogen produced in the construction phase. In the US a protest group has been set up in opposition to two CO₂ pipelines (Greenway and ADM/Wolf Carbon Solutions CO₂ pipeline) that are planned to run through Illinois.
Overall, demand for onshore pipelines appears to be in a better position than it has been since 2019. The projects mentioned highlight the renewed drive to increase pipeline capacity in both new locations and those with large existing installed bases. With O&G prices expected to remain strong and the continued move into ET, demand for pipelines from the energy sector appears robust.
KEEPING THE ENERGY INDUSTRY CONNECTED
Subscribe to our newsletter and get the best of Energy Connects directly to your inbox each week.
By subscribing, you agree to the processing of your personal data by dmg events as described in the Privacy Policy.