ENEC signs MoU with ORLEN Synthos Green Energy to advance Small Modular Reactors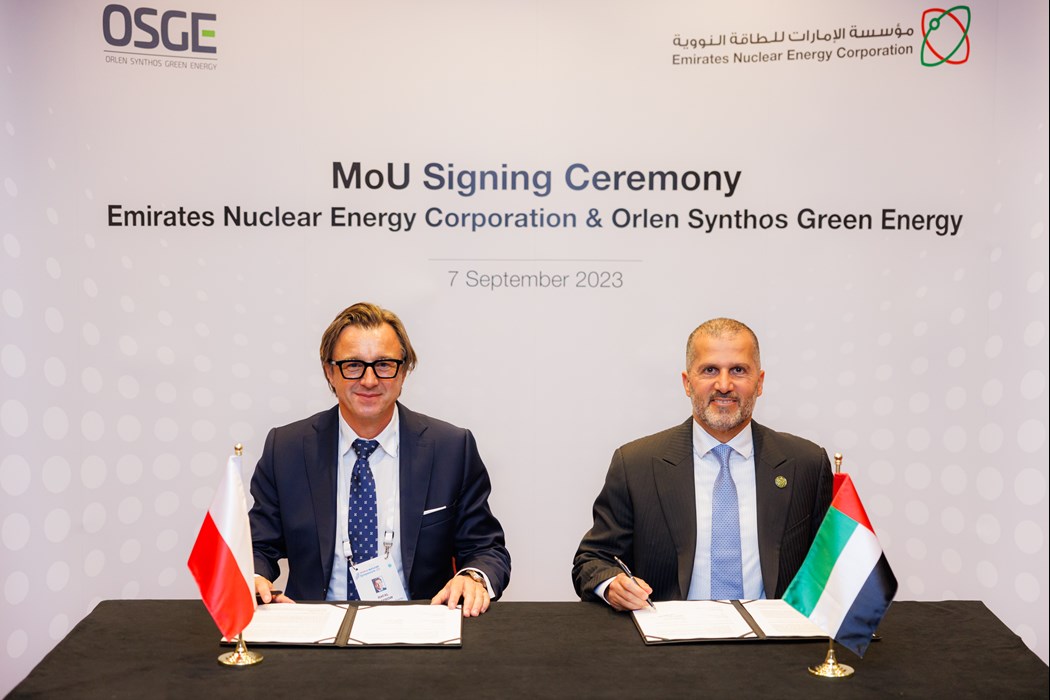 The Emirates Nuclear Energy Corporation (ENEC) and ORLEN Synthos Green Energy (OSGE) have announced the signing of a Memorandum of Understanding (MoU) to support the decarbonisation of the Polish and European power sector and industry, by looking into opportunities to invest in Small Modular Reactors (SMRs).
The MoU aims to provide both parties with an enabling framework for developing SMRs based on GE-Hitachi Nuclear Energy's BWRX-300 SMR technology in Poland and the United Kingdom, as well as within Central and Eastern Europe to create new clean energy capacity for meeting the growing demand for electricity. The framework agreement was signed by His Excellency Mohamed Ibrahim Al Hammadi, Managing Director & CEO, ENEC and Rafał Kasprów, CEO, ORLEN Synthos Green Energy, during the World Nuclear Symposium 2023 in London, U.K.
Nuclear energy is recognised by both the UAE and Poland as an essential clean energy resource in safeguarding the stability of the energy sector. OSGE seeks to build a nuclear organization that can meet energy sector challenges, by the increased use of advanced nuclear technologies, such as fourth generation SMRs.
H.E. Mohamed Ibrahim Al Hammadi, Managing Director and Chief Executive Officer of ENEC, said: "This MoU sets the stage for our plans to accelerate nuclear adoption globally and lend our expertise in advancing the clean energy transition towards achieving Net Zero. The development of the Barakah Plant in the UAE is a catalyst for innovation and R&D in new areas, including SMRs which, we are currently exploring as part of our future growth opportunities, alongside other next-generation technologies. Globally, there is an urgent need to ramp up nuclear capacity if we are to meet climate goals. We look forward to working with ORLEN Synthos Green Energy to support decarbonization in Poland and other parts of Europe."
ENEC and OSGE will work together to identify specific areas of mutual cooperation. ENEC will share the experience learned from the development of the Barakah Plant, its experience in building operational readiness, and stakeholder management, including building commercial frameworks with technology vendors and other contractors.
"A partnership with ENEC marks another milestone for ORLEN Synthos Green Energy. I am very excited that our programme to deploy a fleet of BWRX-300 reactors in Poland, CEE and UK is now being supported by such an excellent partner. ENEC brings unique experience in building nuclear power plants in accordance with the highest nuclear industry safety and quality standards, delivering projects on time and on budget. Furthermore, I am pleased that ENEC recognizes the development of SMR's as important for the future of nuclear energy. I truly believe that thanks to this cooperation, we are taking a significant step forward in the development of SMR's worldwide," said Rafał Kasprów, CEO of OSGE.
Playing a significant role in the UAE's clean energy transition, the Barakah Plant is now one unit away from full-fleet operations and realising ENEC's commitment to accelerating decarbonization of the power sector by generating up to 25% of the UAE's electricity demand. Barakah provides significant environmental benefits for the nation today, and for the next 60 years and beyond, and this will be showcased at COP28 in November, which will be held in Dubai, UAE.
KEEPING THE ENERGY INDUSTRY CONNECTED
Subscribe to our newsletter and get the best of Energy Connects directly to your inbox each week.
By subscribing, you agree to the processing of your personal data by dmg events as described in the Privacy Policy.