Samsung Engineering and OMV to develop sustainable modularisation projects
May 16, 2023 by Energy Connects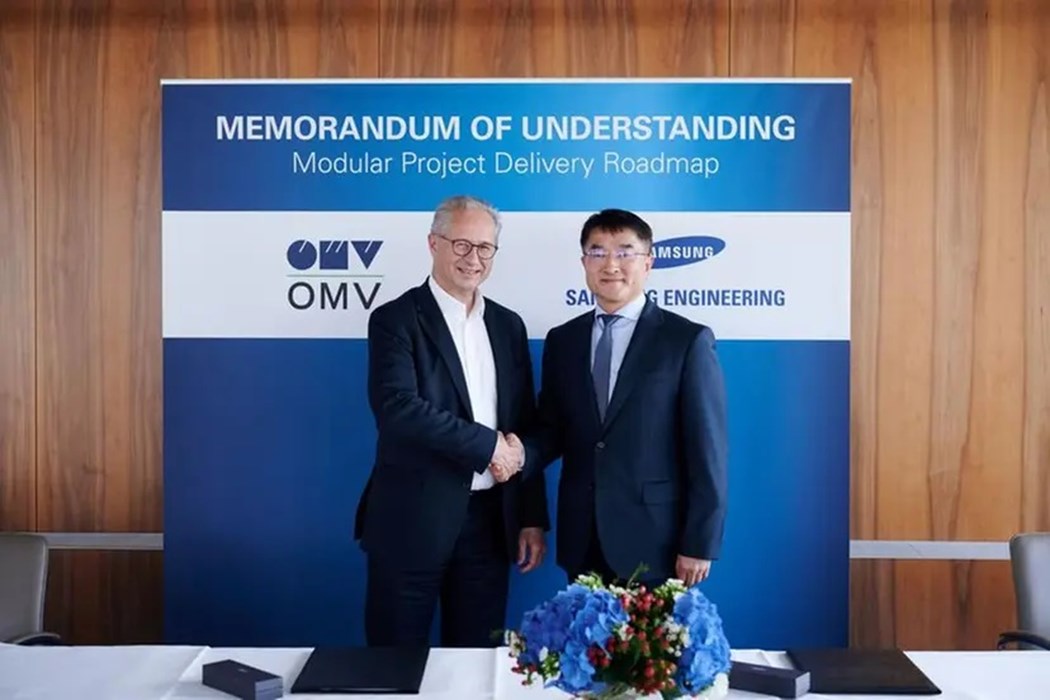 Samsung Engineering, one of the world's leading engineering, procurement, construction, and project management (EPC&PM) companies and OMV, the international, integrated energy, fuels & feedstock and chemicals & materials company, announced on Tuesday the signing of an MoU to cooperate on projects from the early development stage.
The MoU was signed at the OMV headquarters in Vienna, Austria, by Martijn van Koten, Member of the Executive Board of OMV and EVP Fuels & Feedstock, and Hong Namkoong, President and CEO of Samsung Engineering. Alfred Stern, Chairman of the Executive Board and CEO of OMV, as well as Reinhard Florey, Member of the Executive Board and CFO of OMV welcomed Samsung Engineering's delegation.
Samsung Engineering's extensive experience in executing projects based on modularisation was a key factor in reaching the MoU, the company said in a statement.
Hong Namkoong, President and CEO of Samsung Engineering, said: "Samsung Engineering's excellent track record in modularisation projects has led to this MoU to jointly develop sustainable projects based on modularisation. In the era of the energy transition, the strategy of OMV and Samsung Engineering align to create synergy effects to promote and strengthen the foundation for mid to long-term sustainable projects."
OMV is amongst Austria's largest listed industrial companies and is committed to becoming a net-zero emissions company (Scopes 1, 2, and 3) by 2050. OMV has embarked on a transformation to become a leading provider of innovative and sustainable fuels, chemicals and materials, with a focus on circular economy solutions, the company said.
This strategy is aligned with Samsung Engineering's ambitions to contribute to the energy transition, by starting to take key initiatives for the decarbonisation of its operations, whereby it has launched projects in the direction of low-carbon businesses.
Martijn van Koten, Member of the Executive Board of OMV responsible for Fuels & Feedstock, said: "Strong partnerships with pioneers for sustainable solutions and projects in the low carbon business help accelerate our transformation towards our goal of reducing CO2 emissions and becoming a net-zero company by 2050. We welcome the collaboration with Samsung Engineering. This will enable us to continuously expand our renewable fuels and feedstock product range and fulfill one of the key elements of our OMV Strategy 2030 to become a leading, innovative producer of sustainable fuels and feedstock in Europe."
A major goal for Samsung Engineering is to become a "Beyond EPC - Green Solution Provider". It is striving to transform from a conventional EPC player to a green solution provider by securing a reliable source of profits and creating a sustainable growth engine for the future. Samsung Engineering is pioneering into new businesses such as green solutions and environmental infrastructure projects.