Samsung Engineering certified as world's first company with multiple ISO certifications in project management
Nov 30, 2022 by Energy Connects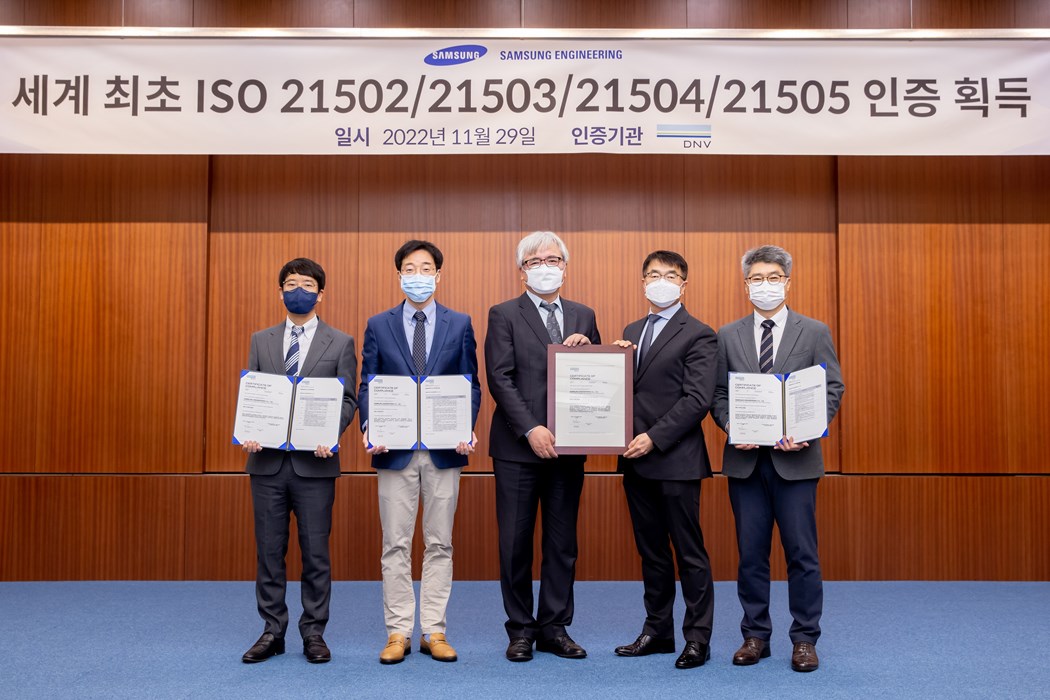 Samsung Engineering, one of the world's leading engineering, procurement, construction and project management (EPC&PM) companies, said on Wednesday that it has become the world's first company to be certified simultaneously by ISO (International Organization for Standardization) with four international standards in the project management field.
The certificates were presented by Norway's DNV (Det Norske Veritas), which is one of the three major certification agencies globally. Samsung Engineering has been certified for four types of international standards (ISO 21502 to 21505) in the project field at the same time, and represents the first company in the world to have achieved that.
The event was held at the Global Engineering Center (GEC) in Korea, Samsung Engineering's headquarters, and was attended by Samsung Engineering Executive Vice President and Head of Plant Business Division, Hong Namkoong and DNV Korea Country Representative, JangSup Lee, the company said in a statement.
The plant EPC (engineering, procurement, and construction) field, Samsung Engineering's main field for project execution, is a representative for the project industry, and it is important to establish standardised project concepts, terms, and procedures due to the variable execution environment and due to complex process.
Samsung Engineering has established a direction to improve the integrated management of projects, raising the level of business capabilities to the next level, and proactively responding to international standard demands from International Oil Companies (IOCs) and National Oil Companies (NOCs) when executing projects, the company said.
DNV, issuing the certificates for ISO, reviewed a total of 66 items in three stages, including Samsung Engineering's projects, programmes, portfolios, regulations related to the governance system, procedures, standard documents, and roles and responsibilities by sector.
Samsung Engineering acquired the highest grade available to receive of 5, in all four international standards and was recognised for its world-class project management capabilities. It received high scores in international standard items in project management system and operation, program budget management, business headquarters portfolio operation, and governance, the company said.
ISO 21502 to ISO 21505 are international standards established this year to develop principles and procedures for project management. ISO 21502 provides standard guidelines for the processes, systems, and workforce required to carry out a project, and ISO 21503 and ISO 21504 explains how to manage programme elements and portfolio elements to address the operations of mega projects and portfolios.
Samsung Engineering has consistently worked on quality management through standard certification in addition to project management. Samsung Engineering meets global conditions through various ISO certifications, such as, Quality Management Systems (ISO 9001), Environmental Management Systems (ISO 14001), Occupational health and safety management systems (ISO 45001), Greenhouse gases (ISO 14064), Risk Management (ISO 31000) among other certificates.
A Samsung Engineering spokesperson said, "Samsung Engineering's project management capabilities, have been internationally recognized for process innovation efforts, which the company has been promoting throughout the organization," adding, "We plan to actively explain the meaning of international standard certification to clients from the beginning of the project and use it for marketing activities.