An American Oil Hub Is Pivoting to Offshore Wind
(Bloomberg) -- Every morning, more than 600 workers clock in at the Louisiana shipyard where the first US-built vessel to service offshore wind farms, is under construction. At quitting time, a parade of pickups and dusty sedans forms a traffic jam on the road back into town, past buildings that serve the long-dominant oil and gas industry. 
This is just one slice of the energy transition reshaping the Gulf of Mexico region, which is increasingly dotted with offshore wind projects. In February, the Biden administration announced the first-ever sale of offshore wind leases in the Gulf, off the coasts of Texas and Louisiana. Dominion Energy Inc. is spending $500 million on the first US-built installation vessel, the 472-foot , in Brownsville, Texas; and hundreds of people are working on the first US-built substation near Corpus Christi. In Louisiana, where the National Football League team wears black because that's the color of oil, new companies and jobs are sprouting up to support the nascent $100 billion industry.
The number of active projects show that the Gulf's offshore expertise, earned through decades of oil and gas operations, translates well to supporting wind farms currently under construction. Out of about 1,200 contracts signed by US companies for offshore needs like survey work, electric substations and cables, companies in the Gulf and the South have scored 23% of the total, according to a tally kept by the industry group Business Network for Offshore Wind. A sign near the Edison Chouest Offshore shipyard, where another big wind boat besides the is also under construction, reads, "Taking applications for all crafts!"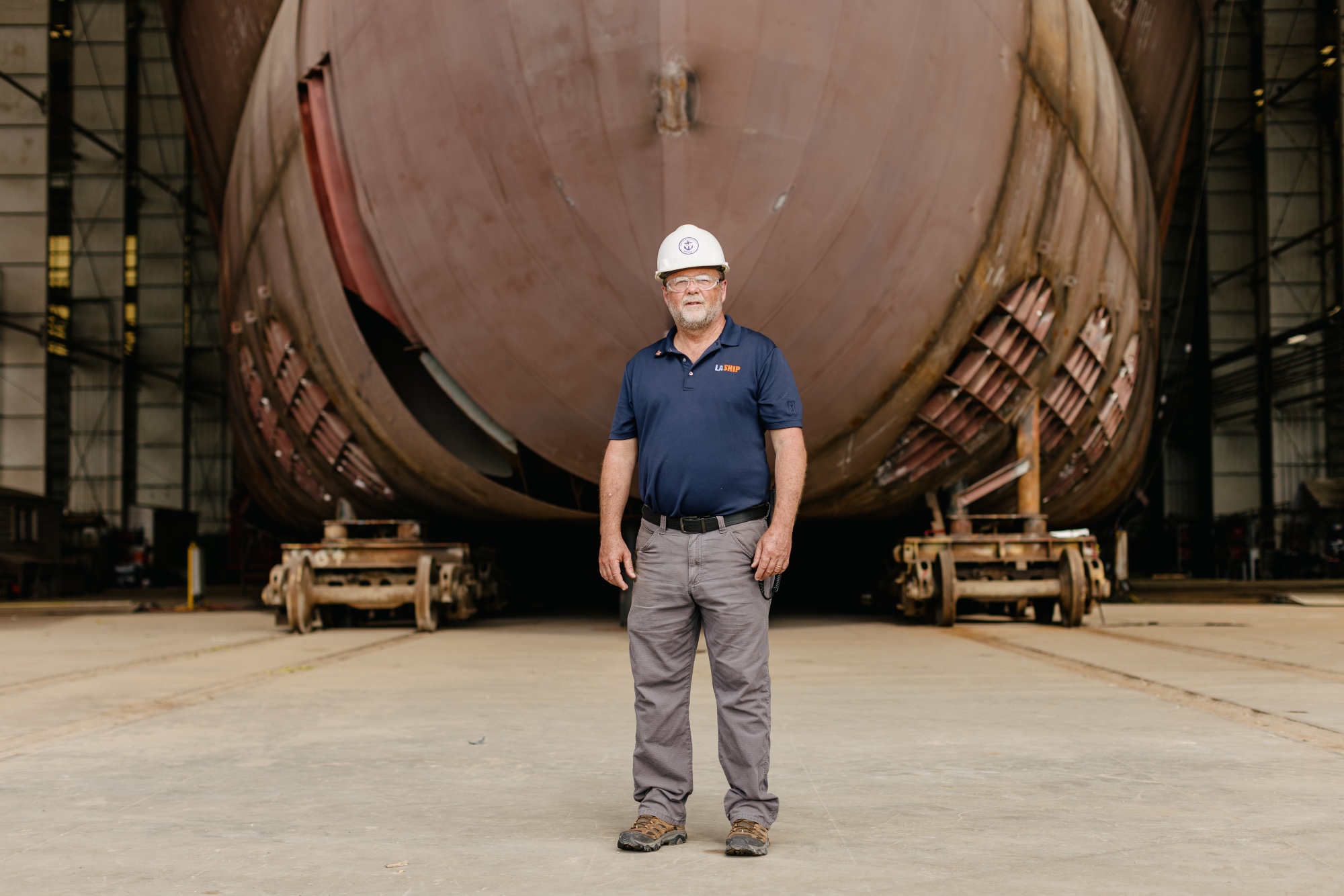 Project manager Whit Carter stands in front of the boat under construction. Photographer: Bryan Tarnowski/Bloomberg
Gary Chouest, chief executive officer of the company his shrimp-fisherman father started in 1960, hopes the wind industry keeps growing. "It keeps Cajuns working," he said.
There's little reason to keep building oil and gas vessels right now, said project manager Whit Carter: Many of them are already idle thanks to the oil and gas downturn that began in 2014, when prices underwent one of the biggest drops since World War II. Carter, who has helped build around 30 oil and gas boats in his career, isn't picky about working in wind. "I care that there's work," he said, standing near the and the , two massive boats that used to supply drilling operations but are being refitted to build wind farms.
'An economic lifeline' 
At a shipyard in New Orleans, 45 miles up the coast from Edison Chouest, research and design firm Gulf Wind Technology is building a massive wind tunnel as part of its push to make "hurricane-proof" wind turbines. Energy giant Shell Plc invested $10 million in Gulf Wind in March to advance research into turbines that could profitably generate electricity and survive gale-force gusts.
Gulf Wind Chief Executive Officer James Martin said the region's sprawling infrastructure and experienced workforce is perfect for offshore wind. His company's headquarters include a 30,000-square-foot research facility with access to manufacturing space that spreads over the equivalent of almost 20 football fields. "You need these giant acreages to make light work of it," Martin said as contractors sprayed insulation inside a nearby building housing a 165-foot (50-meter) turbine blade. "Oil and gas has the scale that offshore wind needs."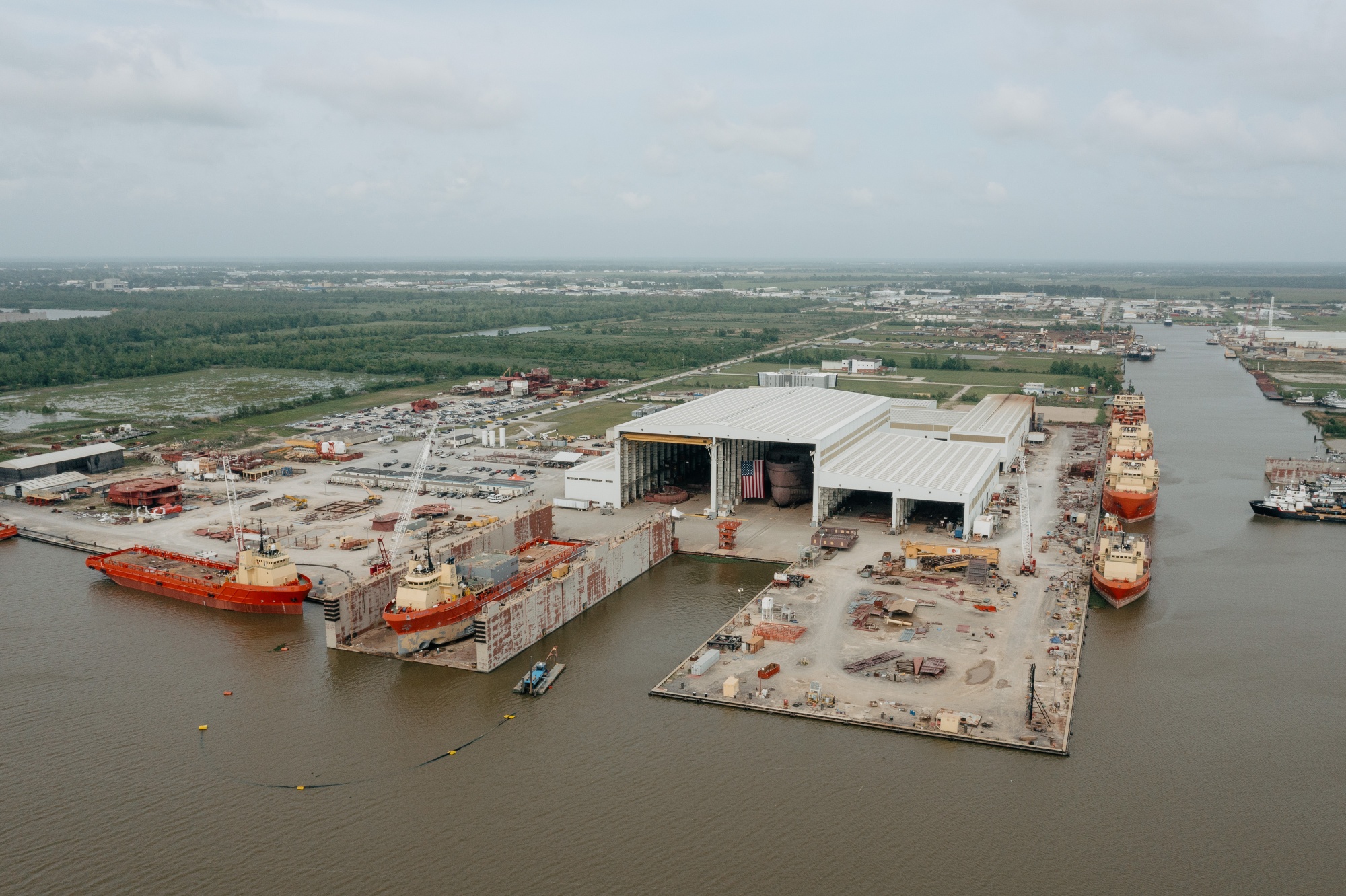 The Edison Chouest Offshore shipyard in Houma, Louisiana. Photographer: Bryan Tarnowski/Bloomberg
The 2015 oil crash, and then Covid-19, wreaked havoc on oil and gas extraction jobs in Louisiana. The state had about 25,000 oil and gas workers in 2021, half of 2015 levels, according to a report from Louisiana State University. Layoffs turned into slowdowns at local businesses and enrollment declines at schools. Combined with hurricane damage and rising insurance rates, the downturn emptied out some coastal towns, according to Greater New Orleans Inc., the economic development agency for southeast Louisiana. 
A single offshore wind farm built in the Gulf could create about 4,500 jobs and provide a $445 million boost to the economy, according to the US Department of Energy, though with far fewer jobs and much less money in the years following construction. By 2030, total capital expenditures to achieve the country's offshore wind targets could total some $100 billion across the US, according to one estimate that has been cited by the DOE. 
The energy industry sees wind "as an economic lifeline," said Michael Hecht, chief executive officer of Greater New Orleans Inc. "We'll be selling shovels to the gold miners in the wind industry."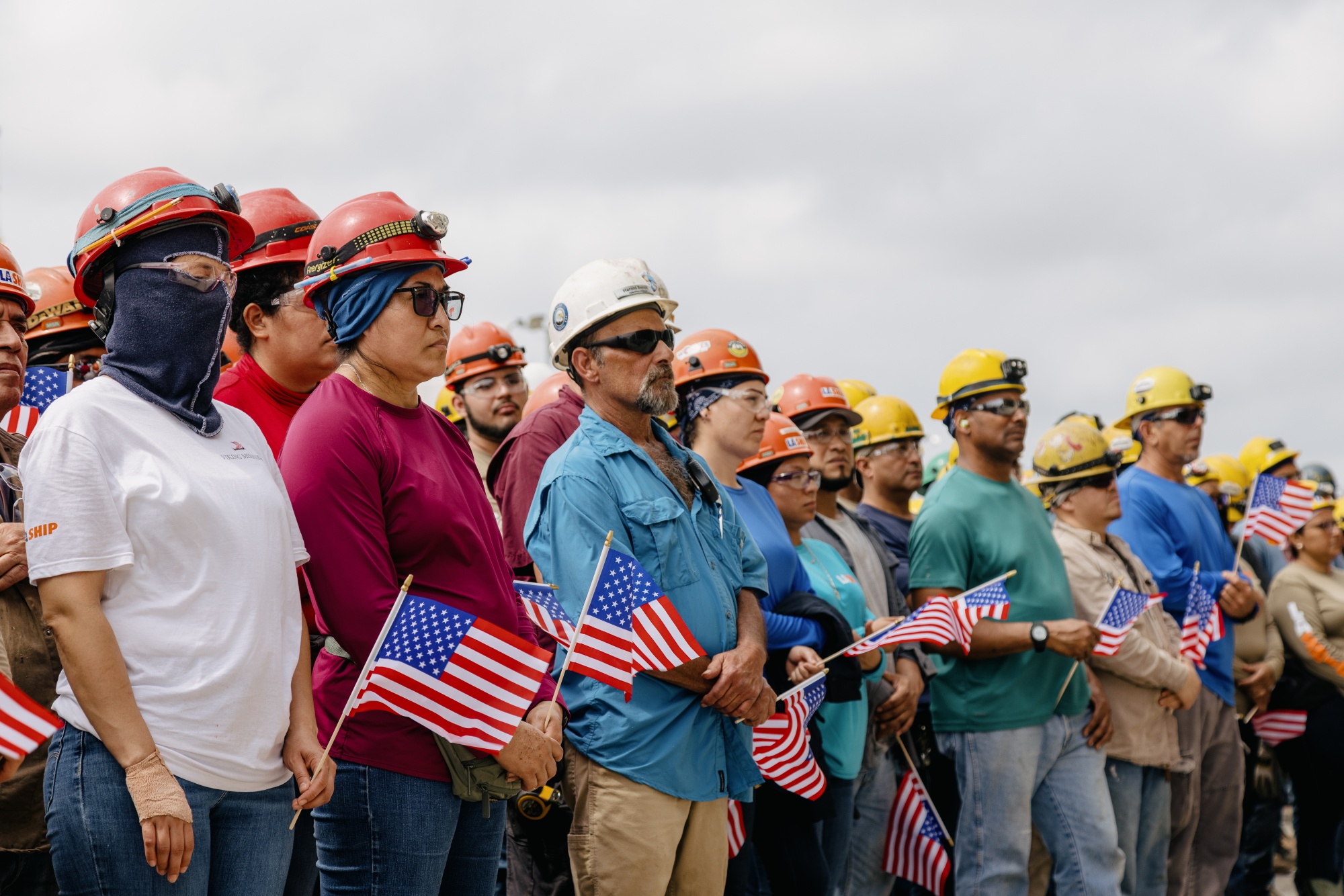 Workers during a media event for the in April. Photographer: Bryan Tarnowski/Bloomberg
Headwinds 
Europe has been harnessing the power of ocean winds for decades and in the first three months of this year, wind farms were the biggest source of electricity in Britain for the first time ever. In the US, though, the industry is just getting started. Multiple states have set ambitious targets for offshore wind and US President Joe Biden is aiming to have enough turbines in US waters to power more than 10 million homes by 2030. The first two big farms under construction — off the coasts of New York and Massachusetts — are slated to start generating electricity this summer. 
But significant challenges remain, including lingering inflation and increased political pushback. Rising costs delayed two huge wind farms off the coast of Massachusetts by at least a year, and Danish energy giant Orsted AS — one of the companies building the said it will take a hit of about $365 million on a farm it's building off New York. Offshore wind's impact on marine life is also still being researched, and Republican lawmakers have seized on a rash of whale deaths to demand the industry stop in its tracks.  
Texas is another potential obstacle. A fabricator in Houston built the five turbine foundations for the first US offshore wind farm in 2016, and the state's size means it has the region's greatest electricity demand. But Texas's Republican lawmakers have recently pushed a series of bills that would make it harder to generate clean energy. The state hasn't shown the same enthusiasm for offshore wind as its Cajun neighbor to the East. 
"You need Texas to move the needle in the Gulf of Mexico," said Jeff Andreini, vice president of wind services at maritime company Crowley. "Louisiana doesn't have the same oomph." To judge wind's prospects in the Gulf, Crowley will be watching the upcoming lease sale, which features twice as many acres off the shore of Galveston, Texas, as it does off the coast of Lake Charles, Louisiana.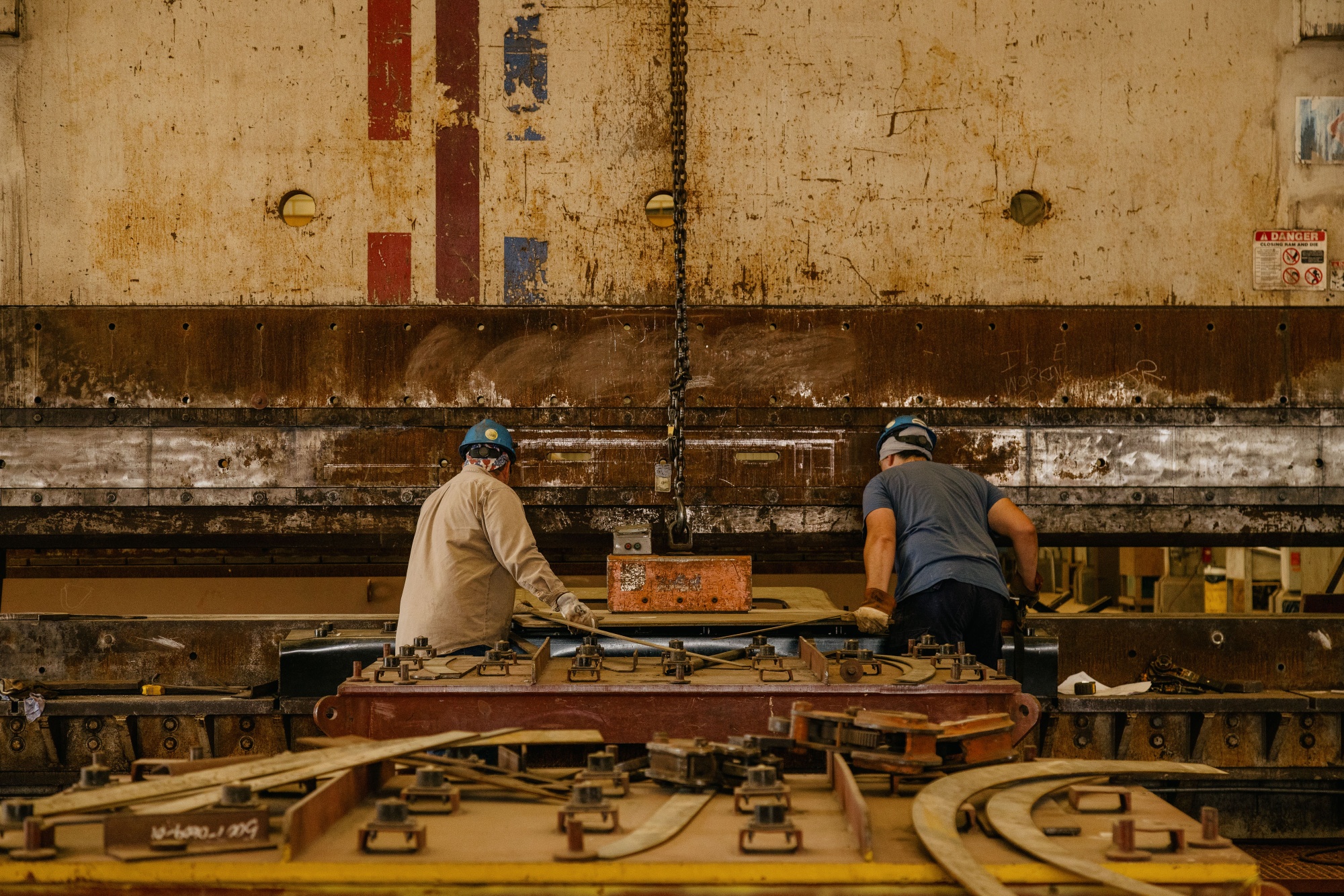 Workers manufacture parts for the construction of the .Photographer: Bryan Tarnowski/Bloomberg
The Gulf's existing infrastructure, including gas pipelines and export facilities, also has companies eying the possibility of using ocean winds to power the production of green hydrogen, a technology that won huge tax credits in Biden's landmark climate law thanks to its potential to displace some fossil fuels. But even if no wind farms go up in the Gulf, workers and companies can make plenty of money building equipment for wind farms elsewhere. 
"I been out of work for too long, so any work is good for me," said Bernie Dunmiles, a 33-year-old self-described roustabout with his son's name tattooed on his neck. Dunmiles sweeps and cleans tanks around the for $12 an hour, while workers around him use massive machines to bend metal to exact specifications and weld ship components together with robotic arms. Said Dunmiles, "I'm happy to work on wind." 
©2023 Bloomberg L.P.
KEEPING THE ENERGY INDUSTRY CONNECTED
Subscribe to our newsletter and get the best of Energy Connects directly to your inbox each week.
By subscribing, you agree to the processing of your personal data by dmg events as described in the Privacy Policy.