China's Windy Winter Helps Suppress Power Sector Emissions
Mar 16, 2023 by Bloomberg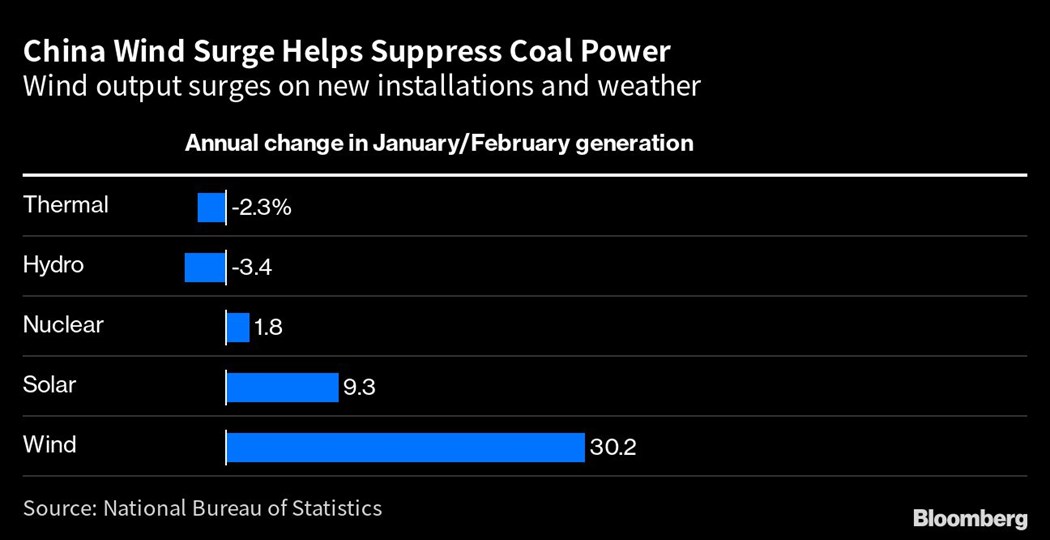 (Bloomberg) -- A surge in Chinese wind generation helped suppress coal burning at the start of the year, even as the government tried to kick-start the economy after abandoning Covid Zero.
Wind turbines produced 134 billion kilowatt-hours of power in January and February, a 30% jump from the previous year. Along with rising solar output, new renewable generation was able to more than meet the 2.3% increase in power demand over the two months. That allowed thermal power plant operators to ramp down operations, reducing emissions from the world's most-polluting sector.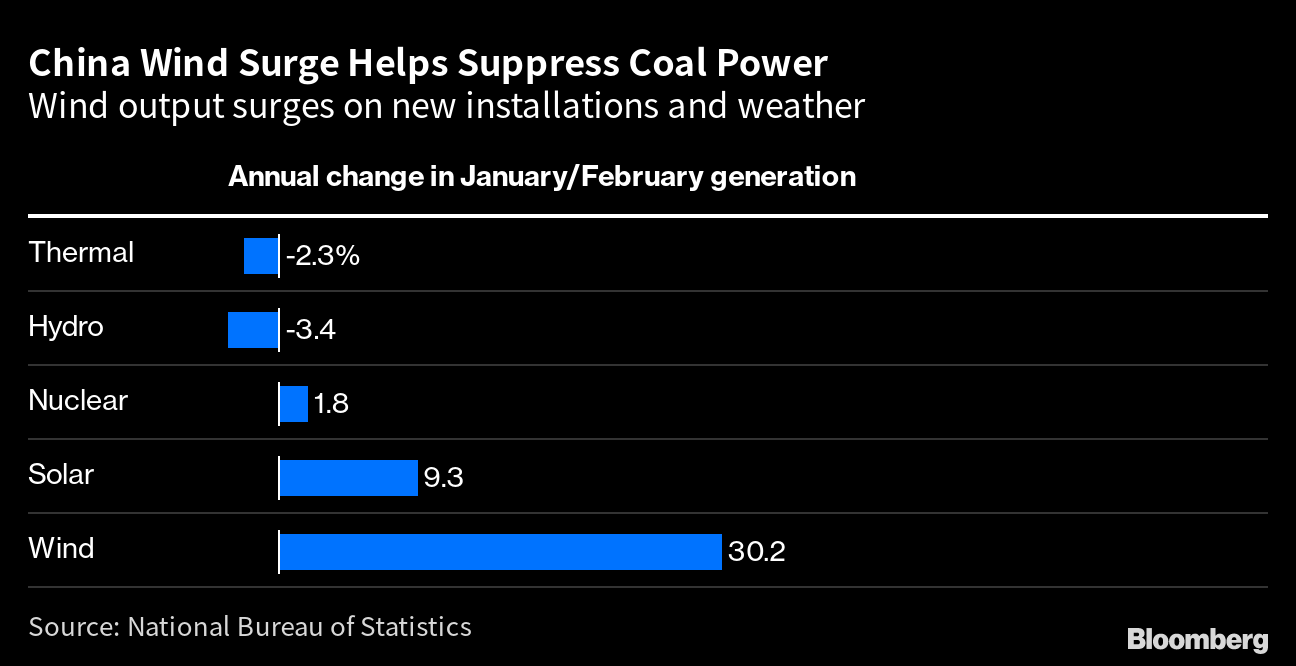 The increase in wind generation came after China added more than 50 gigawatts of new capacity in each of the last three years as the country drives toward peak emissions by 2030, according to BloombergNEF. It also benefited from strong winds in January, according to Citigroup Inc. analysts. 
Still, thermal power — the vast majority of which comes from coal — made up 72% of total generation in the winter months. Beijing has continued to support its mainstay fuel, boosting output and permitting a massive new fleet of coal plants as it seeks to end an embarrassing string of power shortages.
But coal costs money to burn, whereas wind and sunlight are free. Once turbines and panels are installed, they're the first option for generators, which means that's coal relevance will slowly fade to backstopping intermittent renewables output. That makes the carbon math for China's power sector very simple — if new renewables generation is greater than increases in consumption, greenhouse gas emissions go down.  
It remains to be seen whether the January-February trend will hold — weather is fickle, and power consumption will surely rise at a faster clip the further China gets from Covid Zero. But for climate watchers, it's undeniably a good start to the year.
The Week's Diary
(All times Beijing unless noted.)
Thursday, March 16
China new home prices for February, 09:30
CGN Power earnings call, 15:00
China Hydrogen Summit in Shanghai, day 1
Mysteel Southeastern China Aluminum Summit, Foshan, Guangdong, day 2
EARNINGS: Rusal
Friday, March 17
China Jan.-Feb. output data for base metals and oil products
China weekly iron ore port stockpiles
Shanghai exchange weekly commodities inventory, ~15:30
China Hydrogen Summit in Shanghai, day 2
Mysteel Southeastern China Aluminum Summit, Foshan, Guangdong, day 3
EARNINGS: CMOC, Hong Kong & China Gas (online briefing at 18:00)
Saturday, March 18
China's 2nd batch of Jan.-Feb. trade data, including agricultural imports; LNG & pipeline gas imports; oil products trade breakdown; alumina, copper and rare-earth product exports; bauxite, steel & aluminum product imports
On The Wire
China's unpaid subsidy balance is inflicting financial strain on renewable-energy producers, hampering new project investment and widening the nation's energy-supply deficit, according to Bloomberg Intelligence.
China's property market is showing some early signs of a stabilization this year after the government increased support for cash-strapped developers and loosened home purchase restrictions to counter a slump.
More stories like this are available on bloomberg.com
©2023 Bloomberg L.P.