World's Largest Zinc Smelter Sees Opportunity in US Energy Bill
Feb 09, 2023 by Bloomberg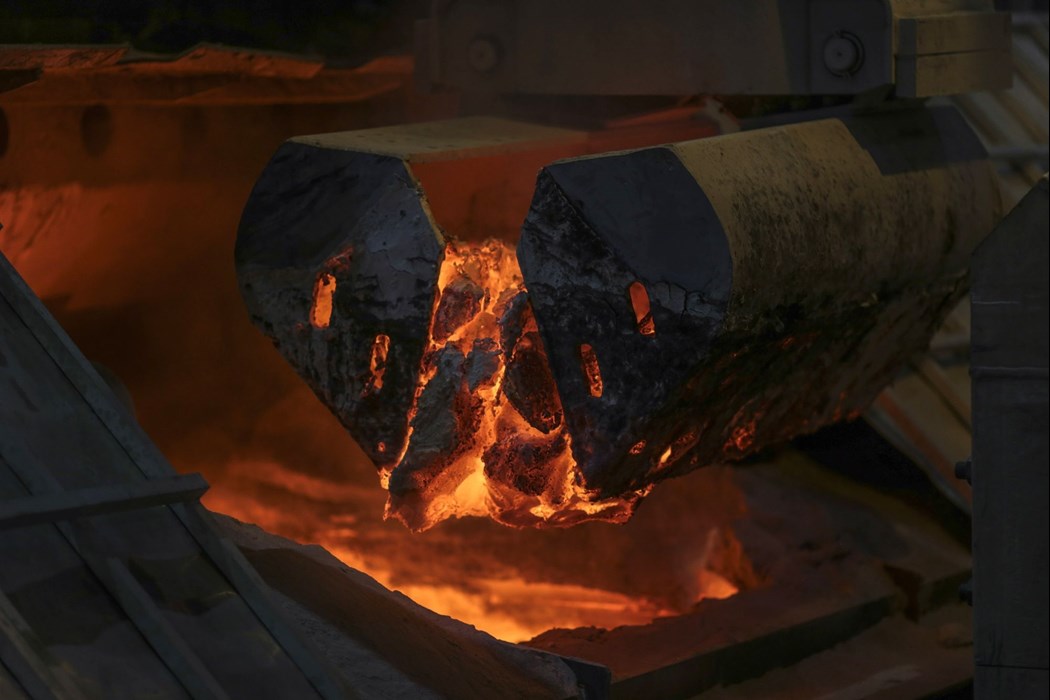 (Bloomberg) -- The world's largest zinc smelter is betting on electric car batteries and clean energy to help decarbonize its fossil fuel-driven metals refining business and hopes US President Joe Biden's landmark climate bill will create opportunities rather than obstacles.
Korea Zinc Co., a Seoul-based company that processes many of the Earth's major metals, is seeking to diversify into electric vehicle batteries and renewable energy sources, in addition to holding onto its almost half-a-century-old zinc refining roots, with the ambition of turning net zero by 2050. 
One of those moves that's been drawing market watchers' attention is a joint venture between Korea Zinc's affiliate Kemco Co. and battery giant LG Chem Ltd. that makes investments in the production of precursor, a key element for EV cells.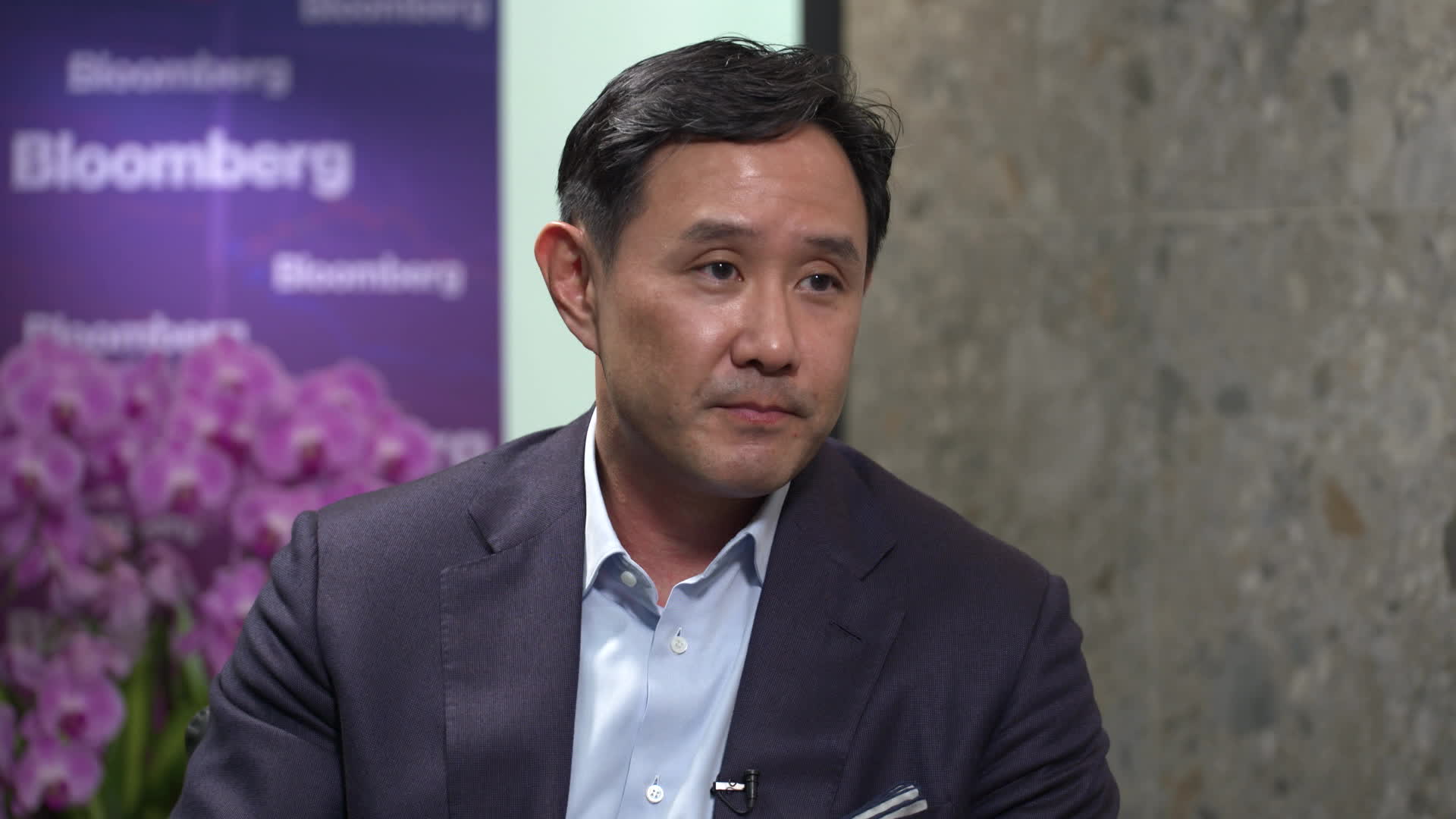 Korea Zinc, the world's largest zinc smelter is betting on electric-car batteries in a move to decarbonize its fossil fuel-driven metals refining. Source: Bloomberg
"Kemco itself will need to make significant investment in the near future in order to secure its position in the battery industry," Korea Zinc Chairman Yun Choi said in an interview with Bloomberg News at the company's office in Seoul on Thursday. It's a "possibility that Korea Zinc will increase its stake in Kemco. But nothing has been decided in that regard."
Korea Zinc currently has a 35% share in Kemco, which among other things manufactures nickel sulfate. Choi, the 47-year-old who was elevated from Korea Zinc vice chairman in December, holds a 10% interest in Kemco, company filings show.
Under mounting pressure from investors and regulators to cut carbon emissions and better address social and governance issues, Choi said in May last year that Korea Zinc plans to spend around $6.6 billion by 2030 on green energy solutions. In the months since, Biden's controversial Inflation Reduction Act has come into law. It seeks to encourage automakers around the world to manufacture electric cars in the US and reduce reliance on Chinese materials in the battery-car supply chain.
Choi said on Thursday that he sees the energy bill as an "opportunity." Korea Zinc has no incumbent investments in China and it has a large hydrogen play in Australia, as well as decades-long relationships and networks with miners globally, Choi pointed out.
"For the purpose of complying with the IRA, I think everybody will be incentivized to find the sources of their minerals in countries like Australia, even the USA," he said. "The IRA creates an opportunity for us and probably for other companies too, which incentivizes people to develop projects in certain parts of the world rather than some other parts."
Choi also described 2022 as an "extraordinary year" in terms of geopolitical events that led to a global energy crisis and electricity prices spiraling. While he doesn't expect increases in electricity costs this year to go beyond levels seen over the past 12 months, the shift toward clean energy is crucial, given that the overall escalation in prices will continue, he said.   
Korea Zinc's operating profit for the fourth quarter missed analyst estimates, partly due to higher electricity costs as well as rising raw materials prices, according to a note from Yuanta Securities Korea Co. 
"Electricity prices will overall escalate constantly in the foreseeable future and the need to transition from fossil fuels to renewable energy will accelerate," Choi said. "Investing in a renewable energy market in Australia is a sound bet, and hydrogen and ammonia actually amplify the strengths of that market."
In a bid to mitigate surging energy costs, Korea Zinc has been aggressively expanding its presence in Australia, where it has a zinc refinery called Sun Metals Corp., near Townsville in far north Queensland. Korea Zinc has been leveraging Australia's abundant natural resources by turning wind and solar energy into hydrogen that can power its energy-intensive operations. 
Through establishing and acquiring developers of renewable energy such as Ark Energy Ltd. and Epuron Holdings Pty, the company now owns the land rights to about six gigawatts of renewable energy projects in Australia, Choi said. It's pledged to refine zinc using 100% clean energy by the middle of this century via bringing green hydrogen to South Korea. 
While Choi doesn't plan any major clean energy investments in Australia in the near future, he does plan to spend about A$540 million ($377 million) to fund the MacIntyre wind farm in Queensland, a joint project with Acciona SA in which Korea Zinc has a 30% stake. 
In terms of nickel, a key EV battery ingredient, the entire market is estimated to grow to about 4.5 million tons by 2030, Choi said, citing industry forecasts. The battery-related nickel part of that will account for around 2.6 million tons, or almost 60%. It demonstrates the wild growth in demand for nickel, versus zinc, which by comparison is a market that's been growing steadily at around 2% a year for more than two decades, he said. The nickel market is "crazy."
Investors, at least, seem to be taking a wait-and-see approach to Choi's vision.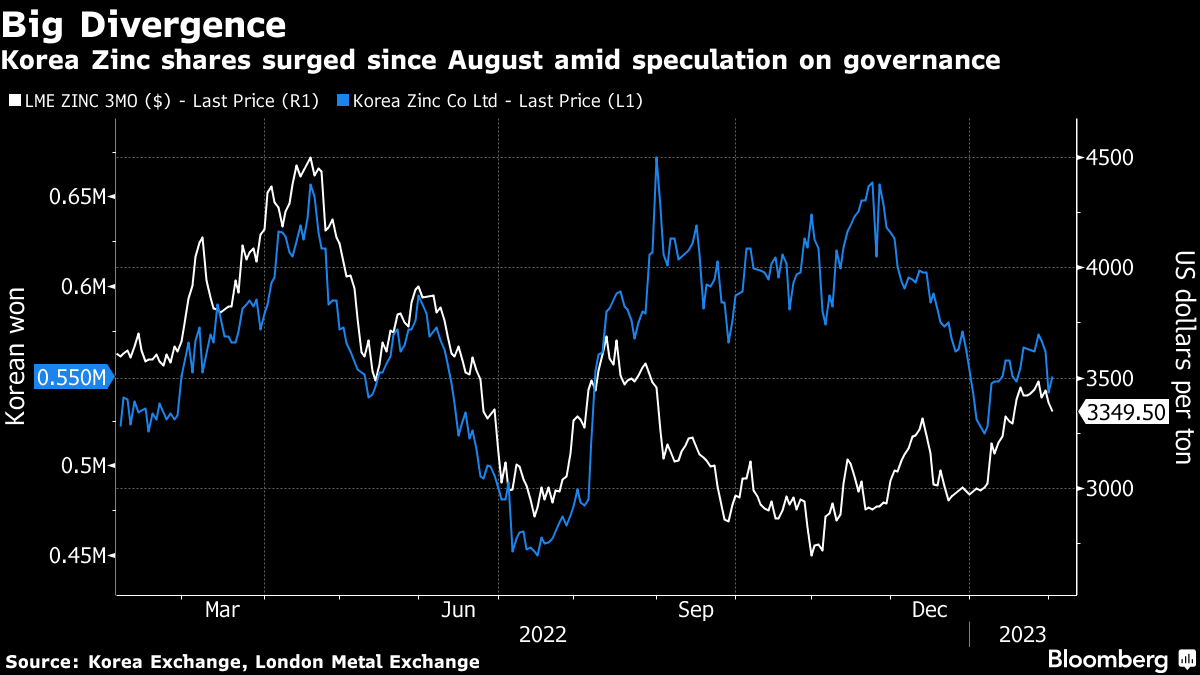 Shares of Korea Zinc are down 12% since Choi took over as chairman in mid-December. They jumped 40% in a single month in August last year amid speculation that the two co-founding families — the Changs and the Chois (Korea Zinc was founded in 1974 by Chang Byeong-hee and Choi Ki-ho, Yun's grandfather) — were buying shares to boost their control over the smelter. Choi declined to comment.
More stories like this are available on bloomberg.com
©2023 Bloomberg L.P.
By Stephen Engle, Heejin Kim , Heesu Lee