China Buys More Australian Coal as Appetite for Quality Builds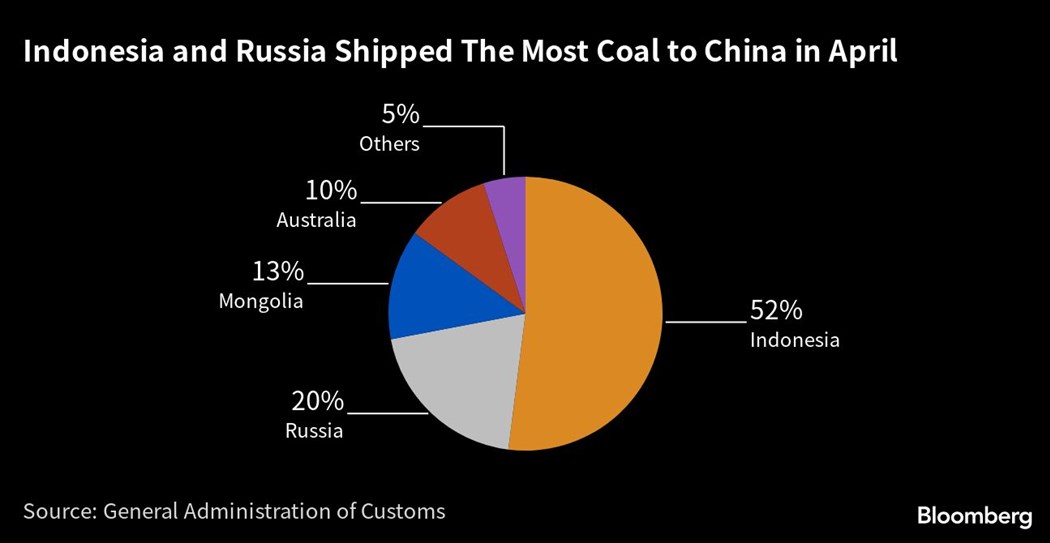 (Bloomberg) -- Australian coal continues to make inroads among Chinese buyers, adding to pressure on domestic prices, with new shipments climbing to their highest level since Beijing halted imports in the fall of 2020.
That ban ended at the start of this year and China's appetite for the high-quality coal supplied by Australia is gaining momentum amid concerns that rising domestic production includes too much lower-grade fuel. Australian cargoes in April of mostly thermal coal for power plants surged 75% from the prior month to 3.89 million tons, according to Chinese customs data. 
That puts Australia's share of imports at 10%, almost double the level seen in March. Although a bigger volume of Australian coal was recorded in November 2021, those were previous shipments stranded by the ban that took as long as a year to clear customs.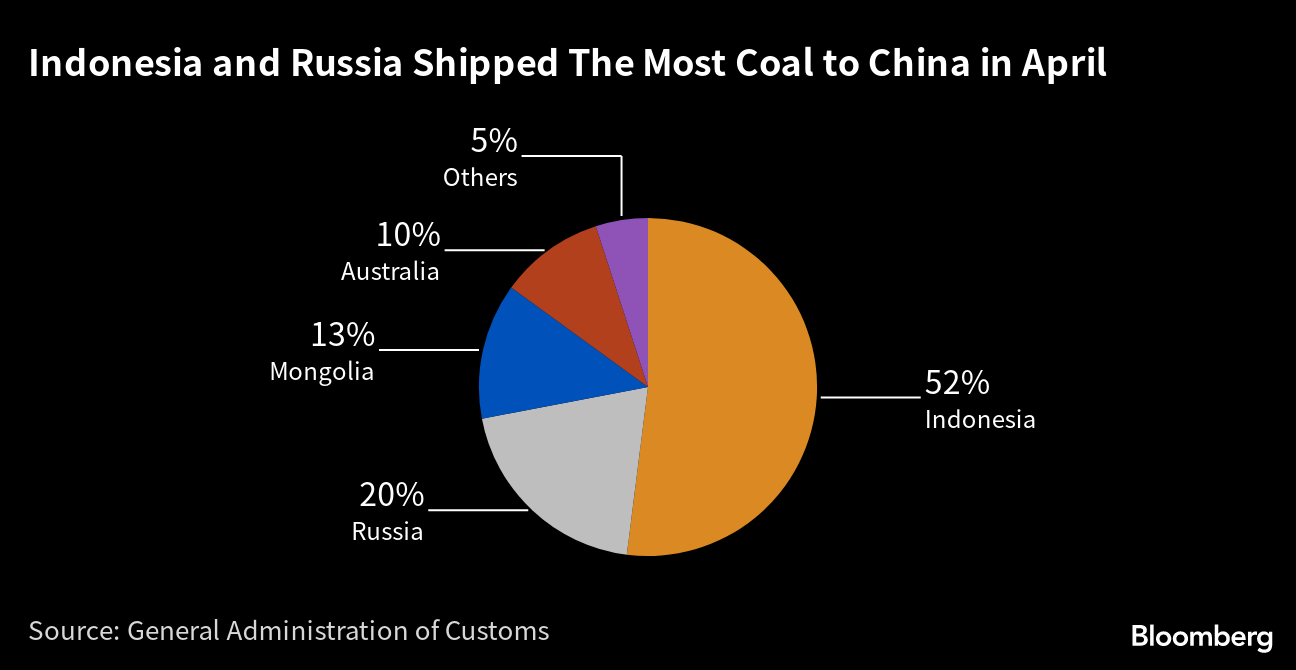 At the same time, Russia's coal exports to China dropped from the record level hit in March, as did its crude oil shipments. Seaborne Russian gas cargoes also fell from the previous month. The moderation in sales comes as Russian leaders visit Shanghai on Tuesday to help cement Moscow's importance as a supplier of commodities to its eastern neighbor and strategic partner.
China's total coal purchases fell slightly in April to 40.68 million tons, although that was still their third-highest tally ever and shipments have increased 89% over the year to date. The benchmark price at the port of Qinhuangdao has dropped to its lowest since the start of last year as the rising tide of imports lands at a time of seasonally weak demand.
Elevated stockpiles at Chinese ports could force traders to dump coal, pressuring prices further, before warming temperatures and improved economic activity help clear the surplus, according to a note from Fengkuang Coal Logistics.
The Week's Diary
(All times Beijing unless noted otherwise.)
Tuesday, May 23
Russia-China Business Forum in Shanghai
SNEC Photovoltaic Power Expo in Shanghai, day 1
Wednesday, May 24
CCTD's weekly online briefing on Chinese coal, 15:00
SNEC Photovoltaic Power Expo in Shanghai, day 2
Thursday, May 25
Shanghai Futures Exchange Derivatives Forum, day 1
SNEC Photovoltaic Power Expo in Shanghai, day 3
Friday, May 26
China weekly iron ore port stockpiles
Shanghai exchange weekly commodities inventory, ~15:30
Shanghai Futures Exchange Derivatives Forum, day 2
SNEC Photovoltaic Power Expo in Shanghai, day 4
HOLIDAY: Hong Kong
Saturday, May 27
China industrial profits for April, 09:30
On the Wire
Chinese energy giant State Power Investment Corp. is in advanced talks to buy Latin American power producer Inkia Energy Ltd. from I Squared Capital, according to people familiar with the matter.
China's solar sector is accelerating an already world-beating pace of installations as costs tumble and demand keeps rising, putting it on track to rush past last year's record. 
©2023 Bloomberg L.P.
KEEPING THE ENERGY INDUSTRY CONNECTED
Subscribe to our newsletter and get the best of Energy Connects directly to your inbox each week.
By subscribing, you agree to the processing of your personal data by dmg events as described in the Privacy Policy.