TAQA launches first integrated natural gas filling station in Tanzania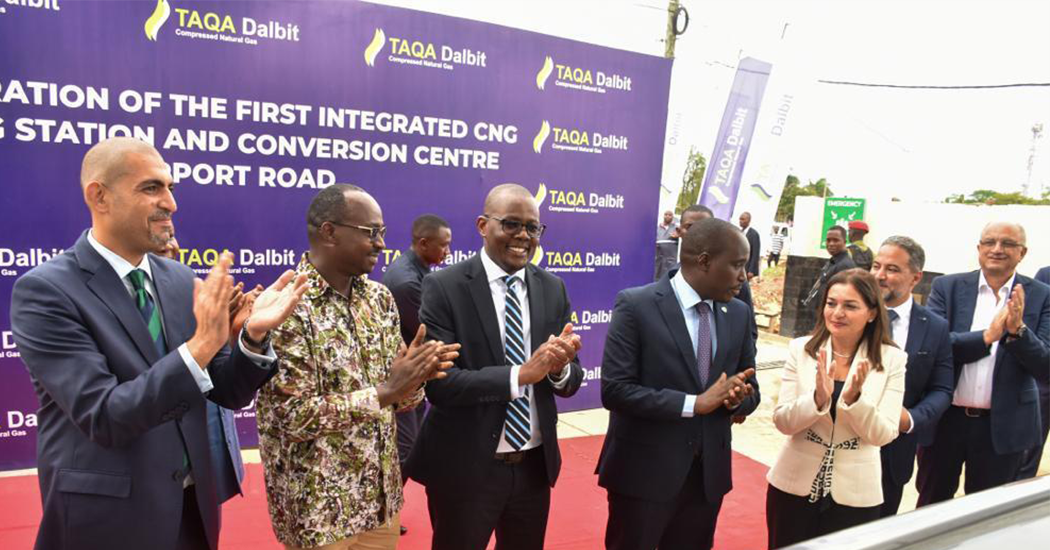 TAQA Dalbit has announced the commissioning of Tanzania's first integrated Compressed Natural Gas (CNG) filling station and conversion centre branded "Master Gas" located at Pugu Road-Airport Area in Dar es Salaam, Tanzania.
The project was developed by TAQA Dalbit, a Joint Venture (JV) between TAQA Arabia and JCG Oil & Gas, to bolster the Tanzania Petroleum Development Corporation's resolve to increase the use of its natural gas reserves, which offers a cleaner and cheaper alternative to consumers.
Hon. Dr. Doto Mashaka Biteko, Deputy Prime Minister and Minister of Energy of Tanzania, who presided over the commissioning ceremony, lauded TAQA Arabia and JCG Oil & Gas for their joint investment and support to the government. He noted that: "We are on the cusp of a transformative shift in Tanzania's energy landscape. With the dedication and foresight of industry leaders like TAQA Dalbit, we are ushering in an era of sustainable energy solutions. The new CNG Filling Station and Conversion Center is a monumental achievement by TAQA Dalbit, demonstrating our nation's technological prowess and commitment to an sustainable, greener, and economically efficient future."
CNG-powered passenger vehicles are estimated to emit about 25% less CO2, CNG is on average, 50% cheaper for the consumer than liquid fuel. This filling station will increase consumption of clean energy that has minimal carbon content and is environmentally friendly.
The CNG Station has a capacity of 11,000 KG of CNG (7600 sqm of compressed gas)  capable of serving up to 800 vehicles daily, while the conversion center will have the capacity to convert 1,000 vehicles/year. The conversion center will be able to convert all types of vehicles from passenger cars, multi-utility vehicles, sports utility vehicles, buses, and trucks.
The CNG station is the first of 12 stations TAQA Dalbit plans to deploy in the coming years in Tanzania to support the government's strategic plans and increase the use of CNG as a cleaner, more affordable alternative fuel.
Rikin Shah, Group CEO of JCG, speaking during the ceremony, said that: "JCG Oil & Gas is pleased to with work TAQA Arabia and the Tanzania Government to utilize the nation's natural gas supplies with the go-live of our first TAQA Dalbit station. Through this joint venture, the Group's vision of building a sustainable future is being realized. The provision of a combination of Natural Gas and traditional fuels will help us move our vision forward. We have been present in Tanzania for the last 15 years providing fuel solutions through Dalbit Tanzania, which was established in 2008. Natural gas is a more sustainable alternative energy source compared to petrol and diesel. Coming at a time when the cost of living is rising, motorists will be happy to know that this CNG station will provide a cheaper alternative for their daily vehicle use and that they can seamlessly convert their vehicles at our center."
Announcing the commissioning, Ms. Pakinam Kafafi, CEO of TAQA Arabia, added: "We're delighted to announce the commissioning of Tanzania's inaugural integrated CNG Filling Station and Conversion Center in Dar es Salaam. We consider this as a major milestone for TAQA Arabia as we join hands with JCG and the Tanzanian government, marking a significant stride in our commitment to serving Tanzania's energy needs while aligning with the nation's energy vision. TAQA Arabia, a leading energy provider and a pioneer in CNG technology, is thrilled to bring this cost-effective and eco-friendly solution to Tanzania, enhancing economic growth, and reducing emissions. With its know-how, and track record of successful energy projects, TAQA Arabia is willing to support Tanzania in benefiting from its gas reserves and great energy potential in the most effective, efficient, and sustainable solutions. TAQA Arabia is looking also to add greater value to clients either with natural gas distribution, conventional and renewable power generation and distribution, and other utility services that the company provides."
KEEPING THE ENERGY INDUSTRY CONNECTED
Subscribe to our newsletter and get the best of Energy Connects directly to your inbox each week.
By subscribing, you agree to the processing of your personal data by dmg events as described in the Privacy Policy.