JPMorgan Has a New Way to Gauge Its Green Progress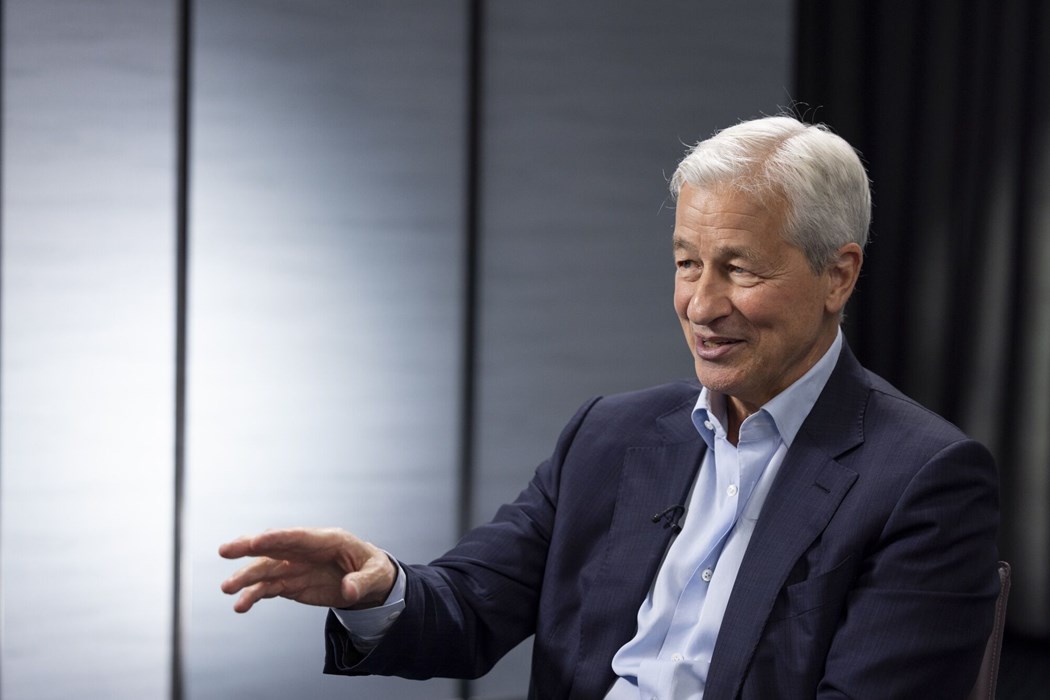 (Bloomberg) -- The world's leading fossil fuel financier has come up with a new way to assess how well it's supporting a low-carbon transition.
JPMorgan Chase & Co. is changing how it calculates greenhouse gas emissions that flow from the funding it provides oil and gas companies. The Wall Street giant run by Chief Executive Officer Jamie Dimon said it's adding its financing of zero-carbon power generation to the calculus.
"A singular focus on fossil fuels won't successfully achieve the necessary transition of the global energy system," the bank wrote in its annual climate report. "Supporting the rapid build-out of zero-carbon power" will "help replace fossil fuels and reduce emissions."
As the largest energy banker, JPMorgan is a frequent target of criticism over Wall Street's role in the climate crisis. At the same time, the bank is a leading US arranger of green bonds, making it vulnerable to Republicans seeking to protect the fossil fuel industry.
The bank has said it doesn't seek to play favorites with either side of the climate aisle. The energy transition requires $4 trillion of annual investment, Dimon said in the report, which brings with it "the potential to generate a wave of growth and opportunity the world hasn't seen since the first industrial revolution."
On Wednesday, JPMorgan said its oil and gas clients' Scope 1 and 2 emissions—much of which stems from methane leaks and flaring—will stand apart from their Scope 3 emissions, or end-use of client products. Scope 3 emissions account for as much as 95% of the total carbon emissions from oil and gas companies, according to a recent report from Wood Mackenzie.
Under JPMorgan's new plan for calculating its green progress, financed Scope 3 emissions will be combined with the "zero-carbon power generation activity" it also funds, such as solar, wind and hydropower as well as nuclear. The bank is calling this an "energy mix target," saying that its new goal is to reduce carbon intensity of its energy-mix financing portfolio by 36% (using a 2019 baseline) by 2030. The energy mix target, the bank said, is intended to "reflect the reality that we also need to prioritize a significant build-out of clean energy sources."
Like most of its peers, JPMorgan has set interim decarbonization targets for the most carbon-intensive areas of its balance sheet, including oil and gas. While loans to fossil fuel companies make up just 3% of JPMorgan's $1.15 trillion lending portfolio, Scope 3 emissions from those companies are by far the biggest contributor to the bank's financed emissions, generating five times more greenhouse gas pollution than the next heaviest-emitting sector.
BloombergNEF has warned that by 2030, banks must be lending four times as much to clean-energy concerns as they do to fossil fuel companies if the planet is to avoid the worst of the climate crisis. With six years to go, the average ratio is currently closer to 1-to-1. JPMorgan came in at 0.7 as of 2021.
"The expectation that the financial services sector is going to solve the climate crisis on its own is a little out of step with reality," said Heather Zichal, the bank's global head of sustainability. "As much as we might provide financing to the oil and gas sector, we also are a huge force in green finance."
Ramaswamy Variankaval, JPMorgan's global head of corporate advisory and sustainable solutions, said the bank's new methodology "aligns us better with both the underlying scenario and also the on-the-ground reality." In practice, it means the bank could record a decrease in its financed emissions target without cutting back on the amount of money it funnels to the oil and gas industry, though Variankaval said he expects that—as the bank provides more capital to clean energy projects—it will ultimately "substitute the higher carbon intensity sources of energy."
A spokesperson for the Center for Climate and Energy Solutions said "the key is to invest in the clean technologies without increasing investment in traditional fossil fuels. You want the denominator to include a growing amount of clean energy and a shrinking amount of fossil fuels—and that shift needs to be transparent over several years."
JPMorgan also disclosed several other updates in its climate report, including decarbonization goals for two new sectors: shipping and aluminum. The bank now has net-zero financing goals for eight of the most-pollutive industries.
The New York-based bank said all of its new and existing targets will be aligned with the International Energy Agency's Net Zero Emissions by 2050 scenario. Earlier goals were set to the IEA's Sustainable Development Scenario, which aims to achieve net zero emissions by 2070.
JPMorgan also published absolute financed-emissions numbers for the first time. The bank focuses on measuring carbon intensity, or the amount of carbon produced per unit of output. Critics have said using intensity targets alone can be problematic, as emissions intensity can decrease even as a bank's absolute emissions increase.
Zichal said intensity measurements remain "the most decision-useful metric" and that adding absolute numbers allows JPMorgan to provide stakeholders with "an additional layer of transparency."
The bank published absolute emissions in line with the methodology recommended by the Partnership for Carbon Accounting Financials (PCAF), a widely used industry standard. It also offered numbers using its own process that the bank says seeks to avoid volatility that has skewed emissions data for other banks that use the PCAF framework. JPMorgan's PCAF-based absolute financed emissions for its energy mix portfolio, which includes oil and gas sector Scope 3, totals 35.6 million tons of CO2 equivalent, while under its own methodology the number is more than three times bigger at 128.3 million tons at the end of last year.
Unlike PCAF, JPMorgan's own calculations use a three-year average for company value and a 12-month monthly average for committed financing. The bank also counts the entirety of revolving credit facilities, whether they've been drawn down or not.
"JPMorgan has committed that capital, so the client can draw anytime they want to," Variankaval said. "So we think it would be inaccurate not to include it in our absolute financed emissions calculations."
A group of banks assembled by PCAF to devise the first industry standards for calculating the carbon footprints of capital-markets activities have struggled to agree on the best approach. JPMorgan calculated the emissions from its capital markets activities and includes 100% of its share in bond underwritings. In 2022, the bank recorded 51.2 million tons of CO2e from its capital markets financing for oil and gas.
©2023 Bloomberg L.P.
KEEPING THE ENERGY INDUSTRY CONNECTED
Subscribe to our newsletter and get the best of Energy Connects directly to your inbox each week.
By subscribing, you agree to the processing of your personal data by dmg events as described in the Privacy Policy.