The trillion-dollar opportunities on the road to net zero
In this new episode of the Energy Connects podcast, Managing Editor Chiranjib Sengupta hosts Gavin Thompson, Vice Chairman, Energy – Asia Pacific at Wood Mackenzie, to discuss a wide range of global themes running across the energy sector as countries and companies pursue the energy transition.
Gavin dives deep to assess the current rate of progress on the energy transition, the mind-boggling scale of the opportunity for low carbon technology, and the $70-trillion investment that is up for grabs over the next decades.
They also discuss the challenges of offshore wind, the role of gas and LNG in the energy transition, and how Wood Mackenzie is adapting to the demands of the new energy trilemma.
Meet our expert guest speaker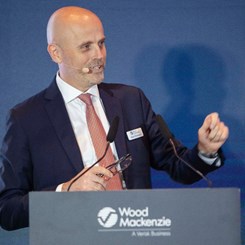 Gavin Thompson
Vice Chairman, Energy – Asia
Wood Mackenzie